Sarah Huckabee Sanders Touts Donald Trump's Approval Rating Ahead of State of the Union, Using Conservative Poll
Ahead of President Donald Trump's State of the Union address on Tuesday night, White House Press Secretary Sarah Huckabee Sanders cited a poll that consistently rates Trump's job performance higher than other surveys to counter findings that his approval rating has remained low and stagnant.
CNN New Day host John Berman told Sanders that Trump's approval rating among independents in January 2017 was 41 percent, the same percentage as this month.
"If the goal here is for the president to expand beyond his base," Berman said, "The evidence is that's been challenging, and he hasn't had results there. I wonder if he thought about why."
Sanders replied: "I think the president's primary focus isn't on results in the polls, of which I think there are a number of them he's doing very well. Rasmussen had him at 45 [percent] just earlier this week."
Trump frequently tweets his approval ratings from the conservative-leaning Rasmussen Reports, often after his rating in other major polls dips. Trump has demonstrated that he cares deeply about his rating, and even boasted that his percentage from Rasmussen topped that of his predecessor Barack Obama.
But Sanders claimed otherwise.
"The biggest focus that the president has is actually on results for the American people, not what the polls are going to reflect," she said. "That's why he's focused so much on the economy. Everyone in the country is feeling the power of the economic boom that we are facing right now under the leadership of this president."
Sanders argued that jobs are plentiful, unemployment lower, wages higher, and that "there is no doubt in any economist's mind that the economy has been better under this president than it has been in decades." She added that the strong economy is "something that I think people will be voting on come 2020."
Trump has a dismal approval rating heading into his third-year State of the Union, by a CNN poll measure. The poll, released Monday, showed his rating at 40 percent—the lowest for any president in the country's history at the same point in time besides Ronald Reagan, who was at 35 percent. Trump's latest rating is up from 37 percent during the longest government shutdown in January, and up slightly from 39 percent prior to the shutdown.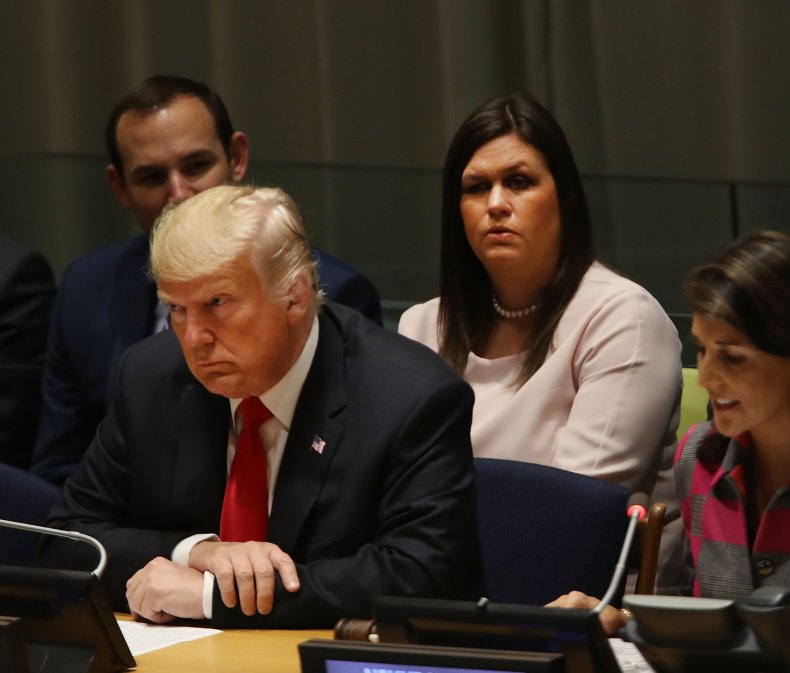 Sanders defended Trump on Sunday after his leaked schedules from the past three months showed 60 percent of his time consisted of unstructured "executive time."
"President Trump has a different leadership style than his predecessors and the results speak for themselves," Sanders stated to Axios, which published the schedules. "While he spends much of his average day in scheduled meetings, events, and calls, there is time to allow for a more creative environment that has helped make him the most productive president in modern history."