Sarah Huckabee Sanders Doubles Down on Explanation for James Comey's Firing in Mueller Report: 'It Wasn't Untrue'
White House press secretary Sarah Huckabee Sanders took to Fox News on Thursday to explain comments she made while being interview by special counsel Robert Mueller's team during his investigation on Russian interference in the 2016 presidential election and possible obstruction of justice by President Donald Trump.
In a redacted report presented by Attorney General William Barr to Congress and the public earlier in the day, it was revealed that Sanders had lied about reaction in the FBI toward former FBI Director James Comey being fired by Trump in 2017.
"Sanders told this Office [of the special counsel] that her reference to hearing from 'countless members of the FBI' was a 'slip of the tongue.' She also recalled that her statement in a separate press interview that rank-and-file FBI agents had lost confidence in Comey was a comment she made 'in the heat of the moment' that was not founded on anything," the report read, referring to two press briefings Sanders gave after Comey was fired.
Appearing on Fox News Channel's Hannity on Thursday, network host Sean Hannity asked Sanders about the statement in Mueller's report, saying "the media is attacking you today."
"I guess in the testimony you gave, you had said your FBI—a lot of the FBI people you know were—well, I could tell you. Well, let me put it this way—every FBI rank-and-file guy, the 99.9 percent I know, have all thanked me because they're hurt," Hannity said. "This is the premier law-enforcement agency in the world. Just like our intelligence community, same thing. The premier intelligence community in the world, they were hurt by a few at the top, and they're angry about it, and you said that, but explain."
"Absolutely. Look, I acknowledge that I had a slip of the tongue when I used the word 'countless,' but it's not untrue," Sanders said. "And certainly, you just echoed exactly the sentiment and the point that I was making, is that a number of both current and former FBI agents agreed with the president. James Comey was a disgraced leaker who tried to politicize and undermine the very agency he was supposed to run.
"Firing James Comey remains one of the best decisions that the president made," Sanders continued. "The only problem is he could have done it sooner and maybe it would have been a better thing, but it was absolutely the right decision, and every day since that, [Trump has] proven he was right all along."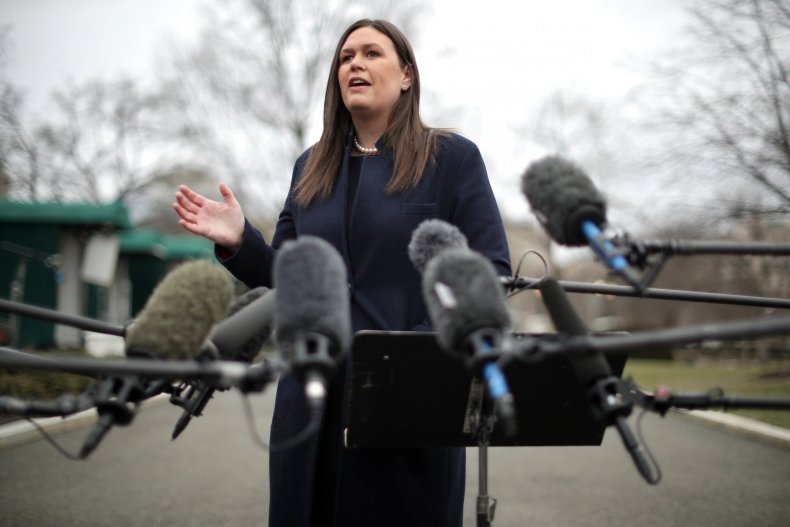 Sanders first made the comment about Comey on May 10, 2017, the day after he was fired, telling reporters, "I think most of America had decided on their own that Director Comey was not the person that should be leading the FBI, as evidenced by the numerous comments that we've seen from Democrat members in the House and Senate, Republican members, members of the FBI and people across the board."
The following day, Sanders again addressed the White House press corps, saying that in her own experience, members of the FBI had told her they were "grateful and thankful" for Trump's decision to fire Comey.
"I've certainly heard from a large number of individuals. And that's just myself. And I don't know that many people in the FBI," Sanders said.
Later in the briefing, another reporter asked Sanders to elaborate on her statements, asking her if she had personally "talked to countless officials, employees, since this happened." Sanders said that she had, citing email and text message conversations, but declined to give a specific number of people to whom she had spoken.
"Look, we're not going to get into a numbers game. I have heard from a large number of individuals that work at the FBI that said they're very happy with the president's decision. I don't know what else I can say," Sanders said.
During an NBC News interview after Comey was fired, Trump admitted to network anchor Lester Holt that he had ultimately decided to fire Comey because of the Russia investigation.
"When I decided to just do it, I said to myself, I said: 'You know, this Russia thing with Trump and Russia is a made-up story; it's an excuse by the Democrats for having lost an election that they should've won," Trump said.
Sanders isn't the only member of the Trump administration who was determined to have made a false claim. Sean Spicer, who served as White House press secretary in May 2017, told reporters that Deputy Attorney General Rod Rosenstein had made the decision to fire Comey. In interviews conducted by Mueller's investigative team, Rosenstein said he refused to be part of a "false" story.