Sarah Huckabee Sanders's Fierce Anti-China Rhetoric Stuns Argentine Minister at G20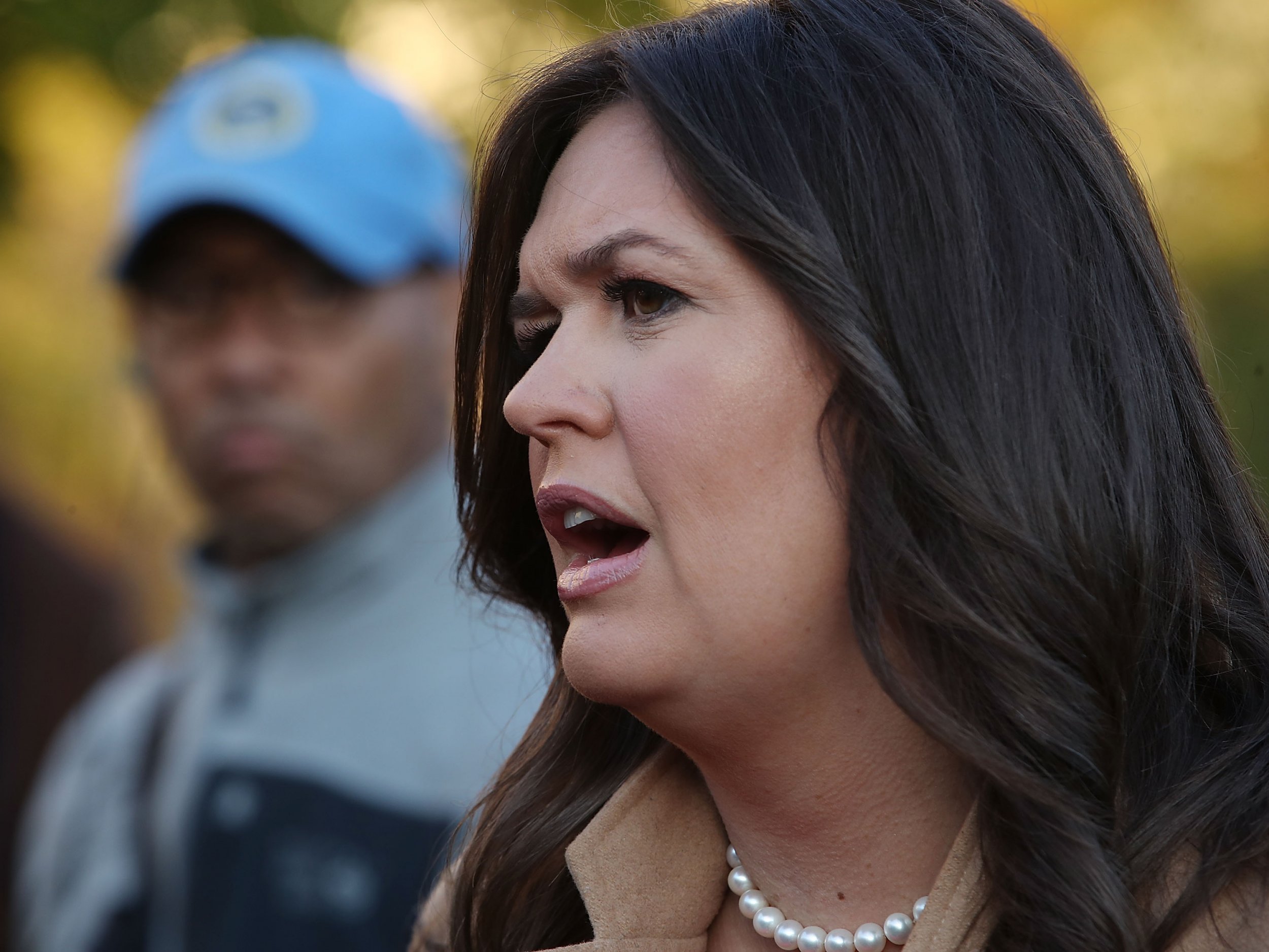 White House press secretary Sarah Huckabee Sanders on Friday talked about China's "predatory economic activity" prior to the official inauguration of the G20 summit in Buenos Aires—and it took Argentine officials aback.
President Donald Trump and Argentine President Mauricio Macri met behind closed doors Friday morning to talk about bilateral relations, Latin America's regional stability and China. But 45 minutes after of the meeting, Huckabee Sanders peppered the gathering's description with an anti-Beijing rhetoric. "Today, before the start of the G20 summit, President Trump met during breakfast … the two leaders reiterated their shared commitment to face regional challenges such as Venezuela and China's predatory economic activity."
Argentine Foreign Minister Jorge Faurie was reportedly surprised by Huckabee's remarks, local newspaper La Nación reported. The top diplomatic official attempted to tone down her message, saying, "I do not think there was a reference in those terms." He later told reporters that the meeting was handled in a cordial matter.
The G20 summit brings together the world's most powerful economies to "promote balanced and sustainable economic development," and this year's forum was centered on the U.S.-China trade war. Since the summer, the U.S. has imposed $50 billion in additional tariffs on Chinese goods because the East Asian giant has "treated the U.S. unfairly," according to the Trump administration. In response, Beijing slapped $50 billion of U.S. goods with additional levies, prior to Trump's decision to add taxes for an additional $200 billion in Chinese products. Beijing retaliated by placing $60 million more in tariffs on U.S. products.
While the Trump administration expressed that "there is a good possibility we can make a deal" ahead of the summit, according to economic adviser Larry Kudlow, experts consulted by Vox believe that the encounter between the U.S. president and Chinese leader Xi Jinping will likely prove fruitless.
"The root of U.S.-China economic tensions is structural and remains the Chinese Communist Party's fundamental opposition to free-market capitalism and fair competition," China expert Abigail Grace told Vox. "That can't be fixed overnight."
The military clashes between Russia and Ukraine in the Sea of Azov also attracted considerable attention during the G20. German Chancellor Angela Merkel, who missed the opening of the summit due to a technical issue her plane had en route to Argentina Thursday night, was expected to address the heightened tensions between the former Soviet countries that prompted Trump to cancel his meeting with President Vladimir Putin in Buenos Aires.
"Based on the fact that the ships and sailors have not been returned to Ukraine from Russia, I have decided it would be best for all parties concerned to cancel my previously scheduled meeting in Argentina with President Vladimir Putin," Trump tweeted Thursday before leaving Washington, D.C.
To some observers, Macri is attempting to use the G20 as a springboard to help Argentina's ailing economy. According to the International Monetary Fund, the South American nation is the only G20 member that would experience a decline in gross domestic product growth by -2.8 percent before the end of this year, Chilean newspaper La Tercera reported.