Sarah Huckabee Sanders: the White House is Working on 'Standard Practices' to try and Control Reporters
White House Press Secretary Sarah Huckabee Sanders in a Fox News interview late Friday, after a federal judge ordered that the Trump administration reinstate CNN reporter Jim Acosta's press credentials, said that the television network needs to send other employees if reporters like Acosta "can't be adults."
"Look, I think the very basic minimum is that if certain reporters like Jim Acosta can't be adults, then CNN needs to send somebody in there who can be," Sanders told her father Mike Huckabee, who was filling in for host Sean Hannity.
Sanders said that CNN has more than 50 other reporters who have hard passes.
"They actually are one of the individual outlets that has the most hard passes of any news outlet in the country," she said. "CNN, they're one of the top three, so the idea that they're not able to get information that they need from the White House is laughable."
Huckabee then asked how many seats were available for reporters in White House briefings, to which Sanders answered 49, which is less than the number of hard passes CNN apparently holds.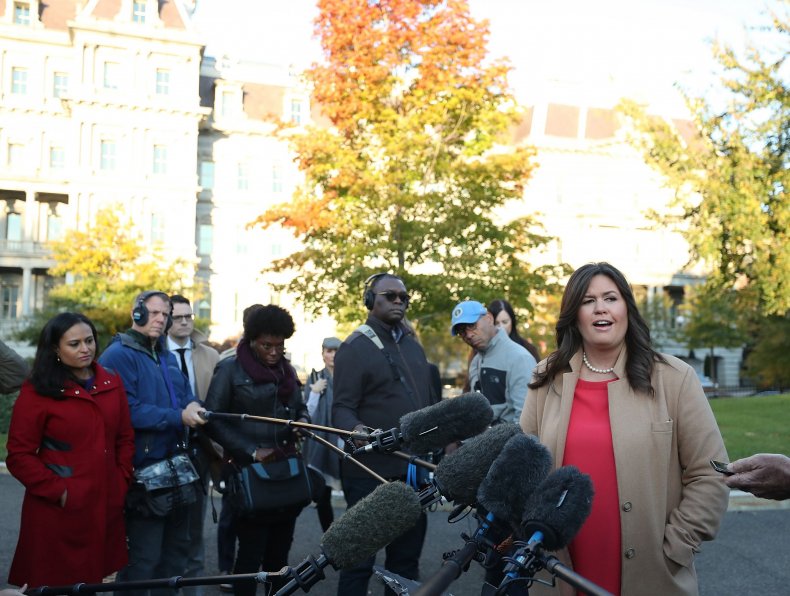 The White House revoked Acosta's hard pass last week after CNN's chief White House correspondent held the microphone to continue asking President Donald Trump questions despite a White House intern's attempt to take it from him. The administration initially said the reason for the revocation was that Acosta put his hands on the intern.
Trump has often targeted Acosta specifically as part of an ongoing campaign against reporters who do not defer to him.
U.S. District Judge Timothy Kelly on Friday ruled that Acosta's Fifth Amendment rights to due process had been violated and granted CNN's request to restore his hard pass. The judge did not rule on whether Acosta's First Amendment rights were also violated.
Sanders said that she is working on "standard practices" that reporters will be held accountable for in briefings in the future.
"We'll work with our team on that and certainly moving into Thanksgiving holiday we'll see how long that process takes, but I think there are some just standard practices," she said.
Fox News also aired a clip of an interview Trump had with Fox News' Chris Wallace that will air on Sunday.
"Yeah, its fine, I mean it's not a big deal," Trump said of the judge's decision. "What they said, though, is that we have to create rules and regulations for conduct etc. etc. We're doing that, we're going to write them up right now. It's not a big deal and if he misbehaves, we'll throw him out or we'll stop the news conference."