Fox News Hands Sarah Huckabee Sanders Job in Latest Trump Administration Transition to Cable News Network
Former White House Press Secretary Sarah Huckabee Sanders is the latest Trump administration figure to make the jump from the White House to Fox News.
Sanders is set to join Fox News as a contributor who will "provide political commentary and analysis across all of Fox News Media, including Fox News Channel, Fox Business Network, Fox News Digital, Fox Nation and the radio/podcast division," the cable news network announced Thursday. Sanders stepped down as President Donald Trump's top spokesperson in early June after serving for about two years and drawing criticism for holding very few press briefings in the second year of her tenure.
Sanders, 37, will make her Fox & Friends debut on September 6 and will join about a dozen Trump administration employees who have gone between lucrative Fox News gigs and Washington.
Hope Hicks is now chief communications officer at Fox Corporation, and Raj Shah, is now a Fox Corporation senior vice president. Former Fox News executive Bill Shine has also transitioned from the cable news network to the White House before moving to a position on Trump's 2020 presidential campaign.
Former press secretaries for the White House including Ari Fleischer and Dana Perino also transitioned from their positions in Republican administrations over to Fox News.
"She comes from a great state, Arkansas. That was a state I won by a lot," Trump said at an early June press conference in which Sanders thanked the president through a farewell address. "We love Arkansas. She's going to be going back to Arkansas with her great family."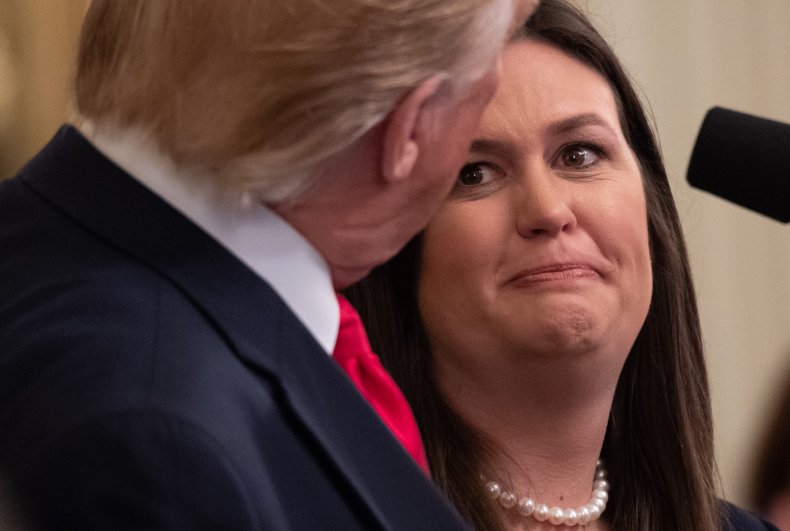 Sanders labeled the press secretary job an "honor of a lifetime" at the June ceremony, although she is likely set to receive a massive financial benefit from the Fox News transition.
A March report in The Hollywood Reporter noted that one of her Communications Director predecessors, Anthony Scaramucci, pulled in $88,461 from Fox News for his contributions, while current Trump National Security Adviser John Bolton made a $569,423 salary during his pre-Trump administration Fox News tenure.
At least eleven Trump administration members have previously served as an on-air contributor for Fox News ––a network which the president watches and tweets about profusely. Trump's influence at the cable news network has sparked infighting and division as he has alternatively praised and criticized some of the on air talent.
Several former Clinton and Obama administration communications employees have also joined competing networks including George Stephanopoulos' transition to ABC News in 1997, Dee Dee Myers going to CNBC in 1995 and the Obama White House's Jay Carney transitioning to CNN in 2014.