Sarah Sanders Hit by 'Big Bang Theory' Credits: 'God Told Me He Hasn't Spoken' to Her 'Since She Was Fourteen'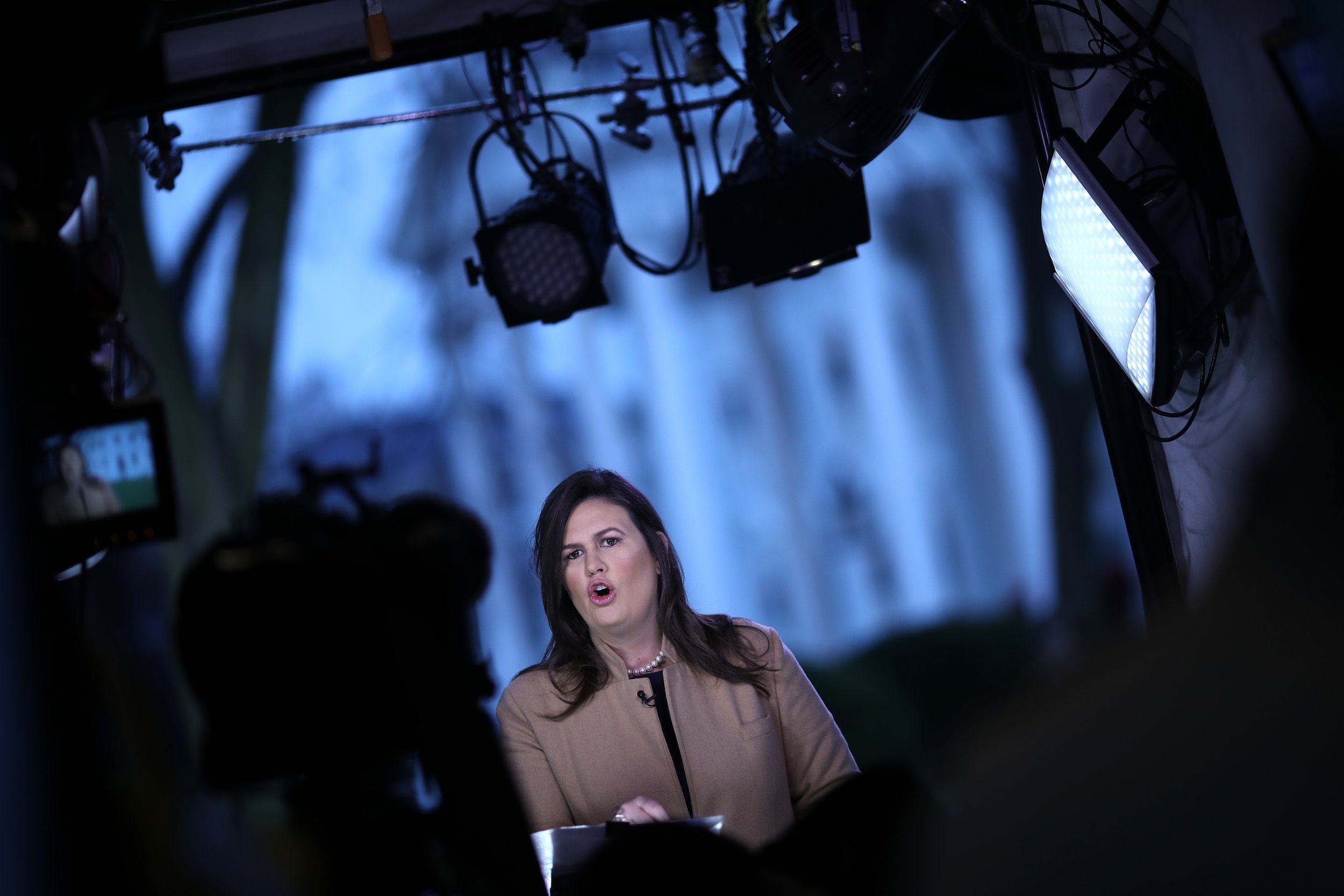 White House press secretary Sarah Huckabee Sanders was mocked in the ending credits of the CBS sitcom The Big Bang Theory on Thursday night.
"God told me he hasn't spoken to Sarah Sanders since she was fourteen years old and praying for her skin to clear up. I have no reason to doubt Him," appeared during the credits of the episode "The Donation Oscillation."
The show's creator, Chuck Lorre, may have been taking a shot at Sanders through the "vanity card" for her comments late last month to the Christian Broadcasting Network (CBN), a conservative evangelical television station.
CBN's David Brody said to Sanders, according to a transcript, "Does it kind of blow your mind that someone like Donald Trump, who is sitting in the Oval Office, I know you can list the accomplishments, but at the same time just from a spiritual perspective there are a lot of Christians who believe that for such a time as this…"
"I think God calls all of us to fill different roles at different times, and I think that he wanted Donald Trump to become president," Sanders said, "And that's why he's there. And I think he has done a tremendous job in supporting a lot of the things that people of faith really care about."
A contributor to the conservative organization Media Research Center, Rebecca Downs, pointed out that CNN anchor went after Sanders for her remark and that Lorre was joining in.
"It's also been established that it's sexist and wrong to go after women for their looks," Downs wrote in a blog for the center. "Is it only liberal women that this applies to?"
Chuck Lorre Productions has targeted Trump administration members in various vanity cards at the end of the producer's shows. The Sanders hit was card No. 612.
Last month, a Lorre vanity card referred to President Donald Trump as the "Gangster-in-Chief" and stated he could attack "Pyongyang or Toronto in order to distract from impeachment chatter."
In October, a Lorre seemed to call on God to turn the midterm elections out of President Donald Trump's favor.
"Of course if you, in your divine wisdom, believe a fascist, hate-filled, fear-mongering, demagogic, truth-shattering, autocratic golf cheater is what we need right now, then, you know, thy will be done," the card read. "But if thou art inclined to more freedom, more love, more compassion, and just more of the good stuff thou hath been promoting in our hearts or our parietal lobes—either one, doesn't really matter—I submissively ask that thy encourage voter turnout in that general direction."
The card also asked God to "please help" Russia probe special counsel Bob Mueller and "guide him and make him strong, brave, wise and true."
The White House did not immediately respond to a request for comment from Newsweek.