Sarah Huckabee Sanders Leaving White House? Press Secretary's Denial Doesn't Deny Report
White House press secretary Sarah Huckabee Sanders played down a report that she plans to quit the Trump administration at the end of the year—but stopped short of a flat-out denial.
According to CBS, people close to Sanders and her deputy Raj Shah said they are both preparing to leave their positions. Neither provided comment on the story. But Sanders followed up with a tweet late Wednesday night.
"Does @CBSNews know something I don't about my plans and my future?" she wrote. "I was at my daughter's year-end Kindergarten event and they ran a story about my 'plans to leave the WH' without even talking to me. I love my job and am honored to work for @POTUS."
Sanders took over from the former White House press secretary Sean Spicer in July 2017 after his bruising period in the turbulent first months of the Trump presidency.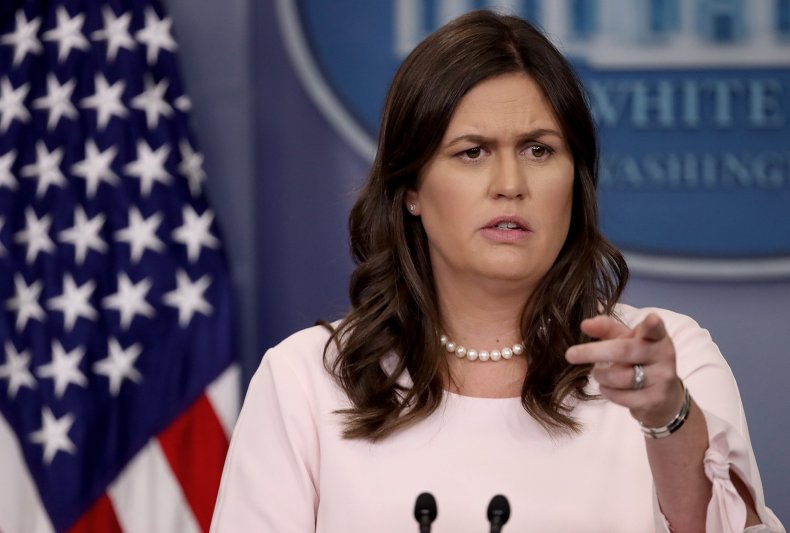 Since then Sanders, has endured a barrage of press questions spanning issues and scandals such as Robert Mueller's Russia investigation, Trump's alleged Stormy Daniels affair, the North Korea crisis, and America's withdrawal from the Iran deal.
Her critics call her Trump's liar, a reputation she said bothers her. "There's a difference between misspeaking or not knowing something than maliciously lying," she told New York Magazine.
When asked about her comment at a White House press briefing the day after it was published, she said: "I will always do everything I can to give the best and most accurate information at the time that I can."
The Trump administration has a large and rapid turnover of staff within it, particularly at a senior level, causing instability in key roles.
Brookings Institution, a Washington DC think tank, calculates that "A Team" staff turnover in the Trump White House—those working in the executive office of the president—is 51 percent, or 33 out of 65 positions. Of those 33, 14 resigned under pressure, six resigned, and 13 were promoted into other roles.
Sanders, 35, is the daughter of Mike Huckabee, the former Republican governor of Arkansas.
She has worked on her father's election campaigns since she was a child, starting with his run for Senate in 1992 and latterly as a political director of his 2008 presidential campaign, which he lost to John McCain, finishing in second place ahead of Mitt Romney and Ron Paul.
She also worked for the George W. Bush administration in the Department of Education and advised Republican Congressional campaigns. She joined the Trump for President campaign as a senior adviser, before landing at the White House in her current job.