Sarah Huckabee Sanders May Have Violated Hatch Act, Again, Over Hillary Clinton Tweet: Former Ethics Chief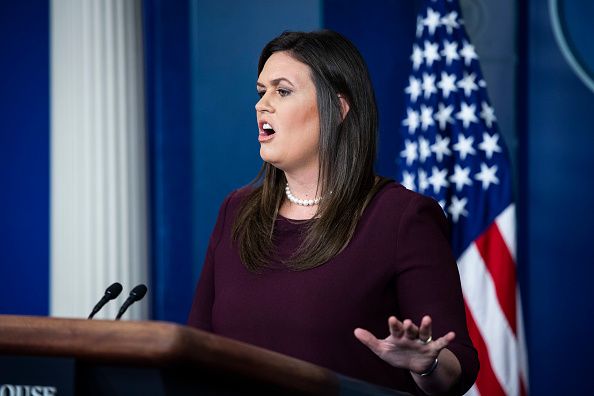 Sarah Huckabee Sanders likened a third presidential run by Democrat Hillary Clinton to "Christmas" in a tweet on Friday morning, suggesting that Donald Trump would be able to easily take down Clinton if the two were to go head-to-head again in 2020.
"Christmas coming early this year?" Sanders posted on Twitter on Friday morning, along with a link to an article written by The Daily Caller with the headline "Hillary Aide: She Could Run A Third Time."
The article linked to an exclusive Politico interview with former Clinton aide Philippe Reines. In the interview, Reines said that the former first lady and secretary of state could make a comeback in 2020 as a leading Democratic candidate for president.
But the social media post, made from Sanders's official account @PressSec, may have violated the Hatch Act, according to Norm Eisen—Barack Obama's former White House Special Counsel for Ethics and Government Reform.
"I do think that the tweet raises the Hatch Act question," Eisen told Newsweek on Friday. Under the federal law, executive branch employees are prohibited from using their offices to influence elections.
"I think it's wrong in its own right because the president is a professed candidate who has raised over $100 million in campaign donations and a member of his administration should not be talking about that upcoming race," he said. Eisen added that if he were still operating in the White House, he would have advised against posting such a statement online.
It's not the first time the press secretary has violated the Hatch Act. Just last week, Sanders likely broke the law by tweeting a photo of herself and musician Kayne West adorned in a "Making America Great Again" hat.
She is also not the first official from Trump's hyper-politicized administration to have violated the Hatch Act. The relatively small infraction has been committed by White House counselor Kellyanne Conway, Melania Trump's former communications director Stephanie Grisham and U.S. Ambassador to the United Nations Nikki Haley.
Eisen calls the number of Hatch Act violations by Trump's White House "utterly unprecedented." He called on the Office of Special Counsel to take "more dramatic measures" to curtail these offenses.
"All of these seemingly small violations are what sets an administration on a slippery slope to larger criminality," Eisen said, adding that the "constant stream of petty violations" by Sanders and others has created a "climate of lawbreaking" within Trump's administration.
"It's of little wonder to me that the president himself is now named a co-conspirator in more serious federal crimes," Eisen said, referring to Michael Cohen's admission in federal court this summer that he was directed to commit campaign finance violations by Trump.
In the article retweeted by Sanders, Reines wondered why Clinton's name "isn't in the mix —either conversationally or in formal polling—as a 2020 candidate."
Top contenders for the 2020 nomination, so far, have included Elizabeth Warren, Joe Biden, Bernie Sanders and Kamala Harris.
"She's younger than Donald Trump by a year. She's younger than Joe Biden by four years. Is it that she's run before? This would be Bernie Sanders' second time, and Biden's third time. Is it lack of support? She had 65 million people vote for her," Reines added. While Trump secured the electoral vote 304 to 232 in 2016, Clinton beat him in the popular vote by over 2.8 million votes.
Reines then went on to say that Clinton's chances of running in 2020 are "somewhere between highly unlikely and zero" but insisted that it is not completely out of the question.
Along with Sanders support of Clinton running for a third shot at the presidency, Steve Bannon is encouraging Clinton to fight Trump again in two years. The ex-White House chief strategist also told Politico that she "should run" since she can "take a punch."
The least concerned about his 2020 rival is Trump himself, who has said, as is his habit when discussing his own prospects in nearly any field of his life, that no one will be able to beat him in his bid for re-election. The president has already raised more than $100 million for his 2020 campaign.
In response to swirling rumors of Clinton's comeback campaign, the president tweeted in 2017, "I was recently asked if Crooked Hillary Clinton is going to run in 2020? My answer was, 'I hope so!'"
Recently, Trump has taken to criticizing the Democrats being floated to compete against him for the nation's top office in 2020. The president called Biden his "dream opponent."
"Look, Joe Biden ran three times. He never got more than 1 percent and President Obama took him out of the garbage heap, and everybody was shocked that he did," Trump said in a CBS News interview in July. "I'd love to have it be Biden."