Michelle Wolf Hits Sarah Huckabee Sanders Again, Slamming Her 'Ugly Personality'
The comedian criticized for her performance at the White House Correspondent's Dinner has joked about press secretary Sarah Huckabee Sanders once again.
Michelle Wolf took a shot at Huckabee Sanders on her new Netflix show, describing her as having "the Mario Batali of personalities."
Speaking on The Break With Michelle Wolf, the comedian made a joke about a recent tweet from the press secretary that slammed Democrats as anti-women hypocrites for failing to back the nomination of Gina Haspel for CIA chief.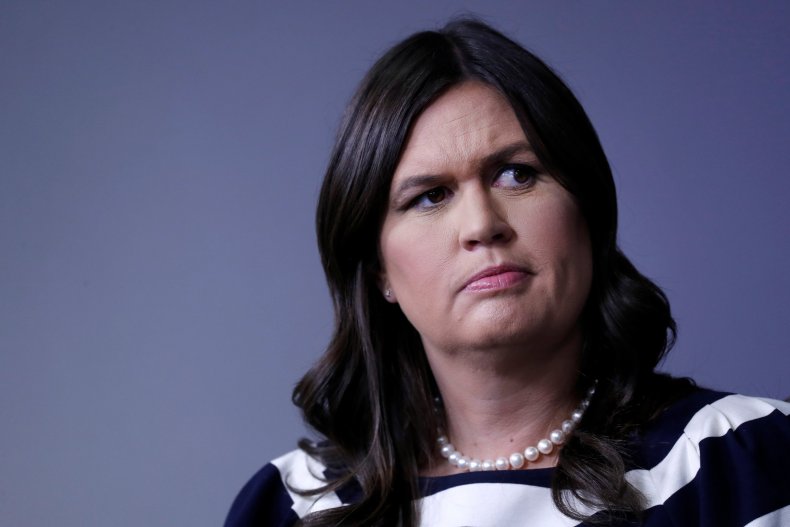 "Well if anyone's an expert on hypocrites, it's Sarah Huckabee Sanders," Wolf said in her skit. "And for the record, that was not a looks-based joke. That was about her ugly personality."
It was a bold move from the comedian, whose roast of Huckabee Sanders at the White House Correspondents' Dinner prompted criticism from a number of Republicans, The Hill reported.
"Of course, we have Sarah Huckabee Sanders. We're graced with Sarah's presence tonight. I have to say I'm a little star-struck. I love you as Aunt Lydia in 'The Handmaid's Tale.' Mike Pence, if you haven't seen it, you would love it," Wolf said at the dinner, ABC News reported.
"I'm never really sure what to call Sarah Huckabee Sanders. You know, is it Sarah Sanders? Is it Sarah Huckabee Sanders? Is it Cousin Huckabee? Is it Auntie Huckabee Sanders? Like, what's "Uncle Tom" but for white women who disappoint other white women? Oh, I know: Aunt Coulter," Wolf added.
And Huckabee Sanders responded publicly to the jokes at the time, commenting: "That evening says a whole lot more about her than it does about me," in an interview with Fox and Friends.
"I hope that [Wolf] can find some of the same happiness that we all have, because I think she may need a little bit more of that in her life because the rest of us here are doing great," she added.