Feminists Should Stop Attacking Sarah Huckabee Sanders, According to Her Dad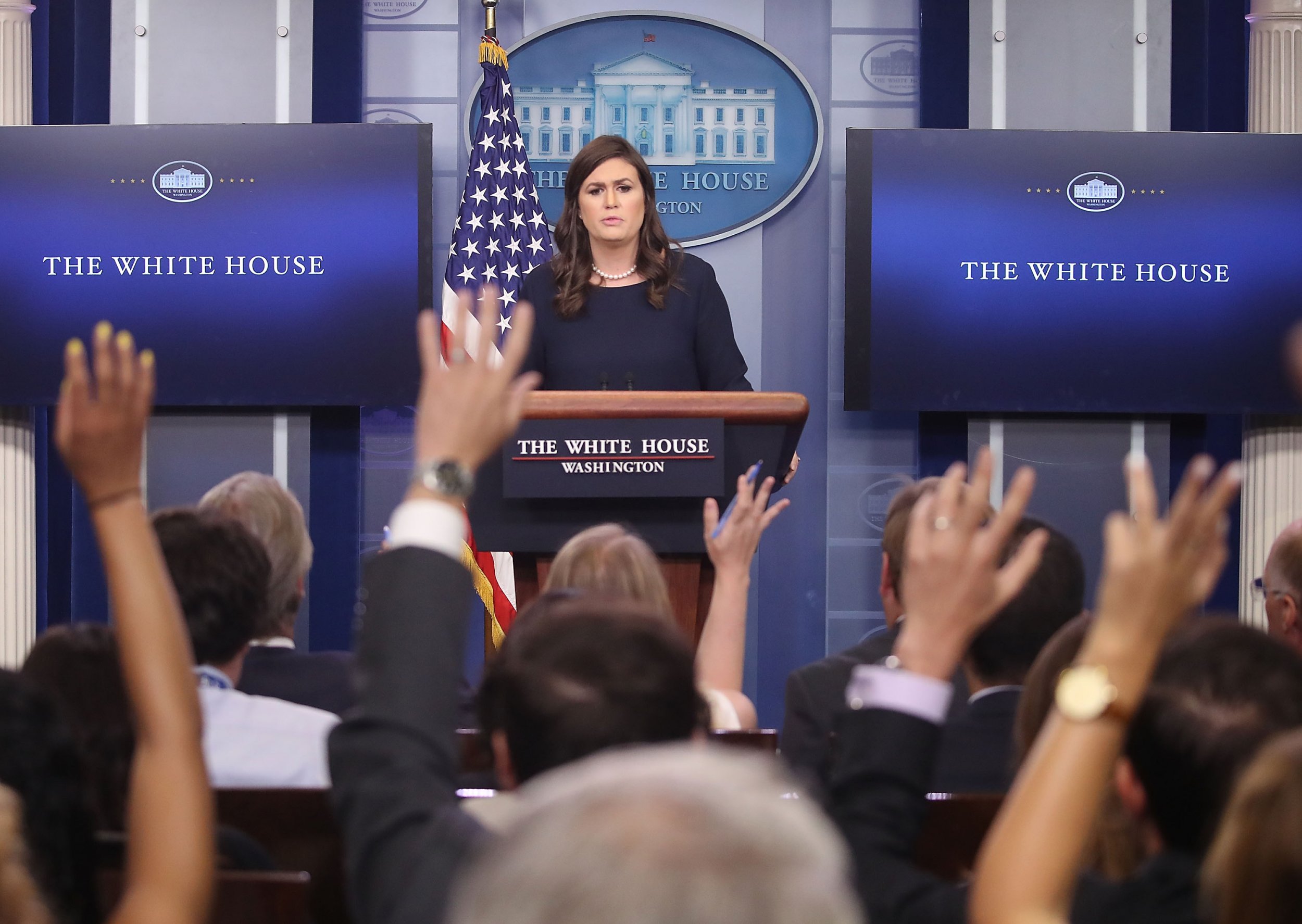 Feminists, and especially MSNBC host Mika Brzezinski, should stop attacking White House press secretary Sarah Huckabee Sanders for defending President Donald Trump's actions. That's according to her dad, former Arkansas Governor Mike Huckabee, who went on Fox News Wednesday night to argue his daughter "deserves better."
"She deserves better from other women, and it just amazes me that even the women who say they are feminists are doing everything they can to discredit my daughter," Huckabee said. "To her credit, my daughter stands strong and tough and walks into that lion's den of a pressroom every day, and, I believe, represents women and represents the president and represents strength in an incredible way."
He was responding to Brzezinski's recent criticism of Sanders, who stood by Trump's side this week after he tweeted a message saying Senator Kirsten Gillibrand, a New York Democrat, would "do anything" for campaign donations—which Brzezinski and many other women interpreted as sexual innuendo. On Monday, Gillibrand suggested Trump should resign, amid allegations of sexual misconduct with at least 19 women.
Brzezinski addressed Sanders on Morning Joe after the press secretary told reporters that "only if your mind is in the gutter would you have read" the tweet in a sexual way, according to Politico.
Brzezinski, a former Trump target herself, said on the air that she felt sorry for Sanders. "I seriously support you in your quest for truth, in your quest for goodness, in your quest for love of country, because you haven't made it there yet," she said Wednesday. She added that she was starting a hashtag campaign to raise support for the press secretary.
When Fox News played the clip for her father, Huckabee backed up his daughter. He said he didn't think the tweet was sexual in nature but Brzezinski should lay off regardless.
"I'll probably have to take half a baby aspirin tonight just to be able to get to sleep, because Mika Brzezinski attacked my daughter, who is one heck of a strong lady, a great mom, a lovely wife and a terrific public servant," he said. "And she deserves better from other women."
Huckabee also snuck in a classic dad-style insult toward Brzezinski. He ended by saying that she can "go pound sand somewhere, as far as I'm concerned."
Sanders does catch a lot of female flak for doing her job—Saturday Night Live's Aidy Bryant has mocked her weight, comedian Chelsea Handler has made fun of her makeup, and Whoopi Goldberg has fought with her over Barack Obama's birthplace.