Sarah Huckabee Sanders Claims Nancy Pelosi Cares More About Speaker's Job Than Protecting American Lives
On the seventh day of a partial government shutdown, White House press secretary Sarah Huckabee Sanders claimed Friday morning that presumptive incoming Speaker of the House Nancy Pelosi was "more willing to protect" her speakership than she was "willing to protect our borders and protect American lives."
As negotiations remained stalled on ending the shutdown, which boils down to President Trump's demand for $5 billion in border wall funding, Sanders was asked by reporters at the White House whether Trump believed he would have a better chance of getting border wall funding once Pelosi presumably retakes the speaker's gavel in the new Congress.
Lawmakers have since abandoned Capitol Hill and are no longer engaging in negotiations as Republicans, Democrats and the White House have all appeared to accept that a deal will likely not be made until after the new session, beginning January 3, 2019. No legislative business is scheduled in the House or Senate for the remainder of this session.
"Right now, what we have seen from [Pelosi] is that she is unwilling to do actually anything until she gets her speakership," Sanders said. "She is more willing to protect that than she is willing to protect our borders and protect American lives. We hope we will see that change in the next couple days."
That same morning, President Trump in a series of tweets threatened to shut down the southern border "entirely if the Obstructionist Democrats do not give us the money to finish the Wall." In addition, he said the U.S. would be cutting off aid to Honduras, Guatemala and El Salvador because of a new migrant caravan that has formed in Honduras. Trump said the local government is "doing nothing about it."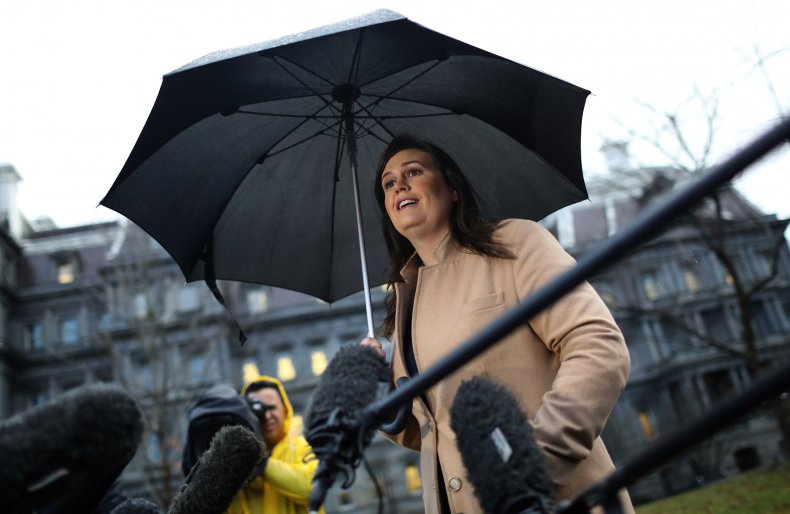 Drew Hammill, Pelosi's deputy chief of staff, told Newsweek that the last time the White House directly reached out to the congresswoman was December 11, when Trump called Pelosi following a tense Oval Office meeting involving the House minority leader, the president, Vice President Mike Pence and Senate Minority Leader Chuck Schumer.
Leading up to the shutdown, President Trump's son-in-law and senior adviser Jared Kushner, incoming Chief of Staff Mick Mulvaney and Pence negotiated with congressional leaders on behalf of the White House, but a deal could not be struck.
"Democrats have made it clear that, given that the president has changed his position so many times, we would not consider any offers from the White House that the president has not publicly endorsed," Hammill said. "While we await the president's public proposal, Democrats have made it clear that, under a House Democratic majority, we will vote swiftly to reopen government on Day One."
Hammill also highlighted the fact that Democratic Congressman James McGovern's attempt to force a debate on a clean short-term spending bill to fund the government through February 8 and provide no border wall funding was blocked by GOP House leaders on Thursday.