Sarah Huckabee Sanders Owed Apology After WHCA Dinner, Scaramucci and Others Demand
After a series of jokes were directed toward White House Press Secretary Sarah Huckabee Sanders at the White House Correspondents' Association Dinner Saturday (WHCA), several are demanding an apology.
Comedian Michelle Wolf appeared at the dinner and in her monologue tore into the administration including, Sanders.
Wolf compared Sanders to fictional character Aunt Lydia in The Handmaid's Tale, a book and television show about a dystopian future in which a far-right political movement enslaves most women for breeding purposes. She also compared Sanders to the fictional character Uncle Tom from Uncle Tom's Cabin. The insult Uncle Tom refers to someone who is overly subservient to oppressors, in the book a black man toward white society in the time of slavery.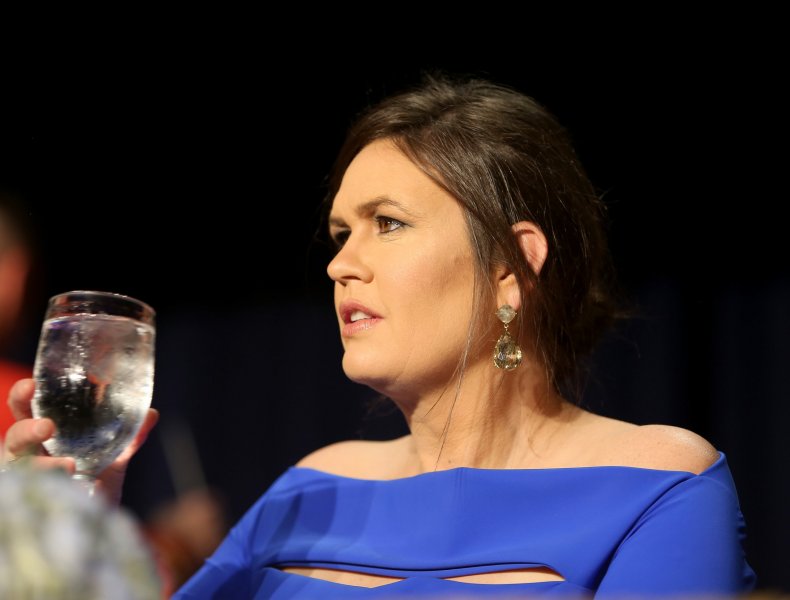 "I'm never really sure what to call Sarah Huckabee Sanders … what's Uncle Tom for white women who disappoint other white women," said Wolf.
Some felt the jokes lobbed out by Wolf went too far. Former White House Communications Director Anthony Scaramucci said on CNN that Sanders is owed an apology by the WHCA president Margaret Talev.
"I have an enormous amount of respect for Margaret [Talev] and what she does at the White House Correspondents' Association," said Scaramucci on CNN's Reliable Sources. "But it would have been very nice if [Sanders was] given an apology, given what happened."
Scaramucci called the jokes an "atrocity." Talev also said some of the jokes made her "uncomfortable."
Journalists have called for an apology as well including Fox News's Ed Henry, NBC's Andrea Mitchell and MSNBC's Mika Brzezinski.
Wolf doubled down on the jokes Sunday, responding to a tweet by The New York Times reporter Maggie Haberman who commended Sanders for not walking out of the dinner.