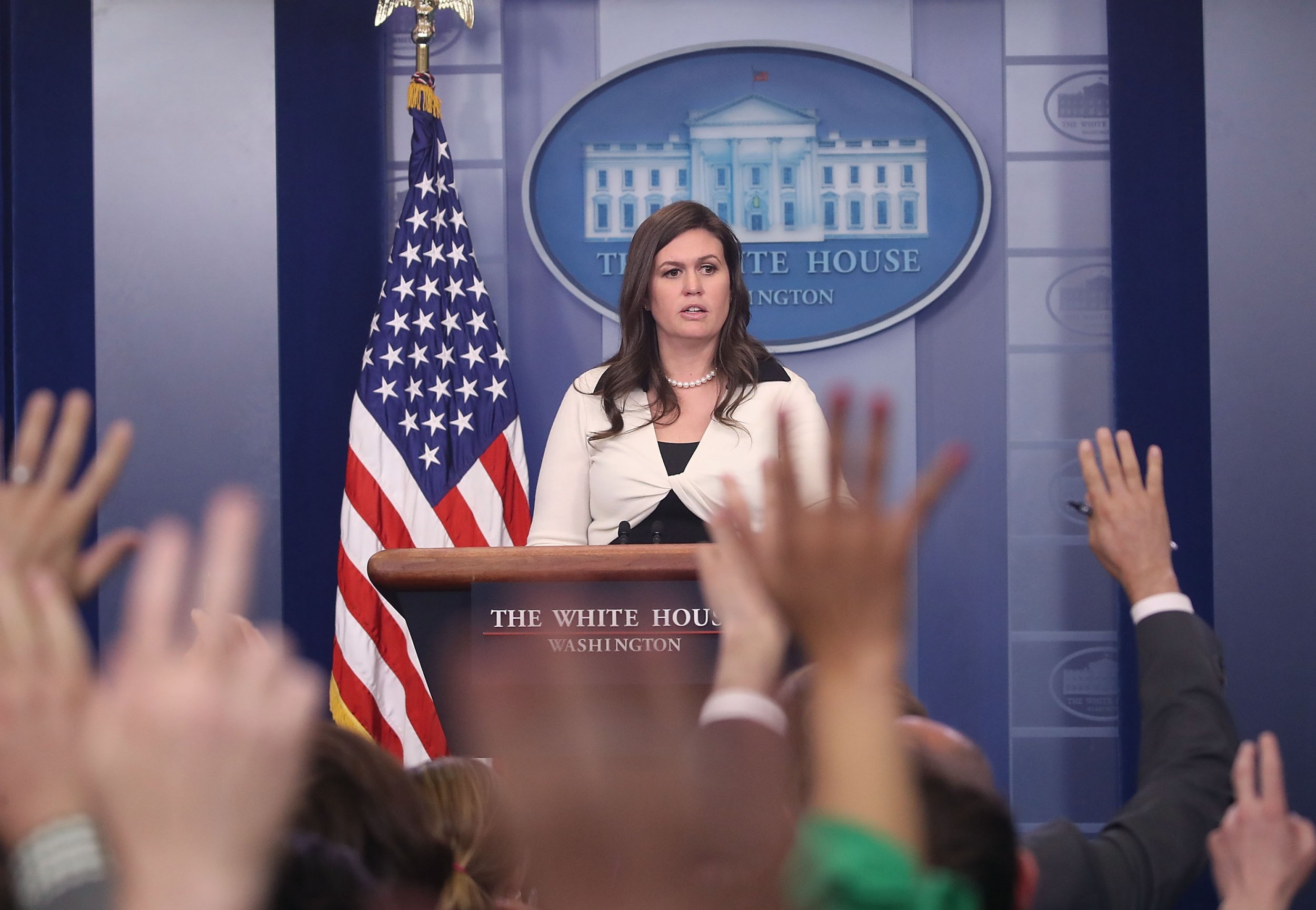 On Friday afternoon, newly appointed White House press secretary Sarah Huckabee Sanders walked to the lectern in the West Wing's briefing room and calmly began to talk about "Made in America" Week. It was a little disconcerting for some observers.
If you'd looked at Twitter that day, you might have feared the Capitol was engulfed in flames. Sean Spicer, the infamous press secretary who'd served in that post since Donald Trump's inauguration, had just resigned in protest after the president appointed banker Anthony Scaramucci White House communications director. That news came roughly a week after First Son Donald Trump, Jr. posted an email chain confirming that he and two other top Trump campaign aides met with a Russian lawyer last year in hopes of getting damaging information about Democratic candidate Hillary Clinton. And only days had passed since top Republicans failed (again) to fulfill a major Trump campaign promise to repeal and replace the Affordable Care Act. Oh, and all this was in the middle of a widely criticized three-week drought in televised media briefings by the White House.
If Sanders was faking her confidence as she stood before the nation's press on Friday, she didn't show it. She ignored that crush of breaking news and jostling microphones to stay on message. Relentlessly. She was ready for this—after all, as the daughter of former Arkansas Governor Mike Huckabee, she's been defending bombastic conservatives her entire life.
In that sense, her new role is not a surprise to Princella Smith, who went to college with Sanders and interned for Huckabee. "This is no shade to anybody―she is probably one of the most competent people in that administration right now," Smith tells Newsweek. "What y'all see at the podium, that's Sarah. She has not moved. She is unbothered."
Not only did Sanders grow up in it, she made a career of it: Sanders has done just about every job on the campaign trail, from delivering pies to hungry Huckabee staffers to once standing in for Arkansas Senator John Boozman when he missed a debate. Whether she's in downtown Washington, D.C. or backwoods Arkansas, she comes armed with a winning Southern accent, a no-bullshit demeanor and a burlap sack full of sometimes-strange adages.
Her new role, however, will prove to be her most challenging. Trump's campaign aides have been accused of colluding with the Kremlin to influence the 2016 presidential election. Democrats are already calling for his impeachment. North Korea won't stop testing nuclear missiles. Fake news is whipping up constant conspiracy theories on the internet, and the "real news" media is growing increasingly frustrated with the White House's evasive non-answers and refusal to broadcast its news conferences.
Sanders is now the mouthpiece for Trump, the person who must explain White House policy and goals to the public in layman's terms while beating back the president's numerous and increasingly vocal critics. Trump is usually behind closed doors and tiny keyboards, but Sanders is on the frontline. She's the new primary source for information about the future of the nation.
Here's what you need to know about her.
Down Home
To fully understand Sanders, you have to understand her dad. Mike Huckabee, 61, has spent most of his life as a public figure. In the '80s, he was a Baptist pastor; by the early '90s, he'd become president of a Christian TV network. He became governor of Arkansas in 1996 and left office in 2007 with a 55 percent approval rating. He's always been a little eccentric—just before his 45th birthday, he moved into a triple-wide trailer parked in the yard of the Governor's Mansion—and he passed a big gob of his personality onto his youngest.
"Sarah is more like her dad than anybody else in the family," says former Huckabee adviser Curtis Coleman, adding that means more than sharing his ardor for ice cream. "She has a sanguine personality ... a ready smile and is one of those people who starts out liking you. You kind of have to prove to Sarah she can't like you, because she'll start out liking you."
Coleman knew Mike Huckabee before he was either a lawmaker or a parent, when the duo was working together at a Christian ministry based in Texas. Once Huckabee became a dad, Coleman says Huckabee would arrive late to the airport for their ministry trips because he didn't want to leave his wife, Janet, and their three kids. He'd call and write to the children constantly while traveling, and when he became involved in politics he was thrilled Sanders and her brothers were old enough to get involved in his campaigns.
Sanders told The Hill in 2010 that she got her first campaign experience at age 9. "I was stuffing envelopes, I was knocking on doors, I was putting up yard signs. I'm absolutely my dad's biggest fan, and anything he wanted to do, I wanted to be a part of," she said.
Politicians' kids can pose problems for candidates and their senior aides, with their sometimes fraught relationships and their spoiled attitudes and their scandals—think of the underage Bush twins getting caught drinking—but Sanders never did, as former Huckabee staffer Lance Lemmonds says. "She was a political animal at 14," says Lemmonds, now the director of communications for the Faith & Freedom Coalition. He says that as she grew up, she helped with events, tracked poll numbers and grilled staffers on intricate policy questions, taking particular interest in topics like health care.
She also quickly learned how to navigate through controversy: Huckabee, like Trump, has a penchant for offending voters with offhand comments. He once compared rapper Jay-Z to a pimp, for example, and invoked the Holocaust to argue against the Iran nuclear deal, which he said amounted to then-President Barack Obama taking Israelis and "march[ing] them to the door of the oven." He called the Supreme Court's ruling on marriage equality "judicial tyranny," and earlier this year, he said he planned to honor Cinco de Mayo by drinking salsa and watching Speedy Gonzales cartoons.
Sanders has stuck by him through it all. When TIME asked in 2007 about an old Huckabee suggestion that AIDS patients be quarantined, she declined to get into it, simply saying, "I don't think it hurts us right now." When Huckabee's 1996 support for the parole of Wayne DuMond, a convicted murderer who killed again in Missouri after he was released from prison in Arkansas, came up on a conference call, Sanders said the story was based on a misconception.
She's done more than just damage control for her father. In 2008, at the age 26, Sanders was the national political director for her dad's presidential bid (he won the crucial Iowa caucuses, but suspended his campaign after he lost a string of primaries to John McCain). In 2010, she managed Arkansas Republican John Boozman's successful campaign for senator; a year later, she headed former Minnesota Governor Tim Pawlenty's presidential campaign. In 2014, she advised Arkansas Senate candidate Tom Cotton, and in August 2015, Sanders became campaign manager for her dad in the GOP presidential primary race. When Huckabee dropped out early, she joined the Trump campaign as a senior adviser.
Just before the inauguration, Trump brought her into the White House as principal deputy press secretary.
Pretty Powerful in Pink
One day after the president fired FBI Director James Comey, Sanders stepped up to the briefing room's lectern last May and tried to use some Huckabee charm to pacify a howling crowd.
"In addition to all of the big news happening at the White House today, it is also my daughter Scarlet's fifth birthday," she said before she took questions from reporters. "And since I'm here and you guys are, I get to wish Scarlet a happy birthday. And with that, I think her first birthday wish would probably be that you guys are incredibly nice."
It was a critical moment for Sanders in her new job. For months, Spicer had been consuming Americans' attention. Love him or hate him, he was a star: While Sanders stood on the left of the briefing room, he took center stage. Journalists combed through his old tweets and mocked his chewing gum habit and Dippin Dots hatred. Melissa McCarthy nicknamed him "Spicey" and got nominated for an Emmy for her vicious but eerily accurate portrayal of him on Saturday Night Live.
Then, on May 9, Trump whacked Comey. Spicer promptly had a breakdown. According to the Washington Post, he yelled statements to reporters gathered near his door. He stuttered in TV interviews. He hid from reporters among the bushes outside the White House, demanding the lights be turned off before he'd talk.
The next day, as speculation swirled that Trump had fired Comey because of the Russia investigation, Spicer had Navy Reserve duty. He couldn't lead the daily press briefing.
Which put Sanders behind the lectern.
When viewers tuned in, they were shocked. She didn't speak like Spicer, who would regularly get flustered and combative when reporters' questions got tough. She remained relaxed as she decried Comey's "atrocities" and attempted to explain Trump's contradictory statements on the firing. She gave journalists the same (microscopic) amount of information Spicer always did, but she did it in a way that didn't leave them―or the president―bristling.
Former classmates of Sanders watched, rapt. It wasn't her first briefing, but it was her biggest. "The first time we saw her doing a presser in the White House was surreal," says Charles Blake, a Democratic state congressman who went to high school with Sanders. "That's one of those jobs, those situations I wouldn't wish on anyone."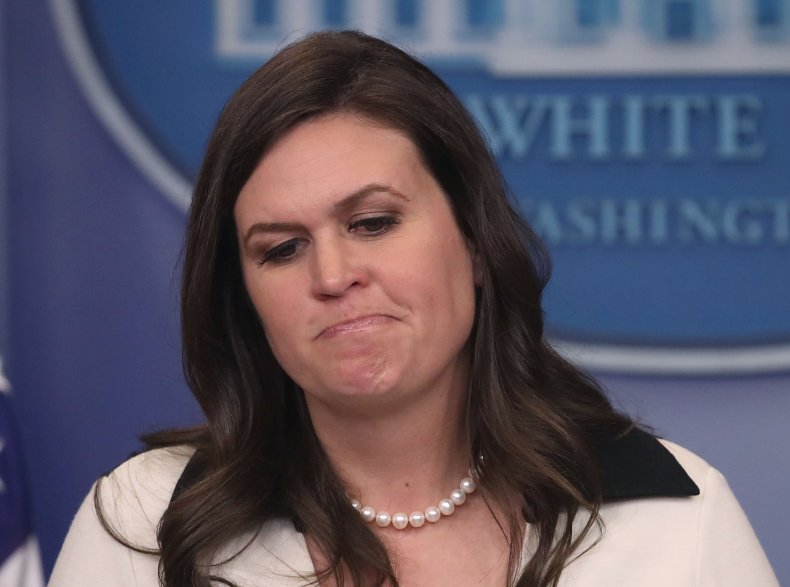 Sanders' first few news conferences were well-received by members of the media. "She took to the podium in a hot pink dress with a bedazzled collar and fielded questions like a champ," the Independent Journal Review wrote after her debut in May. "Sanders is better at briefing than Spicer," CNBC reporter John Harwood tweeted after the Comey briefing. "Sanders obfuscates same as Spicer," the New York Times' Maggie Haberman added. "Also does it without making deeply personal, petty, condescending."
Hal Bass saw the roots of this aplomb years ago, when he was her political science professor at Ouachita Baptist University in Arkadelphia, Arkansas. He says Sanders excelled in the classroom, where—unlike most students—she could always prove she'd done the previous day's reading and pen coherent essays on, say, the role of presidents in foreign affairs. She also performed well in Student Senate, where she led the orchestrating of events like homecoming weekend and the academic awards banquet, Bass says. Disciplined but funny, she always got the work done.
"I don't recall ever seeing Sarah flustered, in a sense of being overwhelmed. She always seemed very much in control of situations," he adds. "Those attributes that I saw almost 20 years ago now are certainly serving her well today."
'Hi, I'm Sarah'
Whenever she hears "Sarah Huckabee Sanders," Jennifer Hatten flashes on Cactus Bread. That dessert pizza is a Pizza Ranch specialty, a disc of dough topped with cinnamon streusel drizzled with icing. Sanders introduced it to her when the two worked on the Huckabee campaign in Iowa in 2008.
Hatten, now a vice president with the American Bankers Association, says she remembers being immediately impressed by Sanders when they met on Hatten's first day in Des Moines. "It was like we had always known each other," she says. "I met her that afternoon and probably two hours later she gave me the keys to her SUV so I could pick up somebody at the airport. I don't know that I could do that, [but] she was just like, 'Here, take my car.'"
Because the staff was so small, Hatten and Sanders got close quickly. They ate too much Cactus Bread, of course, and sent frequent orders out to the local grocery store. Once, after the campaign manager chided the staff for not having the next day's schedule done, Sanders and the rest of the crew pulled an all-nighter in a Marriott conference room, huddled around laptops and dragging reluctant aides out of bed.
"Sarah didn't have to stay up all night with us," Hatten says. "You know, she's the daughter of the candidate. She could have punched out for a few hours, slept, showered, but she stayed with us the whole time."
Matt Reisetter, who also worked on the Huckabee Iowa team, remembers sitting around a table at P.F. Chang's with her and other staffers, laughing and picking at Chinese food. Princella Smith, who attended college with Sanders, says the press secretary would introduce herself to new people as just "Sarah," leaving off her last name. Clarke Tucker, who went to high school with Sanders, describes her as the kind of person he wants his kids to be.
Another humanizing factor: Sanders' social media. In her old posts, she writes about loving fantasy football, New Kids on the Block and Mad Men. She once had a cocker spaniel named Winston, isn't great at video games and orders the macaroni and cheese at Panera. She went to Israel in 2011 with her dad and actor Jon Voight, doesn't believe brisket counts as barbecue and thinks that being at Walmart feels like being at home.
Nowadays, Sanders' profiles are filled with retweets of the president and photos of her three young kids. Occasionally, those worlds collide: In June, her son Huck grabbed Sanders' phone and tweeted a string of stoplight emojis from her official White House account.
Make Briefings Great Again
After she finished running through her announcements at Friday's first post-Spicer resignation briefing, Sanders did eventually address his absence. She read a statement from Trump saying he was grateful for Spicer's work and wishing him continued success. When she reached the last line, she smiled: "Just look at his great television ratings." Then she let Scaramucci take over. Wearing a red dress and her signature pearl necklace, she stood in the corner of the room and leaned against the wall with her hands behind her back.
Whatever love the press corps initially had for Sanders after the Comey firing has dissipated. The White House has all but stopped holding daily briefings, and when it does hold one, it's often no-video and no-audio, leading members of both the media and the public to condemn the lack of transparency. Like the president, Sanders now sometimes snaps at reporters or rants about the media at large.
Last month, after CNN retracted a story about, coincidentally, Scaramucci, she sparred with Playboy reporter Brian Karem, who said she was being inflammatory when she called the media dishonest. "I think that we have gone to a place where if the media can't be trusted to report the news, then that's a dangerous place for America," she argued. "And I think if that is the place that certain outlets are going, particularly for the purpose of spiking ratings, and if that's coming directly from the top, I think that's even more scary and certainly more disgraceful."
There are sure to be plenty more disagreements like that, which means Sanders is now doing one of the toughest jobs in American politics. Not only is there a war between the media and the government, but the Russia collusion scandal gets bigger and messier with every iPhone alert. Trump repeatedly says one thing by day and tweets the opposite by night. The White House seems to be fracturing under the strain of internal disagreements like the one that ousted Spicer.
But on Friday, back at the lectern after Scaramucci's remarks, Sanders was calm, in control. As she wrapped up the briefing, a reporter asked if she thought the White House was in a state of chaos given its high turnover rate.
Sanders, as usual, was prepared with a quip that divulged nothing, scolded the reporter and sounded friendly all at the same time. "If you want to see chaos," she said, "you should come to my house early in the morning, when my three kids are running around. That's chaos. This is nothing."