Sarah Sanders Quotes: 5 Misleading Claims Press Secretary Has Made Defending Donald Trump
Sarah Sanders, one of longest-serving high-ranking officials in the Trump administration, has made multiple misleading statements to defend President Donald Trump since day one, and seemingly has not been rebuked internally for doing so. On the contrary, Sanders has been promoted during her tenure, from principal deputy press secretary to White House press secretary.
Sanders's outward good standing with her boss is not surprising given Trump made more than 7,600 false or misleading claims through the end of last year, according to The Washington Post.
Here are some of the most glaring statements Sanders made to back up Trump and the administration:
"We know that, roughly, nearly 4,000 known or suspected terrorists come into our country illegally, and we know that our most vulnerable point of entry is at our southern border." — Sarah Sanders, on January 6
In an interview with Fox News Sunday, Sanders reiterated Homeland Security Secretary Kirstjen Nielsen's claim that thousands of "special interest aliens" had been apprehended at the southern border with Mexico.
Sanders's false claim that "nearly 4,000" terrorists have entered through the southern border was challenged by several hosts of Fox News, which generally covers Trump in a more positive light than other major television networks. Fox News host Laura Ingraham the following day told counselor to the president Kellyanne Conway that it was a much smaller number than what Sanders described.
"Doesn't that hurt the credibility of the White House when we don't get these basic facts right, and someone's not doing their homework in the way they described it?" Ingraham asked.
Conway replied that the number, 3,755, did not refer to apprehensions at the border specifically as Sanders suggested, but also accounted for people caught at international airports.
"It got unfortunately confused by my colleague, but the apprehensions at the border of gang members, of known criminals, these are all again...the media has this presentation if they want to be honest," Conway said. "That was an unfortunate misstatement and everybody makes mistakes, all of us."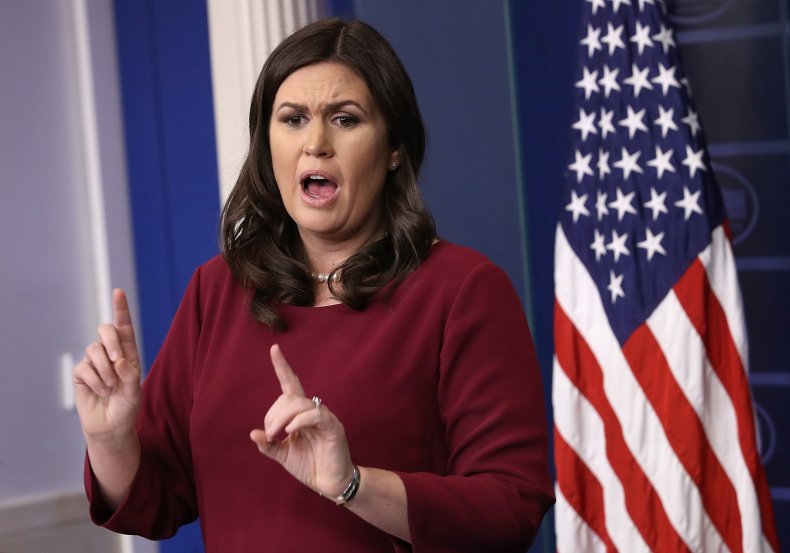 "President Trump believes in a free press and expects and welcomes tough questions of him and his Administration. We will, however, never tolerate a reporter placing his hands on a young woman just trying to do her job as a White House intern." — Sarah Sanders, via Twitter, on November 7, 2018
This was the first in a series of tweets Sanders wrote to explain why the White House suspended CNN's chief White House correspondent Jim Acosta's press credentials after a heated exchange he had with Trump at a news conference following the midterm elections. A White House intern tried to take the microphone away from Acosta but he would not let go, and a video appeared to show his arm brush hers.
Sanders later that night shared a doctored video of the incident originally posted by the conspiracist blog InfoWars that zoomed in to the moment and seemed to be sped up in order to make the contact look more aggressive.
"We will not tolerate the inappropriate behavior clearly documented in this video," she tweeted.
Even after a federal judge ordered that the Trump administration restore Acosta's credentials, Sanders did not delete the tweets.
"President Trump in his first year and a half has already tripled what President Obama did in eight years." — Sarah Sanders, on August 14, 2018
In a White House press briefing after former White House aide Omarosa Manigault Newman published a book with a scathing account of the administration, Sanders said: "This president, since he took office, in the year and a half he's been here, has created 700,000 new jobs for African-Americans.... When President Obama left, after eight years in office—eight years in office—he had only created 195,000 jobs for African-Americans."
Sanders then concluded that Trump had already done three times more than Obama had for African-American employment in two terms.
Though Sanders accurately reported Trump's numbers, she drastically undercounted Obama's numbers. A PolitiFact analysis of data from the Bureau of Labor Statistics revealed that African-American employment growth under Obama was four times higher than under Trump in his first year and a half.
The White House's Council of Economic Advisers then tweeted an apology for the "miscommunication" to Sanders, and she tweeted, "I'm sorry for the mistake, but no apologies for the 700,000 jobs for African Americans created under President Trump."
"One of the best things that we have in this country is the fact that everybody wants to be here, and to give that away randomly, to have no vetting system, to have no way to determine who comes, why they are here and if they want to contribute to society is a problem." — Sarah Sanders, on November 1, 2017
Sanders made this claim during a White House press briefing a day after an attack in New York killed eight people and injured a dozen others. She said, "To try to argue that this is a system that thoroughly vets people shows a total lack of understanding."
Trump had said the suspect entered the United States through the diversity visa program, which allows up to 50,000 people annually to enter from counties with low immigration rates into the U.S. Though participants are chosen through a lottery, they undergo an in-depth review including security screenings and background checks. Applicants drawn in the lottery are not ultimately rewarded unless they clear the review process.
"The president in no way, form or fashion has ever promoted or encouraged violence." — Sarah Sanders, on June 29, 2017
"If anything, quite the contrary, and he was simply pushing back and defending himself," Sanders said during a White House press briefing after CBS News's chief White House correspondent Major Garrett asked her to comment on some of the president's recent tweets.
Trump had tweeted that MSNBC's Morning Joe co-host Mika Brzezinski was "bleeding badly from a face-lift" when she visited his Mar-a-Lago resort and was "low I.Q." and "crazy," and that her co-host Joe Scarborough was "Psycho Joe."
In fact, Trump has made statements appearing to encourage violence in more than a half-dozen instances, including on the campaign trial in February 2016.
"So I got a little notice. We have wonderful security guys. It said, 'Mr. Trump, there may be somebody with tomatoes in the audience.' So if you see somebody getting ready to throw a tomato, knock the crap out of them, would you?" Trump announced to a crowd in Cedar Rapids, Iowa. "Seriously. Just knock the hell...I promise you, I will pay for the legal fees. I promise. I promise."
Sanders continues to make questionable claims about her boss's accomplishments, including that the United States "has never been stronger" than at the two-year mark under Trump.