Sarah Huckabee Sanders Says Citizenship Question Has Been on Census for Decades—It Hasn't
White House press secretary Sarah Huckabee Sanders inaccurately argued on Tuesday that a question added to the 2020 census asking people if they are U.S. citizens has been used for decades and was only removed under the Obama administration.
"This is a question that's been included in every census since 1965, with the exception of 2010, when it was removed," Sanders told reporters.
"We've contained this question that provides data that is necessary for the Department of Justice to protect voters and specifically help us better comply with the Voting Rights Act," said the White House spokeswoman.
There was no census in 1965. The 1960 census asked people where they were born, but not about their citizenship. The questionnaire, sent out once a decade, gathers statistics on Americans that helps plan how tax money is spent and how many congressional seats each state gets.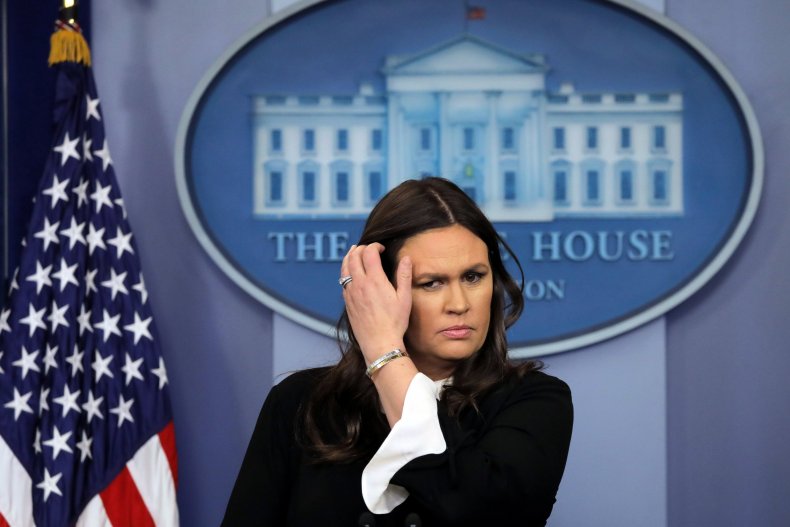 The last time an official census asked if the people responding were U.S. citizens was in 1950. Some other surveys sent out by the U.S. Census Bureau, such as the American Community Survey, however, have asked the question.
Sanders's statement contradicted Commerce Secretary Wilbur Ross's letter published on Monday announcing the change. "Prior decennial census surveys of the entire United States population consistently asked citizenship questions up until 1950," Ross wrote, pointing out that he had been asked to consider whether to return it to the questionnaire by the Department of Justice.
Read more: Trump census citizenship question could cost Texas billions of dollars
Ross said his department has "prioritized the goal of obtaining complete and accurate data" and wanted to help enforce the Voting Rights Act, which outlawed discriminatory voting practices.
The question has received a legal rebuke from states such as California and New York. California Attorney General Xavier Becerra said on Tuesday that he will fight the Trump administration over the question in court.
Becerra argues it will "derail the integrity of the census" because many people may be afraid to respond to the survey if they are forced to give their citizenship status. California has a large immigrant population. "An undercount would threaten at least one of California's seats in the House of Representatives (and by extension, an elector in the electoral college)," he wrote in an opinion piece published on Monday.
California filed suit against the Commerce Department and the Census Bureau early on Tuesday.
New York Attorney General Eric Schneiderman plans to launch a multistate lawsuit over the question. "This move directly targets states like New York that have large, thriving immigrant populations—threatening billions of dollars in federal funding for New York as well as fair representation in Congress and the Electoral College," Schneiderman said in a statement.
Trump was already campaigning on the expected blowback in an email from his campaign to supporters last week.
"The President wants the 2020 United States census to ask people whether or not they are citizens. In another era, this would be COMMON SENSE...but 19 attorneys general said they will fight the President if he dares to ask people if they are citizens," the campaign email reads. "The President wants to know if you're on his side."