Sarah Huckabee Sanders Says Only Killers to Blame for Actions, but Trump Blamed Video Games for School Shootings
White House press secretary Sarah Huckabee Sanders, in a briefing Monday on the Pittsburgh synagogue shooting over the weekend, insisted that only the individuals who committed crimes were responsible. That is not the view expressed by President Donald Trump, who has blamed video games for violence in the past.
Sanders made the remark after ABC News's chief White House correspondent Jonathan Karl asked why Trump suggested that the media was responsible for sparking the synagogue shooting and pipe bombs sent to Trump's critics last week, when the pipe bomb suspect had pro-Trump stickers on his vehicle.
"The very first thing that the president did was condemn the attacks both in Pittsburgh and in the pipe bombs. The very first thing the media did was blamed the president and make him responsible for these ridiculous acts," Sanders said. "That is outrageous, that that would be the very first reaction of so many people across this country.
"The only person responsible for carrying out either of these heinous acts were the individuals who carried them out," Sanders stated.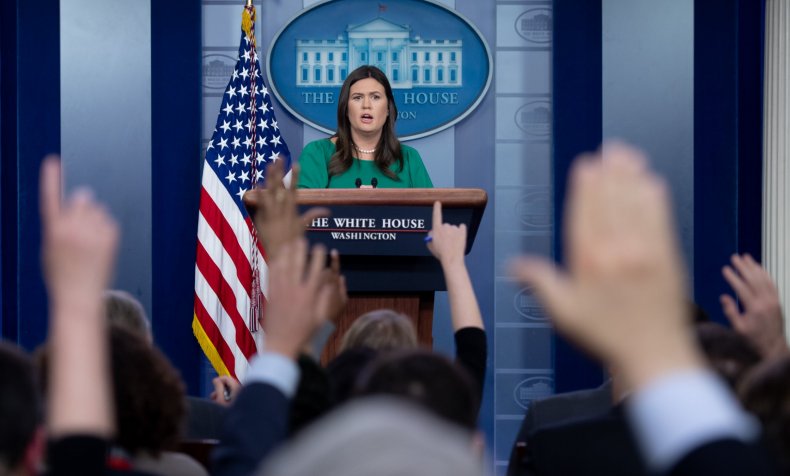 She added that Trump was no more to blame for the recent violent acts than independent Vermont Senator Bernie Sanders was for one of his supporters shooting at Republicans practicing on a baseball field last year.
"You can't start putting the responsibility of individuals on anybody but the individual that carried out the crime," Sanders reiterated.
Sanders went on to say that the president "is not placing blame" and that he was not responsible for the acts. She said that the first thing the media did was condemn Trump and try to place blame on him and his administration.
"That is outrageous that anybody other than the individual who carried out the crime would hold that responsibility," she concluded.
However, Trump blamed video games following February's school shooting in Parkland, Florida, which was the country's deadliest at a campus in five years.
"I'm hearing more and more people say the level of violence on video games is really shaping young people's thoughts," Trump told the state's attorney general in March.
Trump met with video game executives, Congress members and a representative from the Parents Television Council less than a month after the Parkland shooting to talk about "violent video game exposure and the correlation to aggression and desensitization in children," White House deputy press secretary Lindsay Walters said in a statement.
It appears to be Trump's long-held view.
"Video game violence & glorification must be stopped—it is creating monsters!" he tweeted in 2012.