Is Sarah Huckabee Sanders Better Than Sean Spicer? Her Old Tweets May Be As Controversial As His Briefings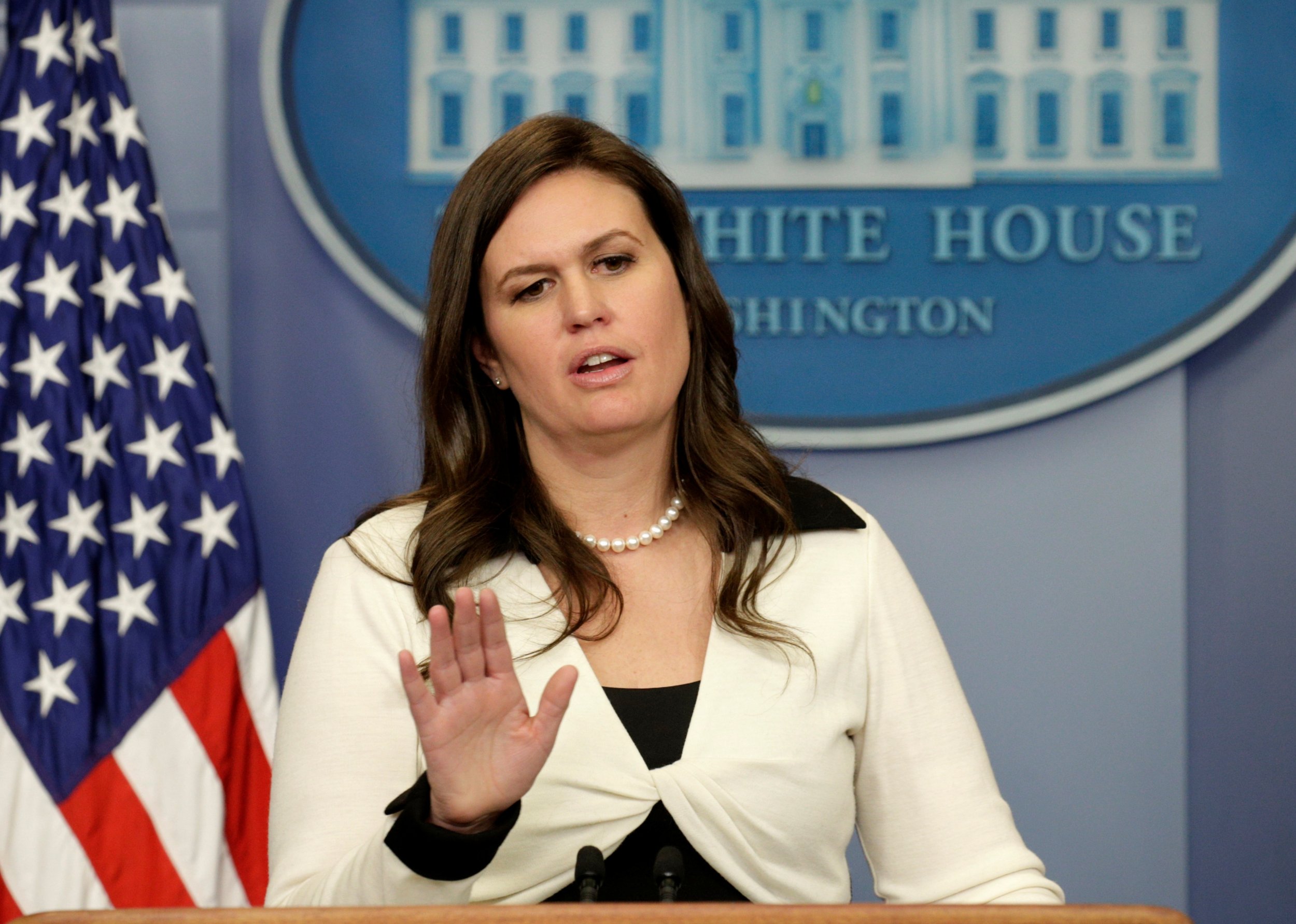 Much like her father, Sarah Huckabee Sanders could probably benefit from deleting a tweet or two.
The deputy White House press secretary under President Donald Trump—who some Americans (and mock reporters on Saturday Night Live alike) are saying should replace her boss, White House Press Secretary Sean Spicer—is facing new criticism for messages she posted on Twitter before accepting a role in the Trump administration.
Related: Will Sarah Huckabee Sanders Replace Sean Spicer?
Just days after Sanders defended Trump for his controversial decision to fire FBI Director James Comey, Twitter users pointed out the "hypocrisy" in her 2016 tweets defending the head of the agency. At the time, Sanders was blasting former Democratic candidate Hillary Clinton after it was reported that the FBI was probing newly found emails on her longtime advisor Huma Abedin's shared laptop with her husband, Anthony Weiner.
"It's not Comey's mess," Sanders tweeted after Comey made the controversial announcement in late-October. "It's Hillary's. Actions have consequences, even for those who believe they're above the law."
The internet, which has learned to produce memes at a rapid speed under Trump, quickly got to work creating GIFs of Sanders ducking into a bush as her old tweets went viral and many users blasted her messages as "embarrassing," "awkward" and "not aging really well."
Comey reportedly requested additional resources for an ongoing investigation into Russia's meddling in the 2016 election in the days leading to his removal, but Sanders didn't see anything wrong with that sequence of events in her defense of Trump's decision.
"We want this to come to its conclusion, we want it to come to its conclusion with integrity," Sanders said Wednesday, a day after Trump fired Comey. "And we think that we've actually, by removing Director Comey, taken steps to make that happen."
Meanwhile, Trump has continued to defend his decision to fire the FBI director, saying it was his decision entirely, in an interview last week with NBC's Lester Holt.
Sanders isn't alone in her Twitter controversies. Her father, the former governor of Arkansas who says he uses the social media site as a platform for his "unique" style of comedy, regularly finds himself battling back accusations that his tweets are racist, counterproductive and otherwise politically incorrect.
Sanders has been in the White House limelight since covering a number of daily press briefings while Spicer fulfilled his Naval Reserve duties last week. Her appearances got the SNL treatment Saturday, with Aidy Bryant's spot-on portrayal of her southern accent.
"I have a question," one reporter says to the deputy press secretary in the skit. "Can you just do this full-time instead of [Sean Spicer]?"
"I'd also like to ask that question," another reporter adds. "Because you are clearly articulate and charming, whereas Sean is bullish…" Melissa McCarthy's version of Spicer then runs onstage, blasting the reporters with a fire extinguisher and giving Sanders the boot.
But Sanders' old tweets may prove she's no less controversial than her boss, who is often charged with misstating the facts on a variety of White House and international developments on a near-daily basis. All this begs the question; does art imitate reality or reality imitate art?
Perhaps that's a question best answered by Twitter.