Sarah Huckabee Sanders Slams 'Sad' Scandal Around Anonymous Op-Ed, but Most Americans Believe Allegations, Poll Shows
As White House press secretary Sarah Huckabee Sanders hit back at the news media for drawing "so much" attention to a New York Times op-ed written by an anonymous senior White House official, a new poll found that most Americans believe the allegations made in the explosive essay.
On Monday, Sanders said it was "sad and pathetic that a gutless, anonymous source could receive so much attention from the media" over the op-ed in which the author claimed to be part of a "resistance" within the White House seeking to thwart President Donald Trump's "worst inclinations."
Sanders repeated Trump's argument that the anonymous author could pose a threat to "national security" and said the Department of Justice should be looking into the matter.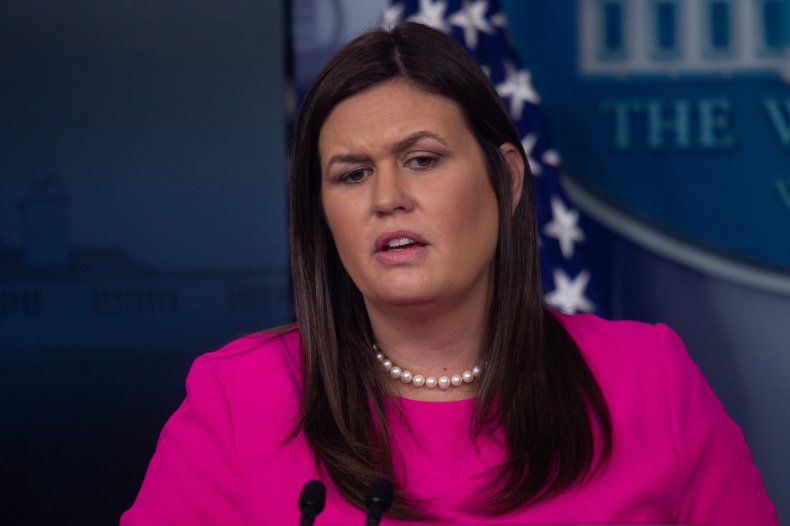 The White House press secretary's criticisms of the op-ed, as well as the media's coverage of it, came alongside the release of a poll that found that most American voters—55 percent—believed the anonymous allegations made in the op-ed, compared with 28 percent who said they did not believe the author's account.
The poll, conducted by Quinnipiac University from September 6 to 9, found that while most Americans did believe the accusations laid out in the op-ed, 52 percent of Republicans said they did not believe the details outlined in the op-ed, compared with 27 percent who said they did.
What many Americans could also agree on was that the person behind the allegations in the op-ed "did the wrong thing" by submitting them to the media to be published anonymously.
Fifty-one percent of voters said the senior official made the wrong move, compared with 39 percent who disagreed.
"American voters believe those tales of intrigue coming from the Trump White House, but they think it's wrong to tell those tales anonymously," said Tim Malloy, assistant director of the Quinnipiac University Poll.
The poll also found that 54 percent of American voters did not approve of the job Trump was doing, compared with 38 percent who did.
The only listed groups approving of the president were found to be Republicans, at 84 to 7 percent, and white voters with no college degree, at 51 to 40 percent, according to the Quinnipiac University Poll.
Read more: Trump Approval Rating Slumped in August, Poll Finds
American voters also gave Trump his lowest grade for honesty since he was elected, with 60 percent saying that Trump "is not honest."
The president also received low grades on other character traits. Fifty-seven percent said that he did not have good leadership skills, compared with 38 percent who disagreed; 55 percent said the president did not care about average Americans, compared with 41 percent who disagreed; 65 percent said the U.S. leader was "not level-headed, compared with 30 percent who believed he was; 51 percent said Trump was intelligent, compared with 42 percent who said he wasn't.
Sixty percent of voters said they believed Trump did not share voters' values, compared with 30 percent who said he did. Fifty-five percent also said Trump was not fit to serve as president, compared with 41 percent who said he was. American voters also weighed in on Trump's mental health, with 48 percent saying the president was "mentally stable," while 42 percent disagreed.