Sarah Huckabee Sanders Is Sorry (Not Sorry) for Saying Trump Created More Jobs for Black People Than Obama
White House press secretary Sarah Huckabee Sanders has apologized over incorrect claims that President Donald Trump had already created more jobs for African Americans than former President Barack Obama did during his whole time in office.
In a tweet posted in the early hours of Wednesday, Sanders issued a correction over Tuesday's briefing following a "miscommunication" from the Council of Economic Advisers, in which she claimed Obama had created just 195,000 jobs for African Americans during his tenure—in fact, the number was closer to 3 million.
"Correction from today's briefing: Jobs numbers for Pres Trump and Pres Obama were correct, but the time frame for Pres Obama wasn't. I'm sorry for the mistake, but no apologies for the 700,000 jobs for African Americans created under President Trump," Sanders tweeted.
The incorrect information was used as Sanders attempted to deflect from claims by former White House employee and Apprentice contestant Omarosa Manigault Newman, who suggested President Trump used the n-word and was racist.
Asked whether she could guarantee that there was no recording of the president using the racist slur, Sanders responded: "I can't guarantee anything. But I can tell you that the president addressed this question directly. I can tell you that I've never heard it.
"I can tell you that if myself or the people that are in this building serving this country every single day doing our very best to help people all across this country and make it better, if at any point we felt that the president was who some of his critics claim him to be, we certainly wouldn't be here," she added.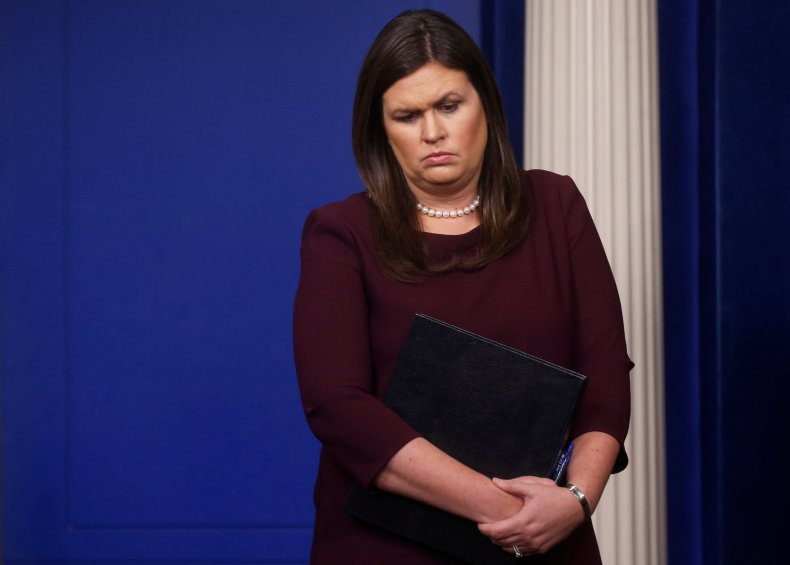 The press secretary then went on to tout Trump's record on black employment, which she boasted—incorrectly—was already better than former President Obama's.
"This president since he took office created 700,000 new jobs for African-Americans," Sanders told reporters on Tuesday. "After eight years of President Obama in office, he only created 195,000 jobs for African-Americans. President Trump in his first year and a half has already tripled what President Obama did in eight years."
"This is a president who is fighting for all Americans, who is putting policies that help all Americans, particularly African-Americans," Sanders also said at the briefing, The Hill reported. "Just look at the economy alone."
In her tweet apologizing for the mistake, Sanders shared a message from the Council of Economic Advisers that said sorry for its own miscommunication to the press secretary.