White House press secretary Sarah Huckabee Sanders has implied that the days of press briefings might be over. In defending the absence of such briefings in recent weeks, she said the media had the opportunity to speak directly with the president in more informal settings.
In an interview with Fox News Sunday, Sanders said: "Look, we talk to the press in a number of different ways.
"The day that the briefing was initially created, the atmosphere was incredibly different and you didn't have the same access and ways to communicate with the American public," she said.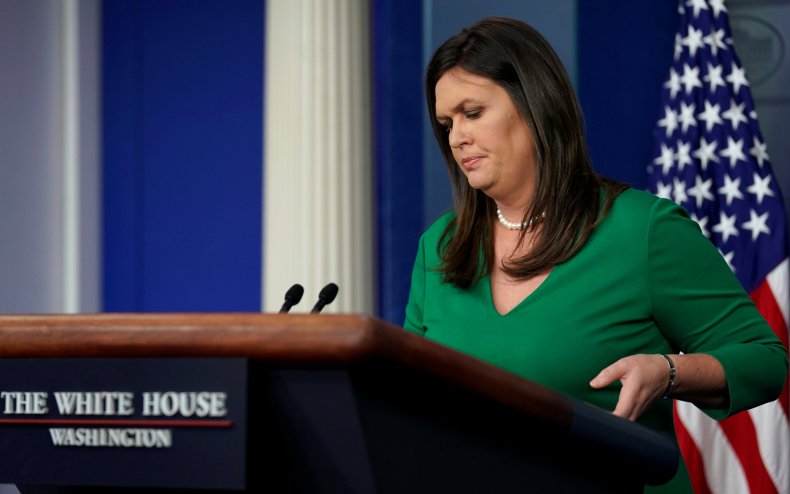 "But I always think if you can hear directly from the president, and the press has a chance to ask the president of the United States questions directly, that's infinitely better than talking to me. We try to do that a lot, and you've seen us do that a lot over the past three weeks, and that's going to take the place of a press briefing when you can talk to the president of the United States."
The president himself had previously suggested doing away with press briefings—during the tenure of previous White House press secretary Sean Spicer—when he said he only liked the idea of press briefings if he conducted them himself.
"Unless I have them every two weeks and do it myself, we won't have them," Trump told Fox News in 2017. "I think it's a good idea."
Last week, Politico reported that the press briefings appeared to have subsided amid the furor over Supreme Court nominee Brett Kavanaugh, who has been accused of sexual misconduct by three women.
Sanders has increasingly opted to speak with Trump-friendly media, such as Fox News, rather than rely on press briefings, something the president of the White House Correspondents' Association believes is telling.
"The briefing has important symbolic and substantive value," Olivier Knox told Politico. "It's one of the things that shows Americans that the most powerful institution in our political life is not above being regularly questioned. That makes it worth saving."