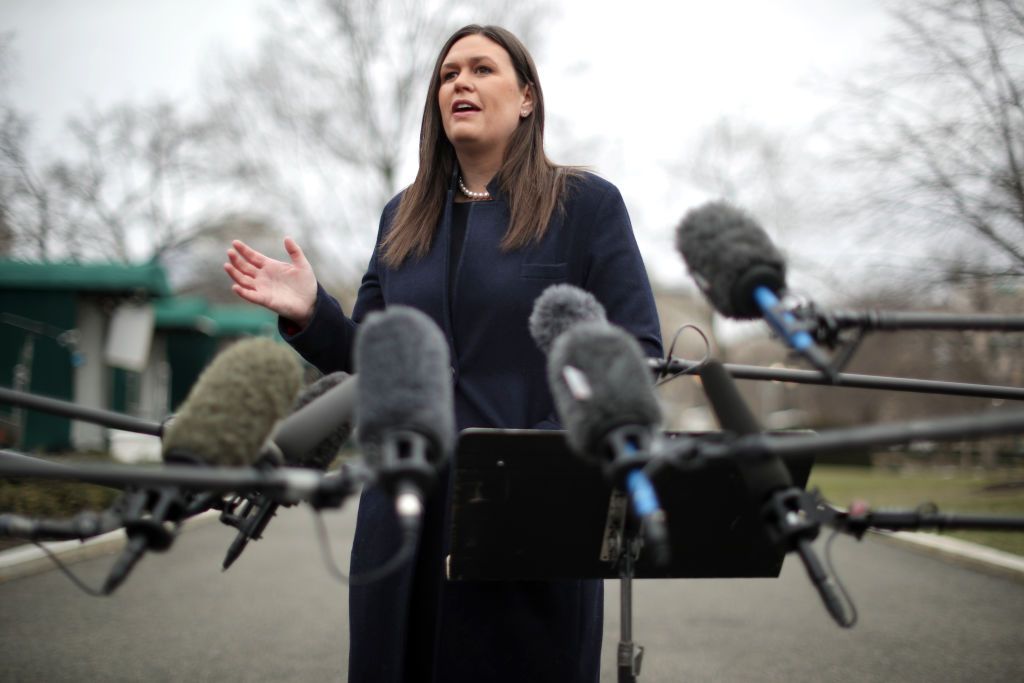 Amid President Donald Trump's journey to fund a border wall along the U.S.-Mexico border, conservative commentator Ann Coulter repeatedly has expressed her frustration through social media and in interviews over decisions being made in the White House.
"This is not Paul Ryan's fault. It's not Mitch McConnell's fault. Trump ran AGAINST the GOP and won. Responsibility is 100% his," Coulter tweeted shortly after Trump declared a national emergency related to the wall.
Shortly afterward, White House Press Secretary Sarah Huckabee Sanders gave an interview to Fox News' Dana Perino, who asked if Coulter and other conservative commentators had any influence on decisions made by Trump and the White House.
"I don't think Ann Coulter has any influence over this White House, or influence over much of anything, to be honest," Sanders said. "I don't think she did before the president became the president. I don't think she does now. I just don't see her as being an influential voice in this country, and certainly not one in this building."
In response, Coulter retweeted a portion of Sanders quote, adding: "Correct -- and I want it memorialized. Nor did I have any influence on the captain of the Titanic, the operators of the Hindenburg or the 9/11/2001 Terrorism Prevention Team."
The allegation of Trump being overly-influenced by conservative commentators arrives after CNN's Chris Cuomo who said Thursday during Cuomo Prime Time that the president does whatever Fox News host Sean Hannity says.
"He's got Hannity and [Ann] Coulter and all these people in his head all the time, rent-free by the way," Cuomo said during an interview with Florida Rep. Matt Gaetz about funding for the border wall.
Gaetz told Cuomo he was "throwing shade" at Hannity, to which Cuomo said Hannity had been a friend to him but that he is "incredibly persuasive and powerful."
"Without question the most powerful person in the media because what he says, the president does. Not vice versa," Cuomo said.
John Berman, the host of CNN's New Day, made a similar allegation to Cuomo's on Feb. 12 after Hannity called the $1.3 billion allotted for the border wall in a bipartisan funding bill a "garbage compromise," and condemned any Republican that supported the bill.
"Now, we do not know that the president will sign-on," Berman said. "We do know that the co-president doesn't like it. Sean Hannity called it a 'garbage compromise.'"
Fox News' Juan Williams has also stated that conservative commentators and journalists have influence over the president during the Jan. 17 edition of The Story with Martha MacCallum.
"I'll tell you what you should do," Williams told MacCallum and contributor Karl Rove. "You should go listen to Sean Hannity, Rush Limbaugh and Ann Coulter, because they're running this government. And they have forced this president into a trap."
Williams comments came after Trump changed his position on forgoing funding for the wall to end the government shutdown which was ongoing at the time he spoke. Hannity, Limbaugh and Coulter all criticized Trump for considering ending the shutdown without getting money for the wall. The president later reversed course and maintained that he wanted $5.7 billion to construct the barrier.
Pennsylvania Rep. Ryan Costello, who retired from Congress on Jan. 3, also said Trump "fell in line" after Hannity and "a few others screamed fire" over funding the wall.
Hannity and Trump reportedly have a close relationship that includes regular phone calls. On Friday, while speaking in the Rose Garden to declare a national emergency, Trump said the Fox News host has been a "terrific, terrific supporter of what I do."
However, Trump added that the support is of his political views.
"If I change my views, he wouldn't be with me," the president said.
Trump also praised Limbaugh, calling him a "great guy" with "one of the biggest audiences in the history of the world."
The president went on to say that conservative commentators do not influence his policy and that he hardly knows Coulter.
"They don't decide policy. In fact, if I went opposite, I mean they have somebody, Ann Coulter. I don't know her. I hardly know her. I haven't spoken to her in ... way over a year, but the press loves saying 'Ann Coulter.' Probably if I did speak to her she'd be very nice, I just don't have the time to speak to her," Trump said. "So I like her, but she's off the reservation, but anybody that knows her understands that. But I haven't spoken to her. I don't follow her. I don't talk to her, but the press loves to bring up the name Ann Coulter, and you know what, I think she's fine, I think she's good, but I just don't speak to her."