Sarah Huckabee Sanders Struggles to Explain How Americans Won't End Up Paying for Trump's Border Wall
White House Press Secretary Sarah Huckabee Sanders struggled to explain to reporters how President Donald Trump's United States-Mexico-Canada (USMCA) trade deal would supply the government with funding for a border wall during Tuesday's press briefing.
ABC News senior national correspondent, Terry Moran, asked Sanders Tuesday afternoon why the president was asking American taxpayers for wall funding when he initially promised that Mexico would pay for a wall along the southern border of the United States.
"Look, we're not asking American taxpayers for that. We are looking at existing funding through other agencies right now that we can draw on to do that immediately," said Sanders. "The president has been clear that the USMCA deal would provide additional revenue through that deal that would show that Mexico is paying for the wall."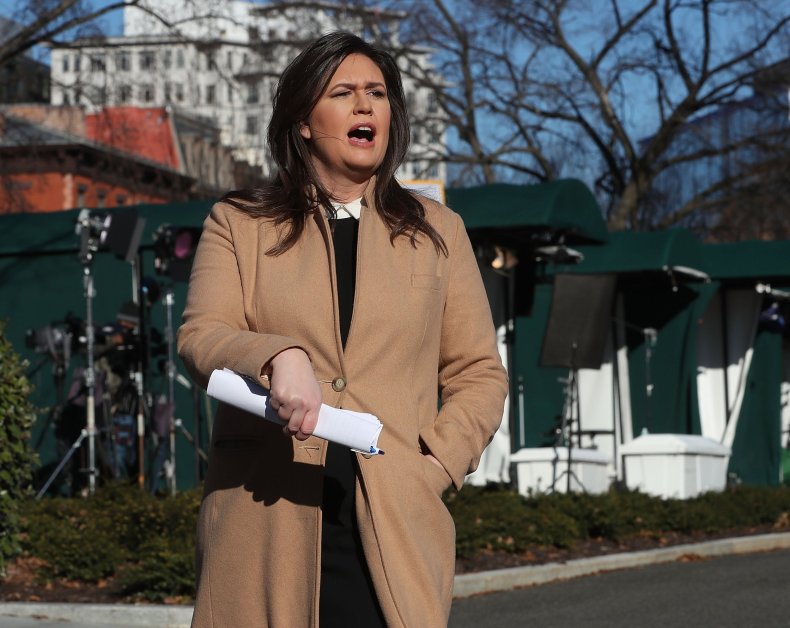 It remains unclear, however, how any money gained from the new trade deal would go into the Treasury's coffers. Trade deals benefit private citizens and corporations, changes in tariff rates typically do not directly benefit the government.
"That's the Treasury. The trade benefits, if there are any, don't go to the treasury," Moran explained to Sanders.
"[Trump's] saying the revenue provided and the money that would be saved through the USMCA deal, we could pay for the wall four times over," Sanders reiterated. "And by doing that new trade deal we have the opportunity to pay for the wall."
Moran tried asking his question one more time, explaining again that trade benefits go to citizens and not the treasury.
"He's talking about the general revenue that comes from that," said Sanders. But, she clarified, she was not talking about a tax increase. "We're talking about additional revenue that wouldn't have existed without the president getting a new deal."
While Sanders refused to say whether the White House had done the math to back those claims, she said there were "a number of things we have looked at in which we know we'll have additional revenue that comes in through the USMCA."
The president, who is currently threatening to shut down the government if he does not receive $5 billion in federal funding to build his border wall, tweeted last week that "I often stated, 'One way or the other, Mexico is going to pay for the Wall.' This has never changed. Our new deal with Mexico (and Canada), the USMCA, is so much better than the old, very costly & anti-USA NAFTA deal, that just by the money we save, MEXICO IS PAYING FOR THE WALL!"
The new deal, however, does not include any stipulations that Mexico pay for a wall, and is an update of the already in place North American Free Trade Agreement, which allows the three countries to trade certain goods without tariffs. Any extra money made from the deal does not go to the Treasury and could not be used to directly pay for the wall.
Sanders seemed to imply that the money gained by private citizens from this deal would eventually increase the country's tax revenue which would then be spent on the border wall. The CBO, however, has found that trade agreements that are preferential to the United States tend to lower revenue collection. Even if the Treasury did collect extra revenue, that money would be coming from U.S. citizens, not from Mexico.
Sarah Huckabee Sanders Struggles to Explain How Americans Won't End Up Paying for Trump's Border Wall | U.S.