Sarah Sanders Says Reports That Trump Called Fallen Soldiers 'Losers' Are 'Malicious Lies'
Former White House Press Secretary Sarah Sanders accused The Atlantic of publishing "malicious lies" about President Donald Trump after the magazine reported that he had called fallen U.S. troops "losers" and "suckers."
Sanders also said her old boss had a strong "commitment to the men and women of our great military" as she sought to dismiss The Atlantic story as "an insult to journalism."
The Quote
The ex-White House official tweeted: "The malicious lies about Donald Trump from anonymous sources in The Atlantic are disgusting. This story is an insult to journalism. I would know, because I was there."
In a video statement shared along with her statement, Sanders added: "Donald Trump has the greatest amount of respect for the men and women of our armed forces. I've traveled all over the world with the president and watched him interact with men and women of our military.
"I've seen him fight to make sure that they have the resources they need. I've also sat in the room when the president had to make the most difficult calls of his presidency, when he had to let a parent know that their son had been killed in the line of duty.
"That's a call no president wants to make. In those moments, I saw the president's heart. And I also saw his commitment to the men and women of our great military. That story couldn't be further from the truth. This is a president that loves our country and will do anything to fight to protect it."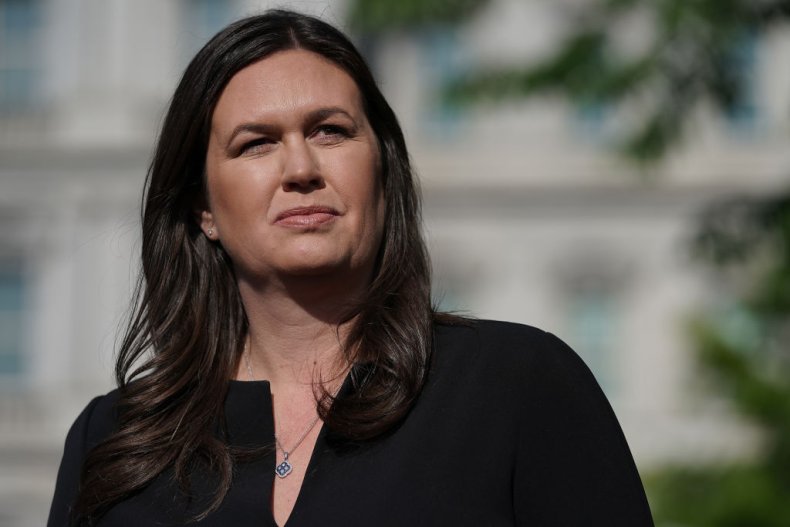 Why it Matters
Last week, The Atlantic published allegations from anonymous sources claiming that Trump had labeled fallen World War I troops "losers" and "suckers" as he canceled a trip to the Aisne-Marne American Cemetary, France in 2018.
The report sparked a backlash from Democratic nominee Joe Biden, who called the president's remarks "deplorable" and "un-American" as he sought to press the issue with less than two months to go until polling day.
Fox News reporter Jennifer Griffin later confirmed that the president had disparaged U.S. troops, reporting that Trump had called anyone who served in the Vietnam War a "sucker," according to one unnamed administration official.
The Associated Press and The Washington Post also verified details of The Atlantic story with other anonymous officials familiar with the alleged incidents.
Counterpoint
The Atlantic editor-in-chief Jeffrey Goldberg defended his story on Sunday as the president and several administration officials dubbed the report "fake news" and criticized his use of anonymous sources.
"I felt confident publishing [the story] because I had multiple sources with first-hand knowledge of the president's views and comments, that's the only reason to publish anything," Goldberg told CNN's Reliable Sources yesterday.
"I felt it was important to publish because in my experience, our collective experience, I don't think we've had a president who has contempt for American soldiers, wounded veterans, people who've been killed in action."
He added that the claims in his story were "not surprising" because Trump had previously mocked the late Sen. John McCain for getting captured during the Vietnam War.