Sarah Huckabee Sanders Says She Can't Guarantee Trump Never Used N-Word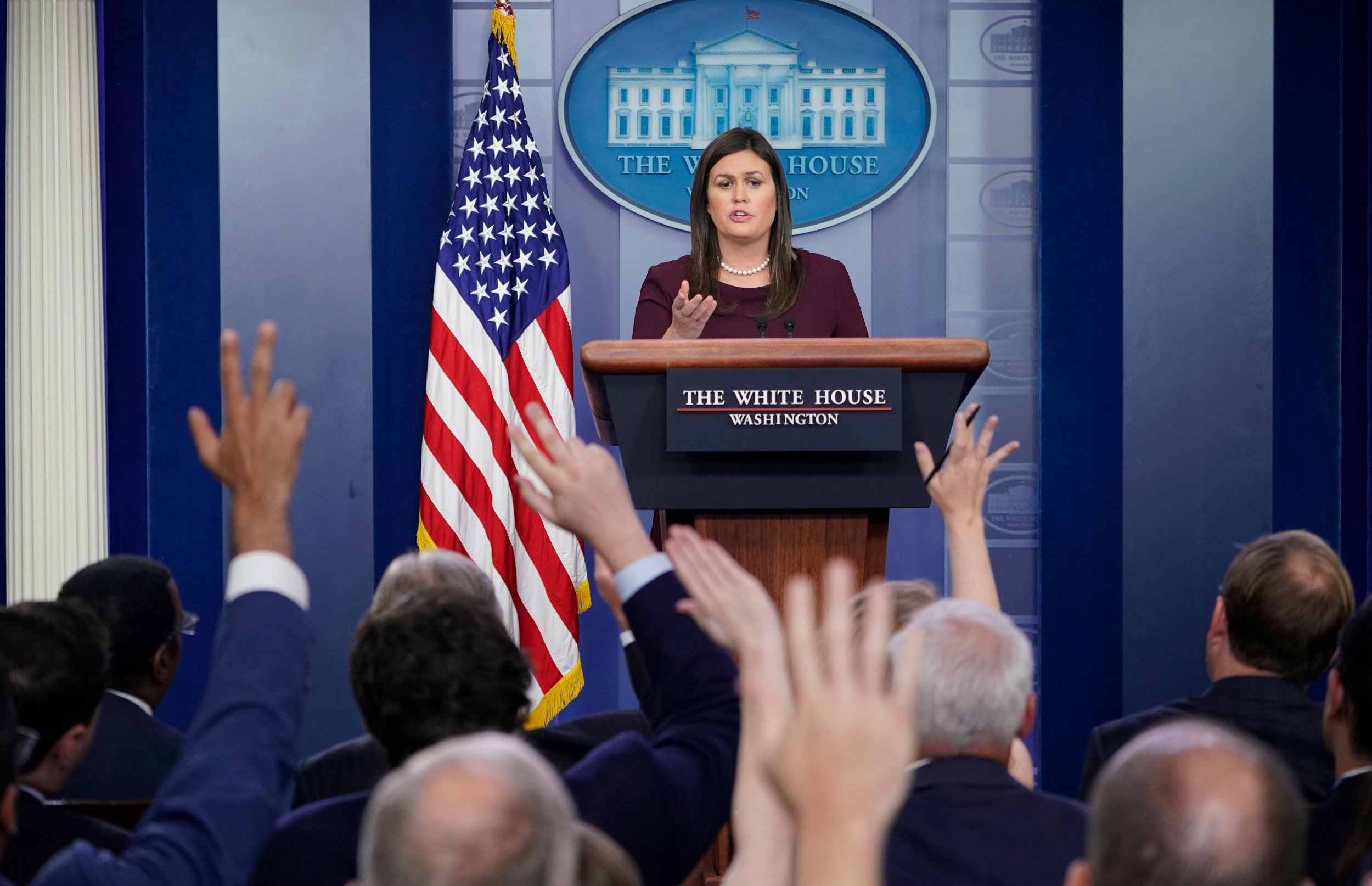 White House press secretary Sarah Huckabee Sanders said Tuesday that she can't guarantee that there isn't a recording of President Donald Trump using the n-word. Sanders was responding to a claim from former White House aide Omarosa Manigault Newman that a tape exists of him using the racial slur during recordings of The Apprentice.
Sanders was asked during Tuesday's briefing whether she could personally guarantee that the American people will never hear Trump utter the n-word on a recording.
"I can't guarantee anything," she responded. "But I can tell you that the president addressed this question directly. I can tell you that I've never heard it. I can tell you that if myself or the people that are in this building serving this country every single day doing our very best to help people all across this country and make it better, if at any point we felt that the president was who some of his critics claim him to be, we certainly wouldn't be here."
On Monday, Trump tweeted to say that former Apprentice producer Mark Burnett "called to say that there are NO TAPES of the Apprentice where I used such a terrible and disgusting word as attributed by Wacky and Deranged Omarosa. I don't have that word in my vocabulary and never have. She made it up."
Trump has launched an explosive attack on Manigault Newman amid the release of her book Unhinged on Tuesday and her accompanying media tour. A former contestant on The Apprentice, Manigault Newman has made a series of claims about Trump, including that he has used racist language, is unable to retain basic information and first lady Melania Trump cannot wait to leave him. On Tuesday, she claimed that Trump knew about the imminent release of Hillary Clinton's emails before WikiLeaks made them public during the 2016 presidential campaign.
Trump hit back in his most aggressive manner yet on Tuesday morning.
"When you give a crazed, crying lowlife a break, and give her a job at the White House, I guess it just didn't work out. Good work by General Kelly for quickly firing that dog!" Trump tweeted.
As well as her book, Manigault Newman has released recordings of her firing by chief of staff John Kelly and a conversation the following day with Trump.
She has not released any recording of Trump using the n-word. In her book, she said that she had not personally heard the tape but had heard about it. But she told NBC this week that she has heard the tape since the book went to print.
On Tuesday, she released audio of herself and other White House staffers appearing to discuss the existence of a possible tape of Trump uttering the racial slur.