Sarah Huckabee Sanders Wouldn't Tell a 9-Year-Old Boy How Much Cash Trump Makes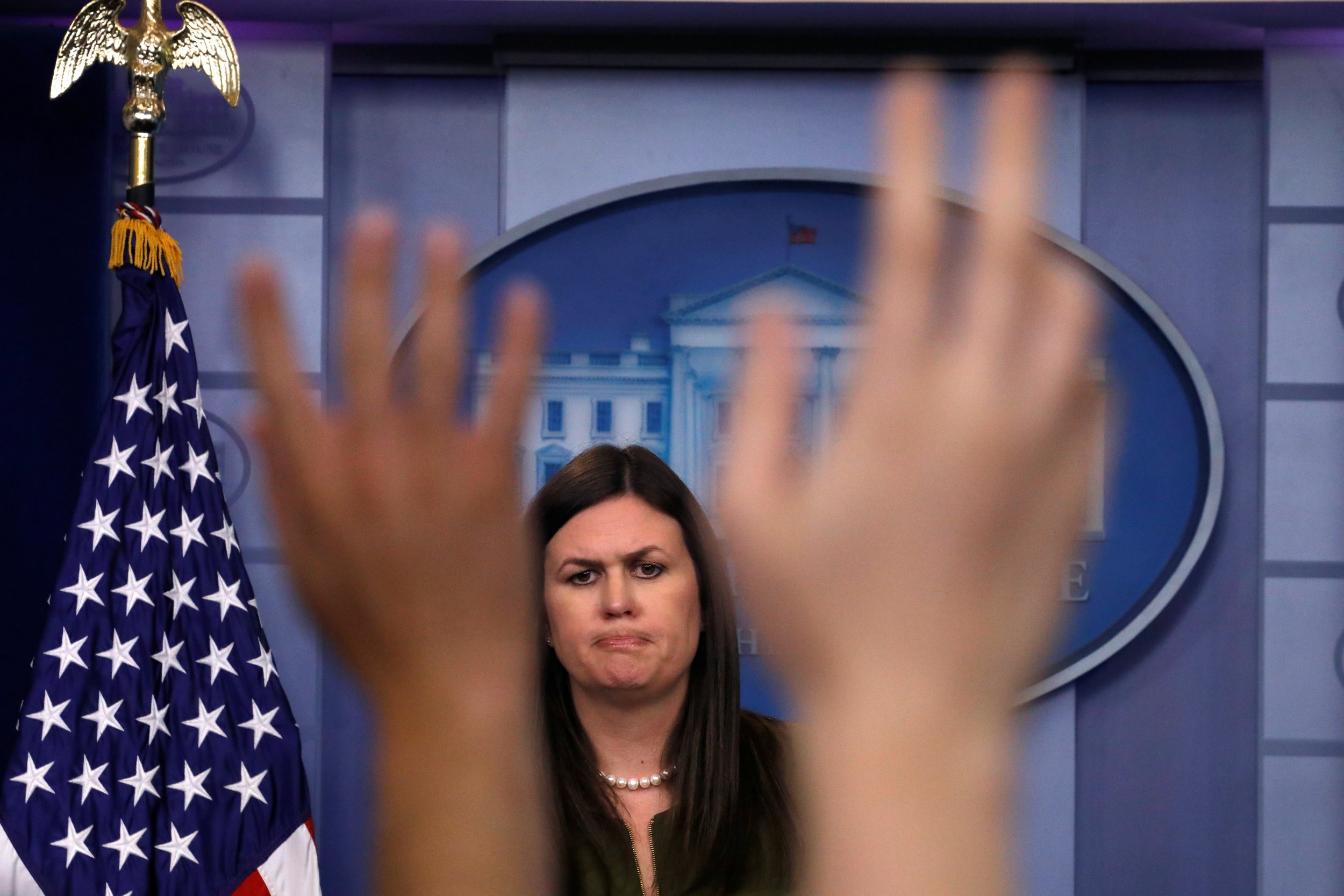 During Wednesday's White House press briefing, Press Secretary Sarah Huckabee Sanders said she will begin regularly reading letters from President Donald Trump's supporters to the press.
She started with a letter from a 9-year-old boy named Dylan who said he recently got a birthday cake in the shape of one of Trump's signature red "Make America Great Again" baseball caps.
When Dylan had a question about the size of the White House, Huckabee Sanders described it in detail. "The White House is 168 feet long, it's 70 feet tall on the south side, and 60 feet, 4 inches tall on the north," she said, adding that it has 132 rooms and is covered in "300 gallons of white paint."
But when Dylan asked Trump, "How much money do you have?" Huckabee Sanders had fewer answers. "Dylan, I'm not sure, but I know it's a lot," she said. Like many other Americans, even a 9-year-old child is interested to learn exactly how much money Trump makes.
Forbes estimates Trump's net worth at $3.5 billion. But no one knows for sure. Even after becoming president, he still holds an ownership stake in the Trump Organization. Previous presidents have divested themselves of their business interests to avoid ethics conflicts within they would be making decisions that would impact their personal wealth.
The public and Democrats alike have called for Trump to release his tax returns—in common with every president since Republican Richard Nixon kicked off the trend in the early 1970s—to show what those conflicts of interest might be.
According to a July 19 NBC News/WSJ poll, 53 percent of Americans in counties that voted for Trump oppose his decision not to release his tax returns.
Related: Donald Trump's excuse for not releasing tax returns is bogus
Trump and the White House have repeatedly said that he won't release his returns because of an ongoing federal audit. The Internal Revenue Service said in February there's "nothing" blocking Trump from releasing his taxes, including the audit.
Late in the 2016 campaign, the president's eldest son Donald Trump Jr. told the Pittsburgh Tribune-Review that his father wouldn't release his returns "because he's got a 12,000-page tax return that would create...financial auditors out of every person in the country asking questions that would distract from his main message."
Trump Jr. also said his father would "separate" from his business interests if elected.
Neither is likely. Last week The Washington Post reported that President Trump told aides he was disturbed on learning that special counsel Robert Mueller—who is investigating whether Trump's campaign team helped Russia interfere in the 2016 election—would get access to his tax filings.
"If you're looking at Russian collusion, the president's tax returns would be outside that investigation," a close adviser to the president said.
Trump remains under pressure to release his tax returns and is facing at least five court challenges to his attempts to keep them under wraps—including new legal demands made last week from lawyers representing a number of protestors who say they were roughed up at a Trump rally in Kentucky in March 2016.
"We want to know where his money is going and where it's coming from," Greg Belzley, an attorney for the protesters told Politico. "What are his connections with the hate groups that regularly attended his rallies?"