Sarah Jessica Parker Takes Break From 'Sex and the City' Sequel to Work in Shoe Boutique
Sarah Jessica Parker's Sex and the City character Carrie Bradshaw has long held an enduring devotion to designer heels.
In real life, the actress also showed off her love of footwear when she spent some downtime from filming Sex and the City sequel And Just Like That... on Sunday.
Parker, aged 56, shared pictures of herself working at her flagship SJP by Sarah Jessica Parker shoe store in New York City.
Ahead of throwing open the doors, the star took to Instagram to announce her presence, sharing a snap of a woman wearing pink satin heels.
She wrote: "I might be wearing these today. Or perhaps another pair. I'm turning the lights on and off, running our 54th St boutique today... We are here to serve!"
As she clocked in for her day at work, Parker later gave fans a peek inside the plush retail space.
'Hey folks! We're all ready," she said. "We got here nice and early. Made sure the store was in tip-top shape."
She added: "Shoes are shined up and we're going to open the doors early because we are one prepared team."
Photographs from the store showed the star wearing a grey summer dress and face mask as she chatted with customers and helped with bringing out stock.
The Ohio-born actress was joined by Tabitha, her 11-year-old daughter with husband Matthew Broderick. The couple are also parents to son James, 18, and Tabitha's twin, Marion.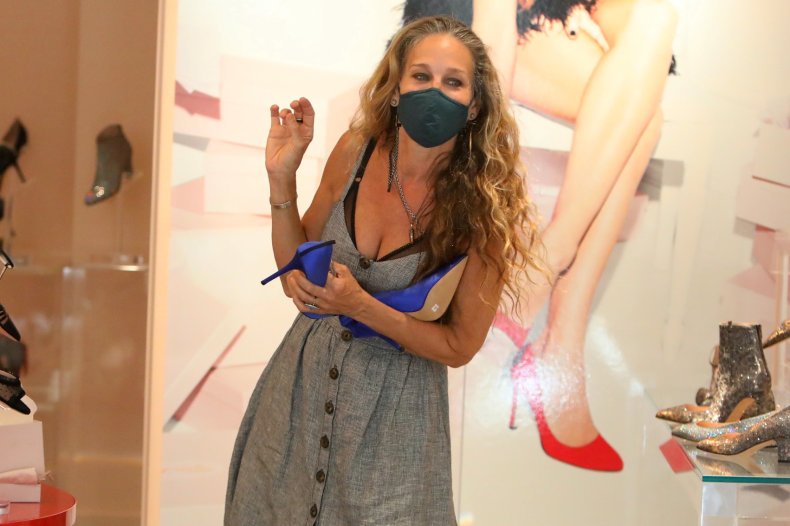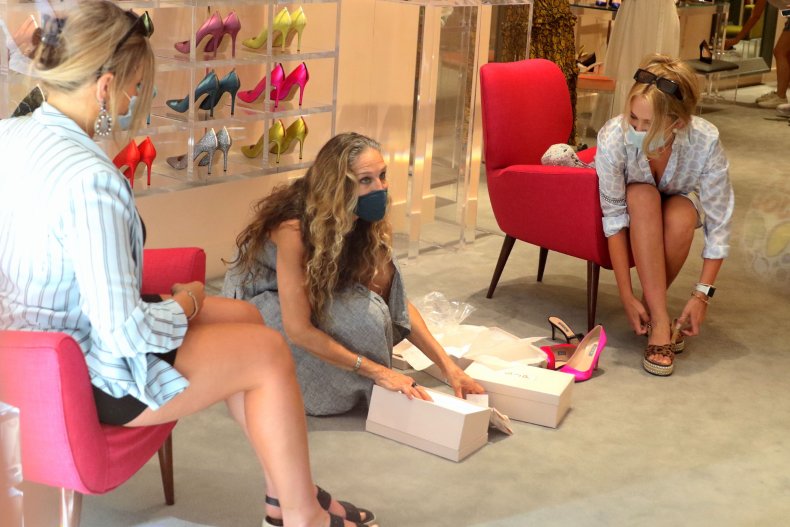 However, as the day came to a close, Parker jumped back on Instagram to reveal that an uninvited guest—a dragonfly—also got in on the fun.
"A dragonfly. Where is it?" Parker was heard asking as she panned the camera around the store. "We have a dragonfly in here? Where did it go?"
On peeling back a jacket on a couch and discovering the sizable, colorful insect, Parker let out a scream, before assuring: "I'm not scared of it at all! How nice [to have] this funny little visitor at the end of a kind of amazing, crazy day."
The actress launched her footwear line the SJP Collection for Nordstrom in 2014, before moving into her own boutiques, which have since expanded globally.
Parker is set to appear in And Just Like That..., which will also feature a number of returning cast members, including Kristin Davis, Cynthia Nixon, and Chris Noth.
However, Kim Cattrall—whose portrayal of Samantha Jones won her legions of fans over the years—has long stated that she will not be returning to the franchise, amid reports of a feud with star and producer Parker.
Speaking to Vanity Fair in January, Parker revealed that the updated storyline will include the ongoing novel coronavirus pandemic.
"[COVID-19 will] obviously be part of the storyline, because that's the city [these characters] live in," she said. "And how has that changed relationships once friends disappear? I have great faith that the writers are going to examine it all."
She also said that the new series will tackle social media—something that wasn't a factor when Sex and the City debuted on HBO in the late 1990s.
The show, which spanned six seasons between 1998 and 2004, spawned two movies, with Sex and the City 2 earning $294 million at the box office in 2010.