Sarah Obama, Former President Barack Obama's Step-Grandmother, Dies Aged 99
Sarah Obama, former president Barack Obama's step-grandmother, has died at the age of 99.
She died while undergoing treatment at Jaramogi Oginga Odinga Teaching and Referral Hospital in Kisumu, Kenya on Monday, her daughter confirmed to The Standard newspaper in Kenya.
Sarah Obama was the second wife of Hussein Obama, the former president's paternal grandfather. She helped raise his father Barack Obama Sr., the former president's father.
Barack Obama paid tribute to his "beloved grandmother" on Twitter on Monday morning.
"My family and I are mourning the loss of our beloved grandmother, Sarah Ogwel Onyango Obama, affectionately known to many as "Mama Sarah" but known to us as "Dani" or Granny," he wrote alongside a picture of them together.
"We will miss her dearly, but we'll celebrate with gratitude her long and remarkable life."
The former president referred to Sarah Obama as "granny" in his memoir Dreams From My Father.
He recalled meeting her for the first time during a trip to Kenya in 1988, and how they had to communicate through interpreters as she only spoke Luo. She attended his first inauguration just over two decades later.
She founded The Mama Sarah Obama Foundation to help ensure children in her native Kenya get an education.
In 2014, she received the inaugural Women's Entrepreneurship Day Education Pioneer Award at the United Nations for her efforts.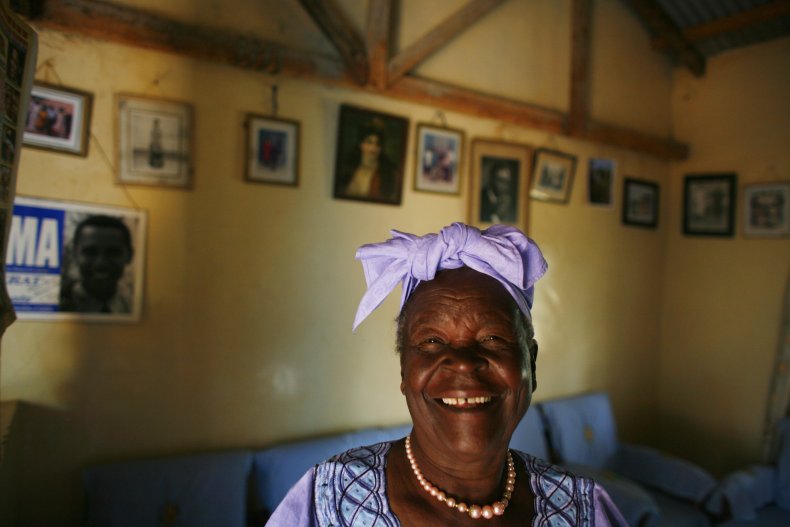 She said she was "living on borrowed time" when she accepted the award, and had traveled to the U.S. to promote her "legacy plan" for a modern education and health complex in Kogelo that she would like to see finished before the end of her life.
In an interview through an interpreter, she added that she loved education because children "learn they can be self-sufficient," especially girls. "If a woman gets an education she will not only educate her family but educate the entire village," she said.
Kenya's President Uhuru Kenyatta also paid tribute, describing Sarah Obama as a "strong, virtuous woman."
"The passing away of Mama Sarah is a big blow to our nation," Kenyatta said in a statement. "We've lost a strong, virtuous woman. A matriarch who held together the Obama family and was an icon of family values."
He added: "She was a loving and celebrated philanthropist who graciously shared the little she had with the less fortunate in her community."
"In the passing of Mama Sarah Obama, we have lost a matriarch who lived ahead of her time. She single-handedly kept the family going long after the husband departed," Raila Odinga, Kenya's former president, said in a statement posted on Twitter.
"In between, she became a symbol of the Resilience and Confidence of the African woman with a unique capacity to face the challenges of life. She utilized her grandson President @BarackObama's rise to promote the education of girls and fight social ills through her Foundation."
Update 29/3 10 a.m. ET: This article has been updated with a tribute from Barack Obama.