Alaska Election Update: Sarah Palin Trails Mary Peltola at Half Way
Republican Sarah Palin has done enough to advance to the November election for Alaska's lone congressional seat, although with around half the vote counted, the former state governor and U.S. vice presidential candidate was trailing Democrat Mary Peltola.
With 50 percent of the count reported, Palin had 32.7 percent, more than four percentage points behind Peltola's 37.1 percent. In third place was the GOP's Nick Begich with 28.9 percent. The Associated Press called the race at 1:42 a.m. ET.
They are fighting to succeed Representative Don Young, who died in March after serving nearly five decades as Alaska's lone congressman. There will be four candidates taking part in November under the state's new ranked-choice system, whittled down from 22 contenders who appeared on the primary ballot.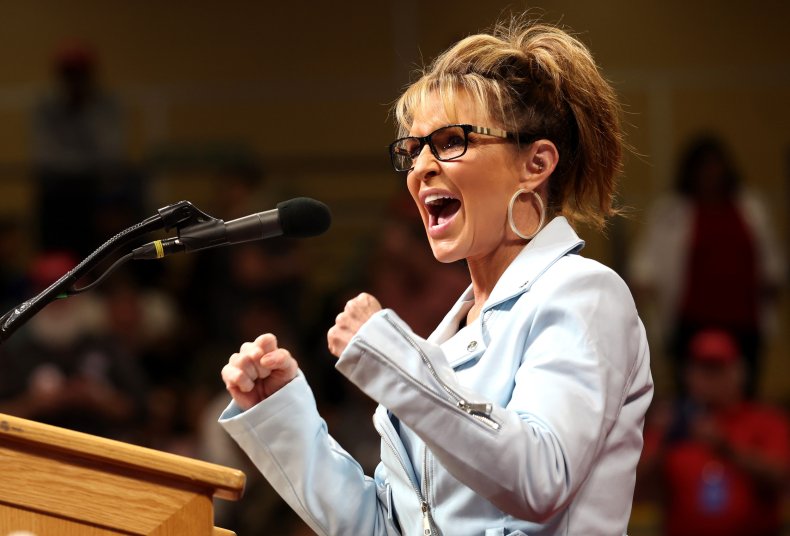 Palin, Peltola and Begich are also in the running in a special election to fill out the remainder of Young's term, but that race isn't expected to be called for days, the AP reported.
In 2008, Palin was the presidential running mate of the late Arizona senator John McCain and she was the state's governor from 2006 to 2009.
Peltola was expected to finish ahead in this three-way race, with only first-choice votes counted on election night, according to Alaska Public Media. The two Republicans are splitting the conservative vote, which makes Palin's second-place standing "more consequential," according to the report.
That's because if those standings hold, Begich will be eliminated and if enough of his voters ranked Palin as a second choice, Palin could overtake Peltola and win the seat.
The result of the special election won't be clear until August 31, when the Division of Elections determines who finished last and looks at the candidates' ballots for second rankings.
The winner of the special election will be sworn in during September to serve the remainder of Young's term.
In a statement on Tuesday, Palin called the ballot "the first test case of the crazy, convoluted, undesirable ranked-choice voting system," the AP reported.
Supporters of ranked voting have said it encourages positive campaigning, although Begich had criticized Palin, with one of his ads describing her as "one disaster we can actually avoid."
Palin's ads countered by referring to Begich as "negative Nick" and said that she wanted to serve in Congress "to carry Don Young's torch."
There also were several write-in candidates in the special election. These included Republican Tara Sweeney, an assistant secretary for Indian Affairs in the U.S. Interior Department during the Trump administration, who took part in the House primary.
Update 08/17/22 at 4.40 a.m. ET: This article has been updated with further information.