Sarah Palin Dines at NYC Restaurants After Her COVID Diagnosis Delays Defamation Trial
Despite having her defamation trial delayed due to her COVID-19 diagnosis, former Republican Alaska governor Sarah Palin has been spotted at various restaurants in New York City.
The New York Times reported on Monday that Palin had dined at popular Italian restaurant Elio's that previous Saturday. Just two days later, her defamation trial was delayed due to her contracting COVID-19. However, the newspaper, which is being sued by Palin in her lawsuit, reported on Tuesday that the restaurant will not be investigated for any COVID-19 policy restrictions due to the violation not being seen by a city inspector.
After avoiding consequences for the infraction, Palin, who was a vice presidential candidate in 2008, has reportedly been spotted at other restaurants throughout the city.
According to Gothamist, Palin was seen dining at Campagnola on Tuesday. She also supposedly returned to Elio's on Wednesday night, this time eating outdoors rather than inside.
Much like her first incident at Elio's, New Yorkers and other onlookers have expressed outrage at the behavior exhibited by Palin.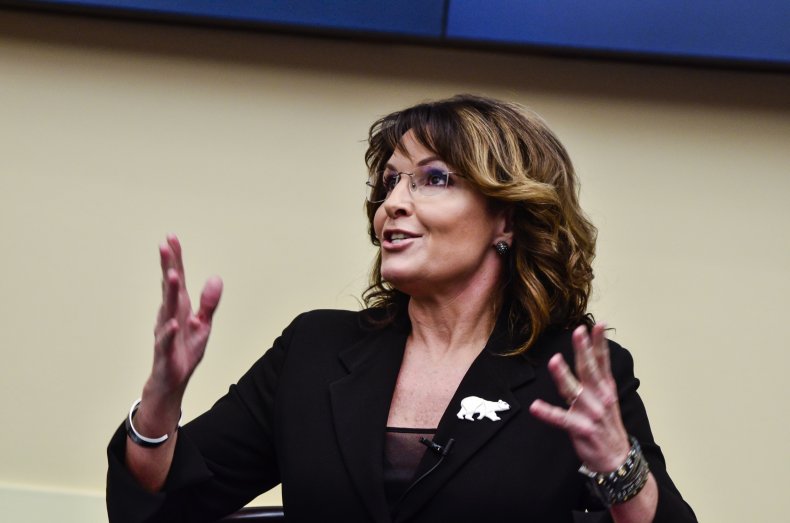 "You could see everyone was side-eyeing her," Ashley Foley told Gothamist about Palin's dinner at Campagnola. "Everyone had read the story about her going to Elio's and getting a positive COVID test. She was very top of mind if you live on the Upper East Side."
"​​She tested positive and is out on the town," another local, Amanda Wolfe, told the website. "There's such a lack of care for the people around you and the people in New York City."
Meanwhile, the restaurants that Palin attended are defending themselves using the city's guidelines for restaurants. According to the NYC Health website, "people 12 and older must show proof of two doses" before being allowed to sit indoors while dining. Palin has been outspoken about her refusal to receive a COVID-19 vaccine.
"Tonight Sarah Palin returned to the restaurant to apologize for the fracas around her previous visit," said Elio's manager Luca Guaitolini in a statement acquired by Gothamist on Wednesday. "​​In accordance with the vaccine mandate and to protect our staff, we seated her outdoors. We are a restaurant open to the public, and we treat civilians the same."
According to current Centers for Disease Control and Prevention (CDC) guidelines, unvaccinated people who are either exposed to or test positive for COVID-19 must quarantine for five days. If this five-day period is not possible, "it is imperative that an exposed person wear a well-fitting mask at all times when around others for 10 days after exposure." Palin has been reported as not wearing a mask during her visits.
Newsweek reached out to Palin via her website for comment.