Sarah Palin Has a Friend in Michele Bachmann Who Supports Dining Out With COVID
Former Congresswoman Michele Bachmann has rushed to the defense of fellow Republican Sarah Palin, insisting she should be "commended" for dining in public just after testing positive for COVID-19.
Bachmann defended Palin during a Friday interview on Fox News' Jesse Watters Primetime. Host Jesse Watters compared COVID-19, which has killed around 880,000 people in the U.S., to "the sniffles" and asked whether those recently infected with the highly contagious virus needed to "quarantine in their basement for five days." Bachmann laughed after Watters asked whether people should expect Palin to be "on a ventilator" instead of in public.
"Exactly—my 91-year-old mom just got Omicron and she had a sniffle for about five seconds and she was done," Bachmann responded. "Everybody obviously has different reactions to it. But I think, honestly, Sarah Palin is to be commended. She's trying to act like a normal human being in the greatest city in America, New York City."
"She's going out to eat at a wonderful little boutique Italian restaurant," added Bachmann. "At this point, I think it's time we start resuming normal American life, like going out to eat at a restaurant and acting like normal human beings rather than cowering in our basements."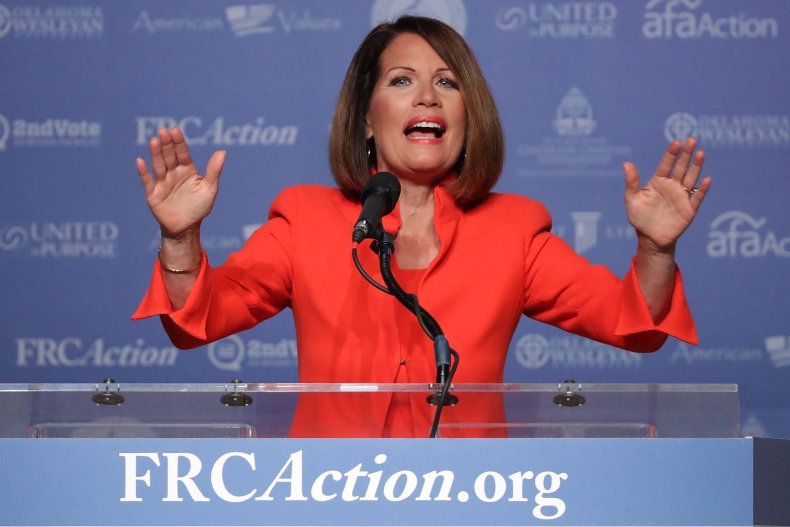 Palin was spotted dining in public only one day after a New York City judge postponed her defamation trial against The New York Times due to her testing positive for the virus. Watters compared the controversy about Palin ignoring COVID-19 restrictions to the unrelated issue of Vice President Kamala Harris supposedly pushing an "open border policy."
The Fox News host attempted to connect the two issues and suggested that there was a media coverup to obscure that Harris' policies were "brining in a lot more death and destruction than Sarah Palin's droplets outside." A chyron reading "Media Freaks Over Palin Outdoor Dining With COVID" appeared onscreen during the segment.
New York City rules and guidelines from the Centers for Disease Control and Prevention dictate that those who test positive for COVID-19 or are knowingly exposed to the virus should remain isolated for at least five days.
Palin is unvaccinated. Her first recent clash with New York City health rules came last Saturday, just before her positive test, when she was seen dining indoors at the same restaurant that she visited outdoors on Tuesday. The city requires proof of vaccination for indoor dining.
At a conservative conference last month, the former Alaska governor insisted that she would never get a COVID-19 shot while touting the supposed "natural immunity" to the virus she received following a 2021 COVID-19 bout.
Bachmann and Palin have a shared history of running failed Republican presidential campaigns. Palin was the vice presidential candidate alongside GOP presidential nominee John McCain in 2008, while Bachmann ran an unsuccessful campaign for the nomination in 2012.
More recently, in addition to apparently sharing a relaxed attitude about complying with public health measures, both women have been outspoken supporters of former President Donald Trump and his false claims of a "stolen" 2020 election.
Newsweek reached out to Palin for comment.