Former Alaska Governor and Republican vice presidential nominee Sarah Palin said she was insulted by President Joe Biden's commitment to pick a Black woman to serve on the Supreme Court, alleging that selecting a nominee based on race and gender "brings back the movement towards freedom and true equality."
"It's pretty insulting that [Biden] decided to just create those parameters and stick within that because, you know, not that she's not qualified, but there are so many good qualified constitutionalists out there who could be chosen for that highest court in the land," Palin said in a Tuesday appearance on Real America's Voice. "It was just unfortunate that Biden put himself in that box and stayed in it."
Palin, who is running for Alaska's at-large congressional seat this year, joins a chorus of Republican voices who have criticized Biden for fulfilling his campaign promise to diversify the court, arguing that by narrowing his options for a SCOTUS nominee could rule out a better candidate for the position.
Republican lawmakers across the nation have introduced a flurry of bills targeting transgender athletes from competing in women's sports—legislation that is likely to be challenged and could go all the way to the Supreme Court, where Judge Ketanji Brown Jackson would weigh in should she be confirmed.
The final vote on Jackson is expected to come before the 100-member Senate by Friday.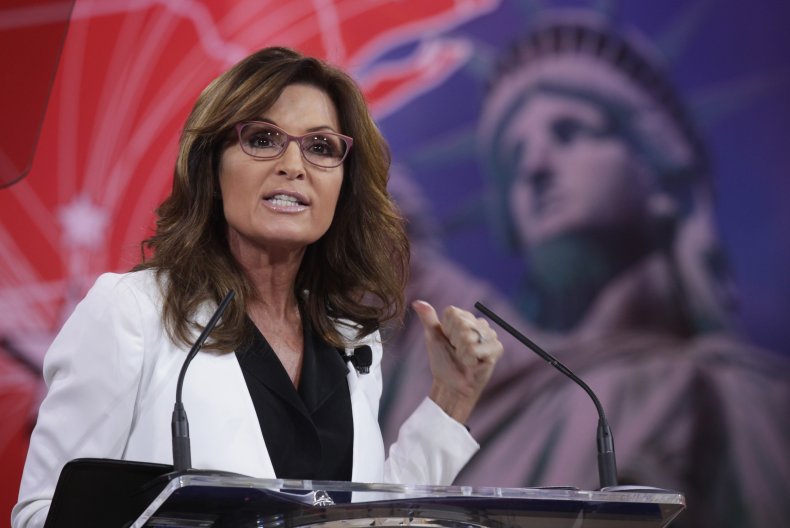 Many of the same Congressional Republicans notably praised former President Donald Trump for vowing to nominate a woman to fill Justice Ruth Bader Ginsburg's vacancy less than two years ago.
Despite GOP pushback, two Republican senators broke with their party this week and announced they would join Senator Susan Collins of Maine in voting to support Jackson's nomination. On Monday, Senators Lisa Murkowski of Alaska and Mitt Romney of Utah said they would vote to confirm Jackson.
During the judge's confirmation hearing, Republicans on the Senate Judiciary Committee put Jackson through tough questioning on her record and history as a public defender. All 11 GOP committee members voted against her on Monday.
While Palin said Jackson was still qualified to be the nominee, she was taken aback by some of the judge's answers.
"I don't think she is right for the Supreme Court," Palin said on Tuesday. "She did not have the most basic fundamental answers to the most basic fundamental questions being posed to her from those on the Hill."
"It kind of shocked me that she seemed so ill-prepared, really, to be able to answer a simple question like, 'What's a woman?'" she added. "Our first-, second-, third-graders can answer that one."
During the hearing, GOP Senator Marsha Blackburn of Tennessee asked Jackson to define the word "woman," to which Jackson responded, "I'm not a biologist."
Blackburn used the opportunity to attack Jackson for her "progressive" judicial interpretations.
"The fact that you can't give me a straight answer about something as fundamental as what a woman is underscores the dangers of the kind of progressive education that we are hearing about," Blackburn said.