Former Republican vice presidential candidate Sarah Palin admitted that hearing Senator John McCain's regrets about appointing her as his running mate in 2008 felt "like a perpetual gut-punch."
In McCain's new book, The Restless Wave, the 81-year-old senator said he was wrong not to choose former Senator Joseph Lieberman to be his vice presidential candidate a decade ago.
After hearing about the remarks, Palin told the Daily Mail, "That's not what Senator McCain has told me all these years, as he's apologized to me repeatedly for the people who ran his campaign.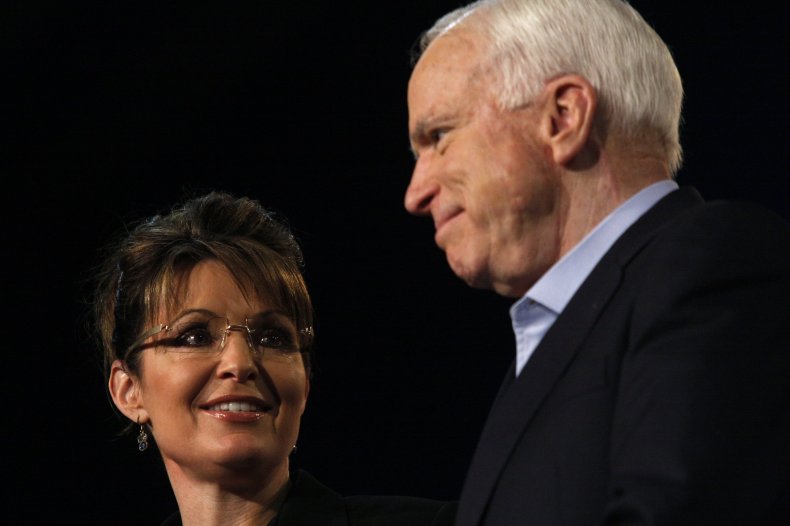 "It's not a real fun thing that part of my job is the requirement—is having to read the news every day," Palin continued.
Palin said she would need to hear all the remarks and criticisms from McCain himself before jumping to any conclusions.
"I attribute a lot of what we're hearing and reading regarding McCain's statements to his ghostwriter or ghostwriters," she said. "I don't know all the details of his condition right now. It happens to me also where people speak for me and a bell is rung, and you can't un-ring the bell.
"I don't know unless I heard it from Senator McCain myself," Palin continued.
"There were elements of a perfect storm for Barack Obama to have been elected. It worked out the way that it was supposed to work out."
McCain, who is battling brain cancer, has been receiving treatment in Arizona, where he lives with his family. But he continues to be a vocal presence in the Senate and the GOP.
In recent months, McCain made headlines for his criticisms of President Donald Trump. The Arizona Republican also wrote about his feelings toward Trump in his new book.
McCain wrote that Trump has "declined to distinguish the actions of our government from the crimes of despotic ones. The appearance of toughness, or a reality show facsimile of toughness, seems to matter more than any of our values. I would like to see us recover our sense that we are more alike than different."
In 2015, Trump, who himself was exempted from military service, mocked the war hero for being captured after his plane was shot down while flying over Vietnam. "I like people that weren't captured," he said.