Sarah Palin Plots Her Next Move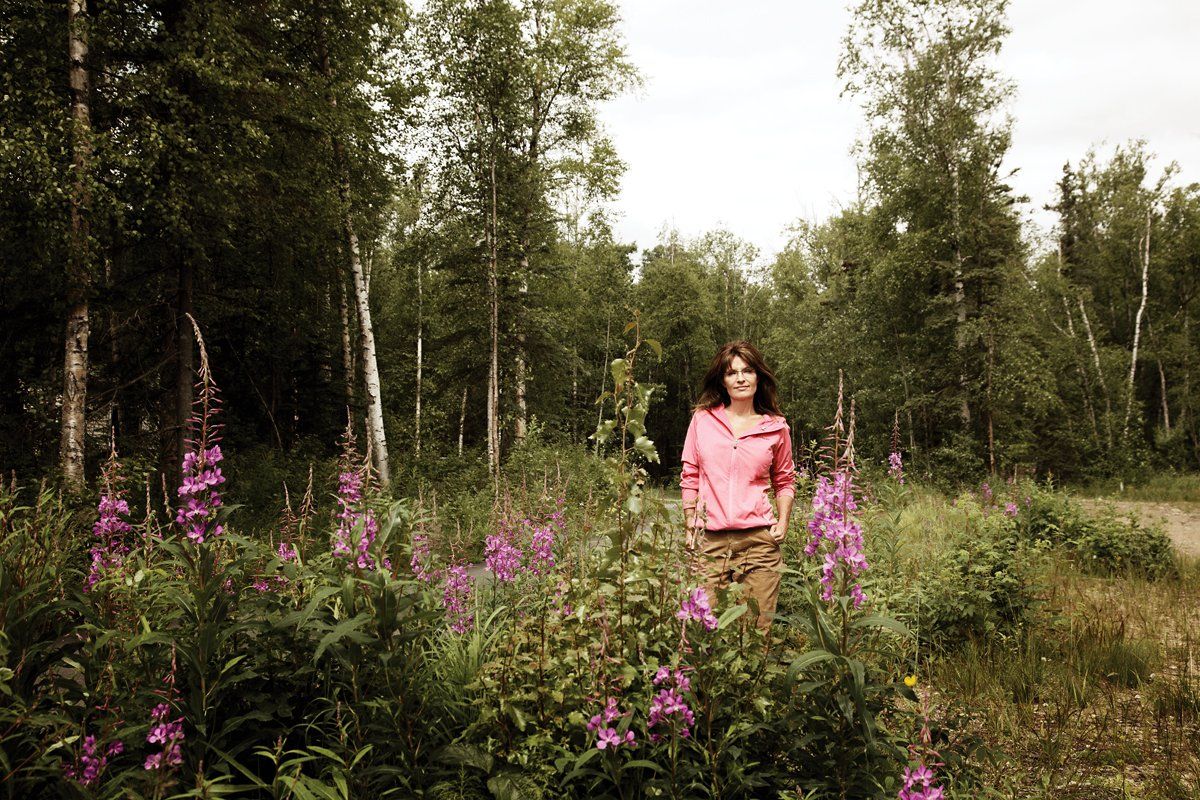 "I believe that I can win a national election," Sarah Palin declared one recent evening, sitting in the private dining room of a hotel in rural Iowa. The occasion for her visit to quintessential small-town America was a gathering of the faithful that would have instantaneously erupted into a fervent campaign rally had she but given the word. Instead, it had been another day on the non–campaign trail, this one capped by a sweet victory: she had just attended the premiere of a glowingly positive documentary about her titled The Undefeated.
"The people of America are desperate for positive change, and deserving of positive change, to get us off of this wrong track," she told me during a conversation that lasted late into the night and, inevitably, kept returning to the subject that has titillated the media and spooked Republican presidential contenders for months: her political intentions. "I'm not so egotistical as to believe that it has to be me, or it can only be me, to turn things around," she said. "But I do believe that I can win."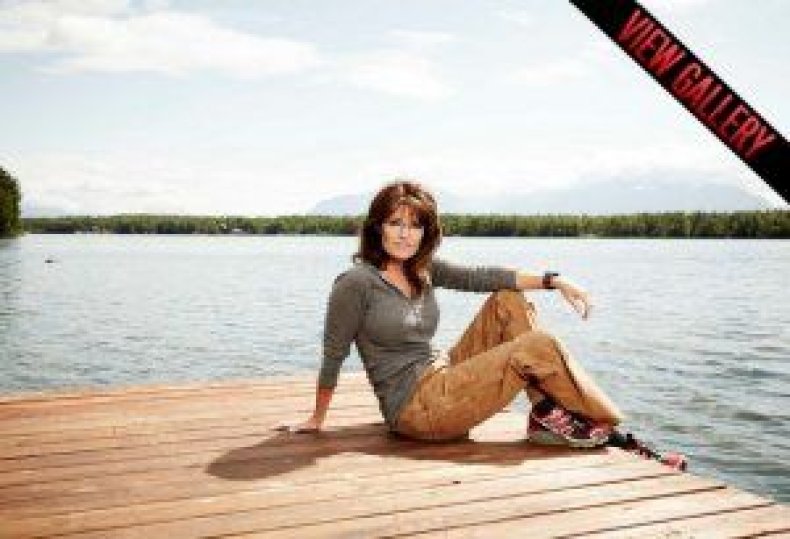 Two years after stepping down as governor of Alaska—not a retreat, she later said of the decision, quoting Korean War general Oliver Smith, but "advancing in another direction"—Palin has proved herself an enduring force capable, with minimal effort, of keeping political professionals and, especially, the press in a state of perpetual imbalance. This derives partly, of course, from her standing as a possible presidential candidate with presumed frontrunner potential, a status she seems inclined to maintain for as long as possible. On the day we met, her daughter Bristol had declared in a television interview that Palin had already made a decision about whether to run for president—an assertion that Palin quickly tried to shoot down. "I think Bristol has made up her mind, and Bristol wants me to run for president," she said. "But we're still thinking about it. I'm still thinking about it."
If Palin doesn't end up running, the reason will be simple, she said. "Family. If it came down to the family just saying, 'Please, Mom, don't do this,' then that would be the deal-killer for me, because your family's gotta be in it with you."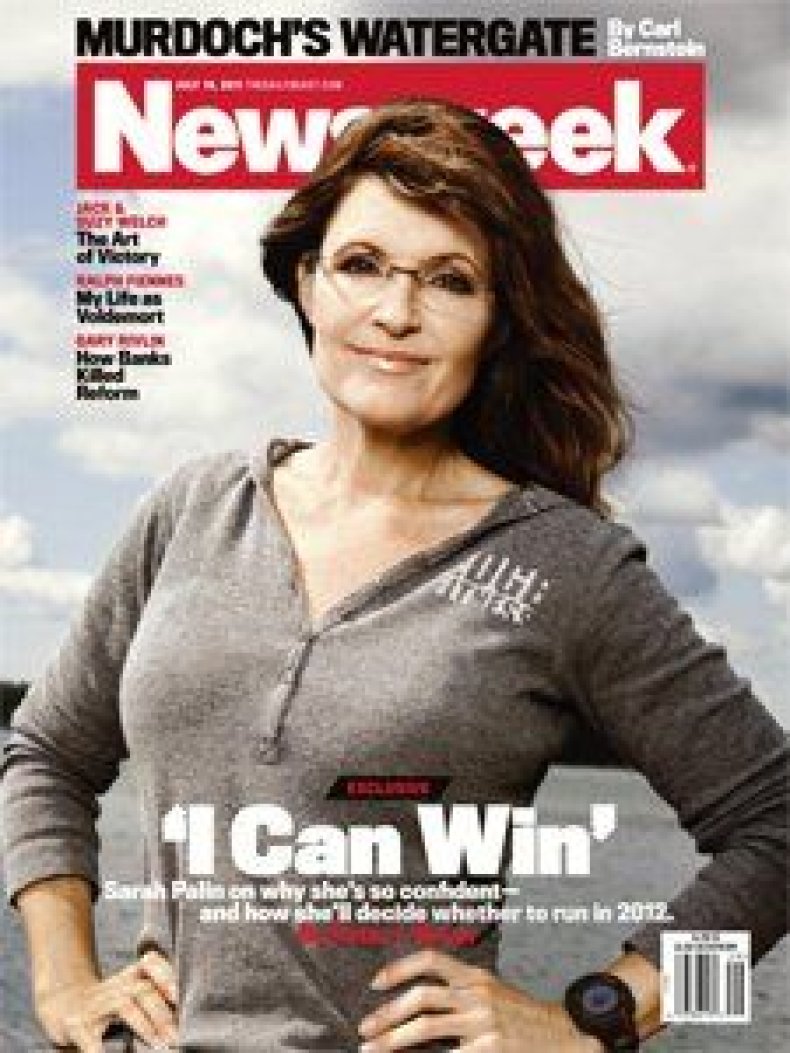 Family has been elemental to Palin's national political identity from the moment she was introduced as John McCain's running mate in 2008, accompanied by her outdoorsman husband, Todd, and four of their five children, including their youngest, Trig, who'd been born four months earlier with Down syndrome. The press's fascination with this picturesque brood quickly turned so darkly speculative that candidate Barack Obama threatened to fire anyone in his campaign found participating in the conjectures.
Yet Palin, who is 47, now hinted that her family would not try to dissuade her from entering the race. "My kids know that life isn't supposed to be easy, and it's certainly not fair," she said. "And they know that, even on their end, they have to make some sacrifices for the greater good."
Track, the eldest son, who was deployed in Iraq during the 2008 campaign, is now married and running the family's commercial fishing business in Alaska, living quietly out of the public eye. Willow, who turned 17 last week, seems amenable ("As long as her truck's running, she's fine," Palin said), and Piper, who is 10, is a seasoned campaigner. Bristol's all in. That leaves Todd, who sat in on part of the interview. "Do I want her to run?" he said. "It's up to her. I mean, we'll discuss it. But she's definitely qualified to run this country. And she's got a fire in the belly to serve."
Whatever decision Palin makes will alter the near-ideal circumstance she enjoys now. From the remove of her cyber-perches on Twitter and Facebook, and the occasional appearance on Fox News (where she is a paid contributor), Palin is able to do plenty of politicking, unfettered by the encumbrances of a declared candidacy. She has no campaign staff directing her course (a famous source of unease during her vice-presidential run) and no press secretary urging her to accommodate what she calls the "lamestream media." She and Todd are free to keep any schedule they wish. "We don't advertise where we're going," she said that evening, in what might be the understatement of the political season.
Take the spontaneity, and inscrutability, of the lead-up to the movie screening. The Undefeated is an emphatic defense of the Palin record and an argument for her political indispensability—an ideal campaign accessory. (SarahPAC, Palin's political-action committee, is offering DVDs to supporters who donate $100 or more.) Steve Bannon, the film's director, had long planned a splashy Iowa premiere, envisioning it as the vehicle for Palin to make her first appearance this year in the politically important state, whose midwinter caucuses are the first test of a candidate's viability.
Palin accepted Bannon's invitation the week before the tentative date of the premiere, leaving him just five days to organize the event. He settled on Pella, an old Dutch town with the country's largest working windmill, and booked all available rooms in the town's principal hotel. Bannon also obtained the services of Craft International, a high-end security firm, which dispatched to the scene a four-man team: three former Navy SEALs and a former member of British special operations.
They arrived the day before the event and were instructed to repair that night to the local airfield, where the Palins were to arrive by private plane. The night passed, but the Palins didn't arrive. The team learned the next day that the couple had gone to Minneapolis, to help Bristol get settled in for the start of her book tour at the Mall of America.
The next morning—the day of the event—Bannon and his security team learned, via Twitter, that the Palins had spent the night in Des Moines. ("Our hotel was right down the block from The Des Moines Register," Palin later told me, plainly pleased. "Nobody knew we were there.") After Sarah's morning run by the river, they were driving to Pella.
On the fly, a new security plan was conceived: the Craft operatives would meet the Palins as they exited the interstate from Des Moines, about 45 minutes away, and escort them into town. The street outside the Pella Opera House, where the film was to be shown, was blocked off as satellite trucks arrived, television camera crews set up, and throngs of reporters and eager Iowans gathered. But as the hour of the event neared, the security men shrugged to one another; nothing from the Palins. Then, barely an hour before the scheduled premiere, came word that they had already arrived; they'd parked their rented Chevy Malibu and were up the street in a Dutch bakery, signing autographs and posing for photographs with admirers.
"They're so Griswold!" observed one member of the team—a reference to the National Lampoon film series about a Midwestern family's vacation misadventures.
The Iowa event was a powerful demonstration of Palin's grassroots allure. It was organized, on very short notice, almost entirely by a devoted network of Palin volunteers, who filled the 350-seat opera house and turned out a thousand people for the invitation-only barbecue that followed the screening. Dressed in a button-down shirt, fitted jeans, and a beaded belt with a big red buckle, Palin cheerily worked her way through the crowd, signing ball caps and copies of her books to the refrain, "We hope you run!"
If she was fatigued by the time the party ended, it wasn't obvious in her manner as she drew a chair out from the table in the private dining room and sat down to talk. The experience of watching a movie version of her political biography and then mingling with throngs of supporters clearly had moved her. She seemed both focused and exhilarated.
But before we began, she and Todd, both working their omnipresent BlackBerrys, conducted a bit of urgent family business.
SARAH: I have to answer Piper real quick. She is not going to get her hair cut. What is she thinking?
TODD: No, she's not.
SARAH: You need to tell her that, she'll obey you … You told her no, Todd? OK, I'm puttin' mine away.
Turning to the political landscape, Palin said that President Obama is beatable in 2012, and that there are "many, many qualified and able candidates out there" to take him on.
Asked what was to be made of the fact that so many Republicans were looking beyond the field of declared candidates to people like herself, and Govs. Rick Perry and Chris Christie, Palin said, "It suggests that the field is not set. Thank goodness the field is not yet set. I think that there does need to be more vigorous debate. There needs to be a larger field. And there's still time. There's still months ahead, where more folks can jump in and start articulating their positions."
Even more important to her that night, it seemed, was the issue of how her personal and political destiny came to be obscured by her role in the McCain campaign and the effort to reclaim it through The Undefeated.
"I'm just blown away" by the film, she said; she had taken the stage after the screening and thanked Bannon for "trying to set the record straight."
In that private dining room, she cast herself back to Alaska and took up the threads of what she thinks of as her lost narrative—the very story Bannon tells in The Undefeated, literally using Palin's voice, having acquired the rights to the audio version of her autobiography.
Although she came to be known as a darling of the Christian right and a firebrand, her political identity in Alaska was that of a reformer with a pragmatic, nonpartisan bent. (Left out of the film is the fact that one of her first acts in office had been to veto a bill denying state benefits to same-sex couples. Palin says she did so, despite her personal beliefs, because the bill was unconstitutional—a rationale familiar to liberal Democratic Catholics, from Kennedys to Cuomos.)
"You know, I rarely use the term 'bipartisanship,'" she said. "I use the term 'independent.' Piper's middle name is 'Indie.' That's the Alaskan way of life. Seventy-three percent of Alaskans aren't registered Republican or Democrat, they're independent. Todd's not a registered Republican. Most of the people I know, they're independent people saying, 'Just use common sense.'"
By the time Palin ran for governor in 2006, she had already established a reformer's reputation, having exposed a conflict of interest on the part of a fellow member of the state's oil-and-gas regulatory commission. The colleague happened to be the chairman of the state's Republican Party and a national GOP committeeman. She got further crosswise with the party establishment when she challenged, and soundly defeated, the incumbent Republican governor, Frank Murkowski.
Palin entered office with the grand strategy of producing prosperity through aggressive exploitation of Alaska's vast natural resources, a program she successfully cast as reform. This was possible because Alaska was awash in scandal at the time—and the scandal, like almost everything of significance in Alaska (its wealth, its cultural centers, its jobs), was tied to the petroleum industry. Palin's programs included major initiatives opposed by the oil companies, but which the industry's allies in the legislature, cowed by public disgust over the scandals, were unable to effectively oppose.
"I knew firsthand of the corruption in the state of Alaska when it came to the oil industry's relationship with our lawmakers," she said. "I knew it because our state is small enough that you see it, you feel it, you're near it, and you either choose to participate in the dirty games or to fight."
The centerpiece achievement was a significant tax hike on the profits derived from Alaskan oil, which pro-industry Republicans opposed, and which passed only because Palin allied herself with the legislature's Democrats (who insisted, to Palin's acquiescence, on raising the tax even higher).
It was a departure from conservative orthodoxy, and one that some Alaskan conservatives still hold against her, but Palin pleaded constitutional fealty; the state's founding document reserves ownership of Alaska's resources to its people, and Palin insisted that she was just looking out for her shareholders (a point driven home by delivery the next year of a $1,200 bonus to every citizen in the state).
This formula—bucking Republicans and counting on the situational cooperation of Democrats—made for a fragile governing model, one further attenuated by the fact that political insiders found Palin too sensitive to criticism and too eager to deal in payback. But to the public she was a heroine, with an approval rating above 80 percent two years into her term, making her by far the most popular governor in the country.
That was the Sarah Palin, every bit the maverick that McCain had ever been, who was invited onto the GOP ticket in 2008. But while bipartisanship may be useful to governance, it has little utility in the heat of a campaign. She arrived on the national stage at the most partisan moment in American political life, the last two months of a presidential race, when no nonpartisan impulse is indulged. Palin became a polarizing figure almost instantly, so inflaming passions that the Thomas Eagleton option was being openly speculated upon before she had even officially been nominated. A London bookmaker was taking wagers on whether she would last on the ticket until Election Day.
Palin, for her part, was eager to pick up the partisan cudgel, and she wielded it ably. Her convention speech mentioned her Alaska record, but hit its high notes in her criticism of the Washington elite and candidate Obama ("I guess a small-town mayor is sort of like a 'community organizer,' except that you have actual responsibilities").
Palin told me that she had never viewed a replay of that speech until she saw portions of it in Bannon's film, and thought to herself, "Wow … Yaaay!"
Palin's eagerness for the fray lifted a dispirited Republican base and instigated an outsize response from liberal critics. Bannon's film begins with a montage of celebrity criticism of Palin, descending from the conventional opinion voiced by Matt Damon ("a really bad Disney movie") to the harsher depictions of comics Sandra Bernhard ("turncoat bitch") and Bill Maher ("dumb twat"), before reaching bottom with images of violence and cruel caricatures of Trig.
At the end of the film, Andrew Breitbart criticizes the male Republican establishment for silently standing by, calling them "eunuchs." When we spoke, Palin agreed with that assessment but added, "It wasn't just the men—it was conservative women who stood by, too. I went out there and I supported them in their campaigns, and I put some of them on the map. And to this day, we have not heard from them...I'm not wired that way."
Palin said that when she heard her friend Nikki Haley was accused of having had an affair with a staffer when she was running for governor of South Carolina, she picked up the telephone. "I called her and I asked her, and she said, 'No, it's not true.' I immediately did a statement saying, 'She says it's not true. Lay off.'"
After the 2008 election, Palin tried to do something that hadn't been done in 20 years: return to the governor's chair after defeat on a national ticket (Michael Dukakis was the last to manage it, in 1988). Former Democratic allies now treated her like the opposition, and disaffected Republicans were not inclined to come to the rescue. Political opponents bombarded her administration with ethics complaints, and, though all were ultimately dismissed or settled without finding of wrongdoing, Palin lost her motivation to stay in the job and fight. "It was like she was going to work every day in handcuffs," Todd told me.
It is an abiding source of annoyance to Palin that her success story as Alaska's governor vanished overnight in 2008. "Do people not understand why McCain picked me?" she said with some exasperation.
Steve Bannon believes that he understands, and it is why he made The Undefeated, spending $1 million of his own and his partners' money on the two-hour movie, which opens in 10 cities July 15, and goes nationwide the following week. He also has a Walmart distribution deal that figures to easily recoup the investment.
"I call her a McLuhan-esque character," Bannon says. "She is saturated in media, and yet nobody knows her story. It's hidden in broad daylight."
Bannon, 57, was reared in a working-class Catholic family in Richmond, Va., and served in the Navy before making his way to Harvard Business School. There and later, working in mergers and acquisitions at Goldman Sachs, he acquired a lasting skepticism of the Eastern establishment. "At Harvard, and then on Wall Street, I noticed something: guys had academic credentials, and quantitatively, they're very smart," he says. "But I still never met anybody as smart as my grandfather, and he was a guy who went to the third grade. That's kind of what I see in Sarah Palin—this combination of lived experience and intellectual curiosity. At Harvard, they didn't have the lived experience; they avoided it. And by the way, that permeates the elite culture today."
Bannon developed a media specialty at Goldman, leaving in 1990 to open his own boutique firm in Beverly Hills. He handled the reorganization of MGM and PolyGram, sold his firm to Société Générale, and decided to try producing films himself. His first, a Reagan homage called In the Face of Evil, attracted a right-wing following, and Bannon fell in with Hollywood's conservative mafia, led by the Anthony Weiner bête noire, Breitbart. "It's just a whole new wave of kind-of radical libertarians," Bannon says. "But radically pro-America, pro-military"—Bannon's daughter, Maureen, is a second lieutenant with the 101st Airborne serving in Iraq—"and Breitbart's the merry-prankster head of that."
While Palin's resignation in 2009 seemed to foreclose a political future for her, it soon became evident that her lightning-rod role gave her icon status among an adoring following: the Palinistas. Several of these devotees established websites, forming an engaged base that now becomes reenergized with every Palin move. These are many of the people who began attending town halls two summers ago and who fill the ranks of the Tea Party. They see themselves in Palin and are grateful to her for having embraced them and their cause at a time, during the advent of the Age of Obama, when other Republicans hesitated.
"She did not sit out the Tea Party," says Peter Singleton, who is perhaps the archetype of the Palin true believer, a Palo Alto, Calif., attorney who picked up and moved to Iowa to begin organizing for what he believes will be a Palin run for the presidency. Singleton has been in Iowa for eight months, meeting with Republican leaders in every corner of the state and building a network of volunteers. He has never met Palin.
It was Singleton who was Bannon's man on the ground for the Pella event, producing a crowd from the list of names he has amassed. He has undertaken the Iowa mission on his own dime. Asked how he finances his effort, he replied, "You burn through your savings."
At Singleton's side in Pella was another such Palin volunteer, Michelle McCormick, who has become a familiar face in Iowa, even though she lives and works in the Dallas–Ft. Worth area. She so believes in the Palin enterprise that she travels to Iowa every weekend to work the Republican precincts with Singleton. "I don't even have a plant in my apartment so I can do this," she says. "I have no social life. But I've met a lot of friends … It's just different."
Singleton and McCormick firmly believe that Palin will run, and that it is their task to prepare the way for her. And, Singleton is certain, Palin will be ready, too. "Governor Palin has people who are providing policy research, and that's how she's producing these pithy analyses of policy issues," he says. "You might say, 'Well, they don't sound like policy-wonk, nine-page white papers from the IMF.' Well, yeah. That's by design."
Back in the private dining room in Pella, Palin shared some of those policy positions. On the debt ceiling, she takes the hardline view. "It is not the apocalypse," she said, and questioned the need for the urgent negotiating sessions Republicans and Democrats were conducting in search of a debt-limit agreement (ongoing at press time). "The fact is that we have $2.6 trillion in revenue coming in, and if we just use some common sense there—take that revenue, service the debt first, take care of national priorities—we don't have to increase debt."
Such an approach would require some drastic spending cuts, of the sort that can become politically uncomfortable for Republicans. Palin said bring it on. "There is so much spending that is not a priority for national security or for those constitutionally mandated services and accepted services that the public wants to see their federal government provide—take care of those things," she said. "Everything else is going to have to wait, and that's just reality." She would like to revamp, or even eliminate, whole agencies—the Department of Energy, for example—as Reagan once spoke of doing. "That's the kind of grand reform that is very, very difficult to do. But it can be done."
Palin made it clear that she's against any deal that raises the debt ceiling and would hold House Speaker John Boehner's feet to the fire if he agreed to one. "No, we have to cut spending. It is imperative, and I will be very, very disappointed if Boehner and the leaders of the Republican Party cave on any kind of debt deal in the next couple of months."
Palin has also become conversant on the subject of quantitative easing, the inflationary effects of which she illustrated with a personal anecdote. "I was ticked off at Todd yesterday," she said. "He walks into a gas station as we're driving over from Minnesota. He buys a Slim Jim—we're always eating that jerky stuff—for $2.69. I said, 'Todd, those used to be 99 cents, just recently!' And he says, 'Man, the dollar's worth nothing anymore.' A jug of milk and a loaf of bread and a dozen eggs—every time I walk into that grocery store, a couple of pennies more..."
Such are the issues that Palin's supporters hope she will soon be addressing as a declared presidential candidate. A case can be made, as Palin does, that a late entrant has every chance of winning the nomination, and she would certainly add excitement to the race. Still, it is difficult to envision her easily surrendering the impulsive freedom on display during her Iowa excursion for the forced march of an actual campaign.
Her current status as a freelance celebrity is plenty rewarding: she is reportedly paid $1 million a year by Fox, earned another $2 million for her TLC reality show, had a multimillion-dollar book deal with HarperCollins, and is a top-tier figure on the speaking circuit, able to command upwards of $100,000 per speech.
Moreover, Palin plainly thrives within that very tight circle she has drawn around herself, with Todd at its center, acting as gatekeeper and principal adviser. A campaign—even one as defiant of conformity as Palin's would likely be—would require expanding that circle to include political professionals of uncertain loyalty. And it would mean opening the door to news organizations with which she has been openly feuding for the last couple of years.
Or not.
"The mainstream press is becoming less and less relevant," she said, adding that she would have no hesitation in shunning media outlets she does not trust.
"I would say no to those who have lied about me. There is no need to reward bad behavior. I've learned. You know, once bitten, twice shy. I have learned."
Shushannah Walshe contributed to this article.