Sarah Palin Rapped in a Pink Bear Costume on 'The Masked Singer,' and You Probably Missed It
The year 2020 has been confusing on many fronts, but the latest pop culture moment is something of a fever dream. Wednesday night offered reality TV fans an unprecedented opportunity to see former Alaska Governor Sarah Palin rap "Baby Got Back" while wearing a pink bear suit, all thanks to The Masked Singer.
Palin was a secret celebrity contestant on the show, and got to debut her average vocal capabilities on the series. She was eliminated first from the show's Group C, which allowed her to reveal her identity.
The Masked Singer is a reality TV singing competition on which celebrities disguise themselves in creative costumes. Each week, a handful of the masked singers belt out their favorite tunes and give a few clues to their identity. Judges and Twitter users, in public conversations, try to guess which celebrity is under each mask. Only when a star is eliminated is their true identity revealed.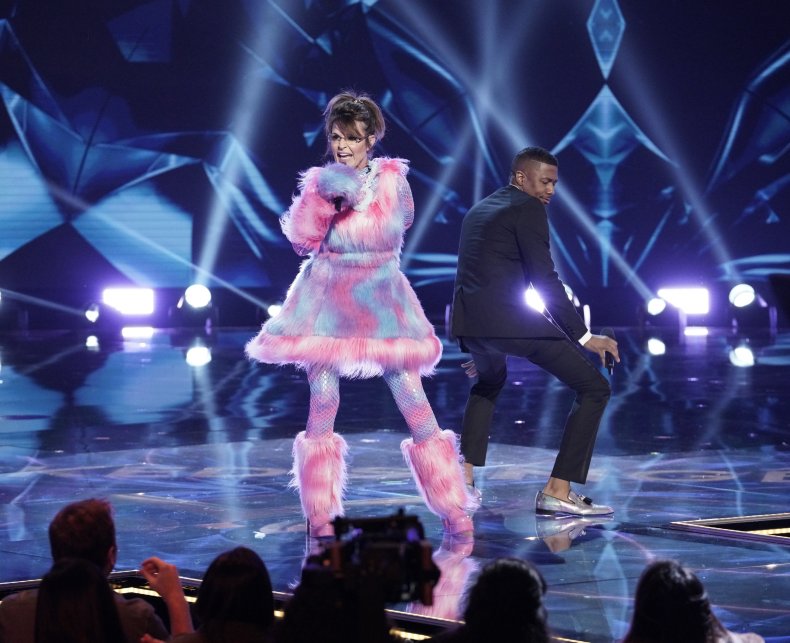 While Palin first performed the song in full costume, after her unmasking, she reprised the rap track with host Nick Cannon. The two were met with audience approval, and even a comment from judge Nicole Scherzinger who asked, "What is our show?"
Twitter users seemed confused and concerned for Palin's appearance on the show.
Many have observed how reality TV has come to incorporate prominent political figures. They may have a point. Shows like Celebrity Big Brother have brought White House faces like Anthony Scaramucci and Omarosa into the entertainment business.
Others have used global panic over coronavirus, and some claims that the virus could signal a Nostradamus-like end of times, as a jumping off point for jokes about Palin on the show. Even BuzzFeed posted an article with a headline implying Palin's performance signaled that 2020 is the start of a "dystopian nightmare."
Palin served as John McCain's running mate in 2008 presidential election. Until 2015, she was a contributor to Fox News in political commentary. Palin is a published author who also briefly hosted a reality show that took viewers inside her life in Alaska.
This article was updated to reflect that Palin's role at Fox News ended in 2015.