Sarah Palin Real-Estate Watch, Vol. II: Palin's New Neighbor, Journalist Joe McGinniss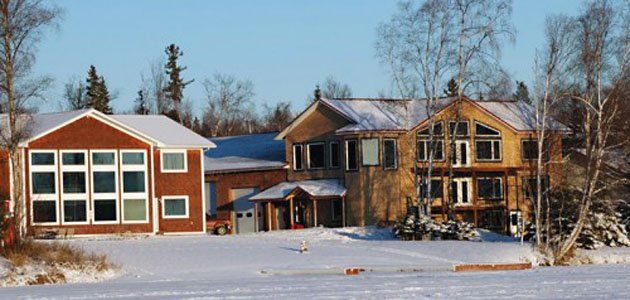 On Monday, we looked at the mysterious hangar-office-studio that Sarah Palin is building next door to her house in Wasilla, Alaska. While more detail on the building is still not forthcoming, we do have news on the Wasilla real-estate front: investigative journalist Joe McGinniss, a noted Palin basher, is renting the house next door to the former vice presidential candidate.
McGinniss is reporting a book on Palin, tentatively titled Sarah Palin's Year of Living Dangerously, but he's written lots about her before. Gawker points out that he broke the story that Palin's supposed bus tour in support of her memoir, Going Rogue, was a facade—her entourage roughed it on the bus while the talent flew from stop to stop. McGinniss also wrote a lengthy article for Portfolio magazine about Palin and the Alaska natural-gas pipeline.
Palin isn't happy about her new neighbor, as she alerted the world via Facebook:
Joe announced to Todd that he's moved in right next door to us. He's rented the place for the next five months or so. He moved up all the way from Massachusetts to live right next to us—while he writes a book about me. Knowing of his many other scathing pieces of "journalism" (including the bizarre anti-Palin administration oil development pieces that resulted in my Department of Natural Resources announcing that his work is the most twisted energy-related yellow journalism they'd ever encountered), we're sure to have a doozey to look forward to with this treasure he's penning. Wonder what kind of material he'll gather while overlooking Piper's bedroom, my little garden, and the family's swimming hole?... [Y]ou know what they say about "fences make for good neighbors"? Well, we'll get started on that tall fence tomorrow, and I'll try to keep Trig's squeals down to a quiet giggle so we don't disturb your peaceful summer.
Given Palin's often contentious relationship with the press—and particularly the "lamestream media," to user her phrase—it's not surprising that she'd be upset. But moving in next door does seem like a gratuitous provocation. Dave Weigel, however, complains that Palin objects to the very idea of McGinniss doing journalism, and that his side of the story remains to be told: "But assuming he's rented the house near the Palins for some period of time, assuming the Palins know he's there and that he's writing a book, then what, exactly, is wrong with this?" (Predictably, plenty of folks have taken issue with that.)
McGinniss's publisher issued a statement to the Associated Press, saying that "McGinniss will be highly respectful of his subject's privacy as he investigates her public activities." The writer himself hasn't spoken with anyone yet, although his son did give Ben Smith a wry comment.