Former Alaska Governor Sarah Palin confirmed she was "duped" by character comedian Sacha Baron Cohen as part of his new undercover series Who Is America? She claimed Cohen posed as a disabled U.S. veteran.
Cohen teased the series, due to air on Showtime this Sunday, with a clip of former Vice President Dick Cheney signing his autograph on a "waterboarding kit." He is known for tricking public figures into fake and often humiliating interviews.
Conservative publisher Matt Drudge claimed on Twitter that Cohen, best known as his characters Borat and Ali G, had so far fooled Palin, Howard Dean, Bernie Sanders, General David Petraeus, Alberto Gonzales, Trent Lott, Ted Koppel "and more."
"I join a long list of American public personalities who have fallen victim to the evil, exploitive, sick 'humor' of the British 'comedian' Sacha Baron Cohen, enabled and sponsored by CBS/Showtime," Palin, who was John McCain's running mate in the 2008 presidential election, wrote on her Facebook page.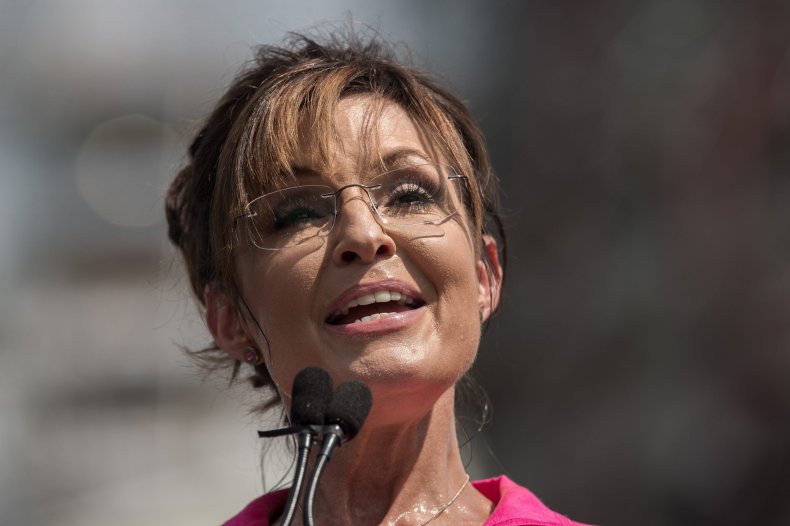 "For my interview, my daughter and I were asked to travel across the country where Cohen (I presume) had heavily disguised himself as a disabled US Veteran, fake wheelchair and all.
"Out of respect for what I was led to believe would be a thoughtful discussion with someone who had served in uniform, I sat through a long 'interview' full of Hollywoodism's disrespect and sarcasm—but finally had enough and literally, physically removed my mic and walked out, much to Cohen's chagrin. The disrespect of our US military and middle-class Americans via Cohen's foreign commentaries under the guise of interview questions was perverse."
She added: "Here is my challenge, shallow Sacha boy: go ahead—air the footage. Experience tells us it will be heavily edited, not pretty, and intended to humiliate."
Palin called on Cohen and CBS to donate proceeds to a veterans charity.
"Mock politicians and innocent public personalities all you want, if that lets you sleep at night, but HOW DARE YOU mock those who have fought and served our country," Palin wrote.
She also accused the show's producers of deliberately dropping her and her daughter off at the wrong airport in Washington, D.C., causing them to miss their flight.
"After refusing to take our calls to help get us out of the bind they'd put us in for three days, I wrote this off as yet another example of the sick nature that is media-slash-entertainment today," Palin wrote.
"Feel good and manly about your M.O., Sacha? By the way, my daughter thinks you're a piece of ****, Sacha. Every honorable American Vet should feel the same," Palin said.
A spokeswoman for CBS told Newsweek the network had no comment.
This article was updated to include the no comment response from CBS.