Sarah Palin Shocked Over California City's Universal Basic Income, Which Is Based on Alaska's Model
Alaska Governor Sarah Palin was called out on Twitter after she expressed shock over a California city's universal basic income experiment—an initiative based on Alaska's model that guarantees income floor for its residents.
"Are you kidding me?" Palin tweeted early Monday along with a link to a right-wing blog that denounced the income initiative in Stockton, California, as a "socialist" concept.
The blog post on AmericaNewsCentral.com criticized Stockton's plan to provide a small number of low-income residents with a $500 stipend per month.
"Socialist ideas seem to be on the rise in the country, everything from attacking gun rights to some embracing [Vermont Senator] Bernie Sanders and single payer healthcare," the blog post read. "Now, some are pushing for the concept of universal basic income and one city is even trying it out."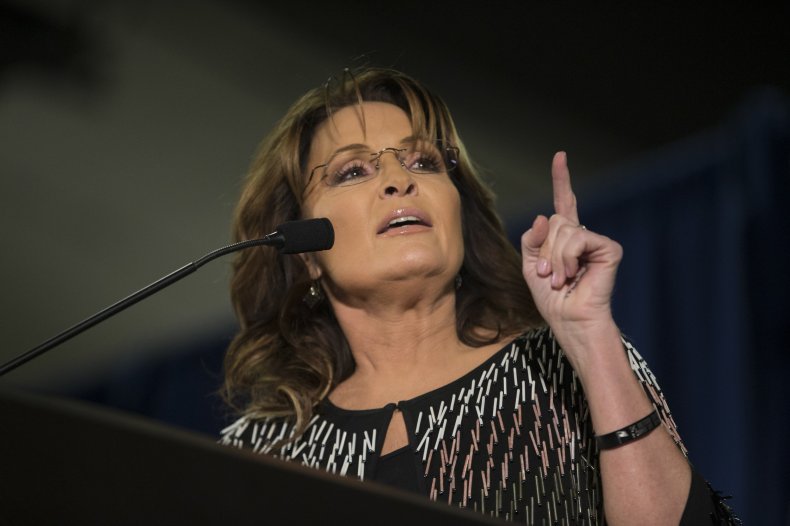 Stockton Mayor Michael Tubbs may not have seen Palin's tweet when it posted at 3:20 a.m. local time, but he responded later that afternoon. "Actually modeled after the Alaska Permanent Fund. Are you familiar with it?" he tweeted.
The Alaska Permanent Fund pays out dividends to Alaska residents every year. According to the state's constitution, at least 25 percent of Alaska's mineral royalties—mostly oil money—is deposited into that principal. As of February 2018, the fund was worth $64.7 billion. In 2017, it paid out $1,100 to qualifying residents.
Tubbs explained his inspiration for the income experiment during an interview with NPR in January. "I think the idea is like in Alaska. So Alaska has this permanent dividend fund that's been around for a generation where just for being an Alaskan citizen, as being part of that social contract, you're given a check every year," he said.
"We need to see if it works and we need to try it. And if it doesn't work, there's a conversation about, OK, well, why didn't it work and how can this apply to the next solution we need to implement?" he said.
Details are still being worked out for Stockton's experiment, called the Stockton Economic Empowerment Demonstration, or SEED. In a second tweet aimed at Palin, SEED's Twitter account posted, "Thank you, Alaska for helping to inform our approach!"
The America News Central blog post also called into question how the funding for the Stockton's program works. "The obvious question is where is the money coming from?" blogger Nick Arama asked. "It does not say if more money from the other citizens of Stockton is also required to float this 'experiment.'"
The experiment is philanthropically funded by the Economic Security Project—a group of organizers, elected officials, researchers and technology developers—which has donated $1 million toward the effort.