Sarah Palin Zoom Meeting Interrupted by Penis Drawing on Screen
Former Alaska governor and House candidate Sarah Palin was in the midst of her intervention at a Native Peoples Action candidate forum held on Zoom on Thursday, when her speech was suddenly interrupted by the appearance of a penis drawing taking over the screen.
"Somebody is messing with this," the Republican candidate could be heard saying in a clip of the meeting shared on Twitter as the drawing pops in.
"We're getting Zoom-bombed," one of the people participating in the meeting said.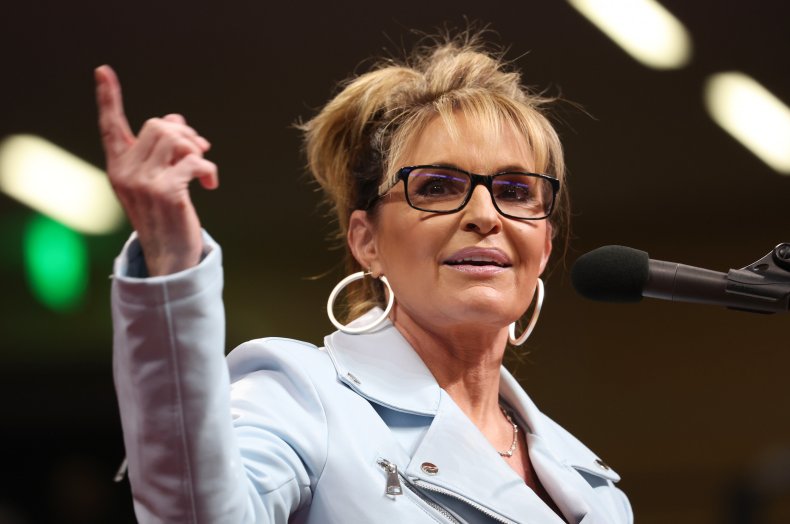 "Well, I don't want to look at this stuff," Palin said, apparently closing the image sharing of the penis.
One of the meeting organizers than apologized for the interruption, which she warned might force everyone to exit the Zoom call should the incident repeat itself.
"It's not your fault," said a still-smiling Palin, reassuring the woman. "It's people who are not respecting the process." But as the politician was complaining about people disrespecting "the process," one "[people] need to be involved in, taking it seriously, and giving some respect to the people like you who are in the arena allowing us to debate." She then got interrupted again by a distorted voice saying: "Shut the f*** up you nasty b****. I don't know how you the f*** you come to my state."
Palin did not appear to notice the voice as she seemed to carry on speaking. She then ended her statement by saying "it's pretty sad."
Newsweek has contacted Sarah Palin for comment.
On August 16, Alaska will hold midterm primaries, which this year includes a special election to fill the state's one seat in the House of Representatives—currently left vacant by the death of longtime Republican Rep. Don Young in March.
Palin is competing for the seat against fellow Republican candidate Nick Begich III and Democrat Mary Peltola. Voters will be asked to rank these candidates in order of preference and the winner will serve until January 2023, when the current term ends. Palin also filed to seek a regular two-term House term starting in January. The selection is to occur through a pick-one primary also scheduled for August 16, with a ranked-choice vote in November.
It's the first time Palin is running for elected office after she quit her role as governor of Alaska in 2009 and after her vice presidential candidate on the 2008 Republican presidential ticket alongside then-Senator John McCain of Arizona.
Former President Donald Trump has expressed his support of Palin in her bid to fill the state's single Congress seat.