Sarah Sanders Responds to April Ryan's Call to 'Start Lopping Heads Off' by Praising Donald Trump's Achievements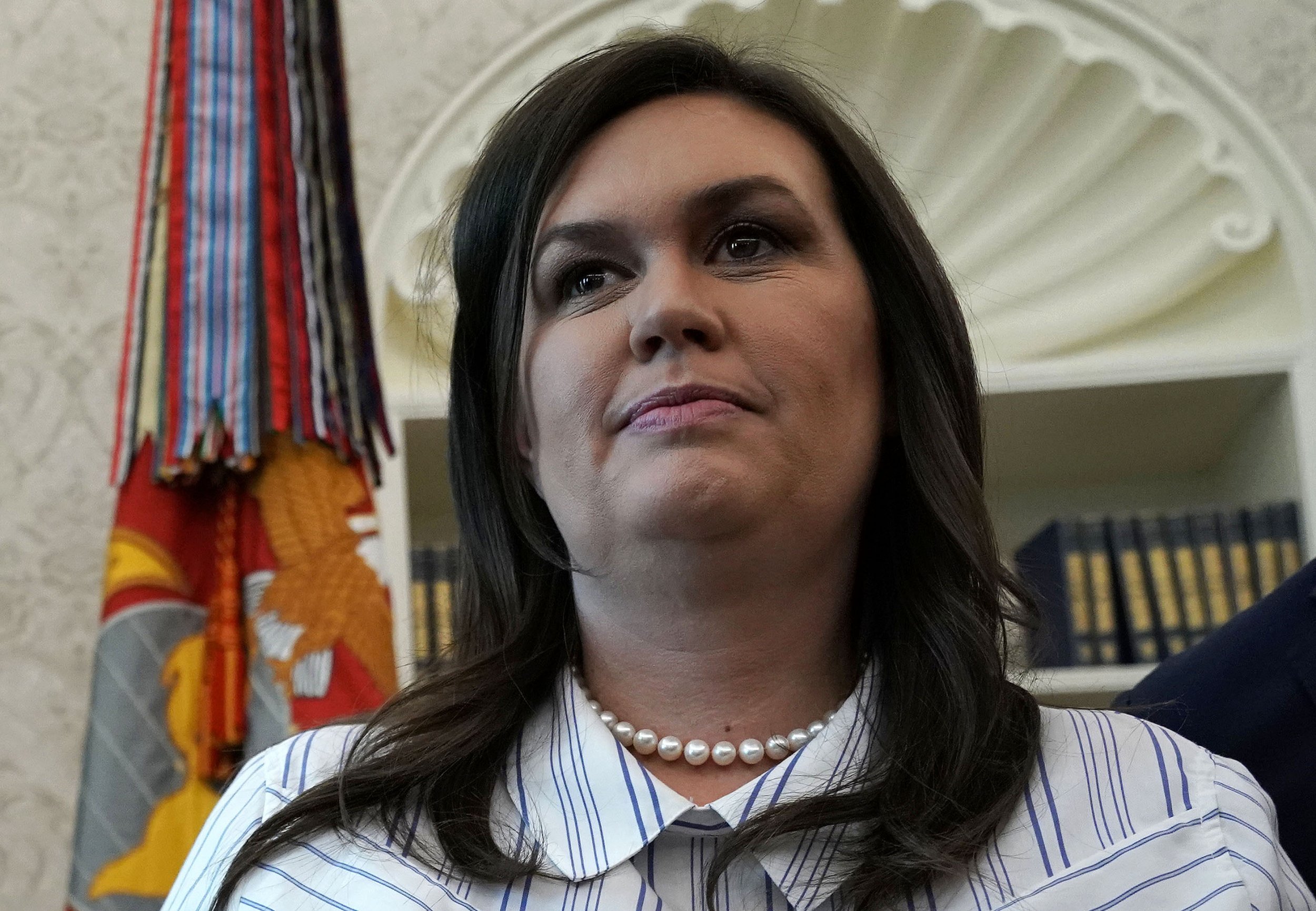 Sarah Sanders hit out at reporter April Ryan, who called for her to be fired for lying about the firing of former FBI director James Comey, while appearing to misinterpret the meaning of her words.
The White House press secretary was condemned by Ryan after it was revealed in special counsel Robert Mueller's Russia investigation report that Sanders' claims to journalists that Comey had lost the confidence of several members of the FBI were "not founded on anything."
Speaking Friday on a panel on CNN's Erin Burnett OutFront, Ryan said Sanders should have been fired for lying to the press. "When there is a lack of credibility there, you have to start, and start lopping the heads off," Ryan said. "It's Fire-Me Thursday or Fire-Me Good Friday. She needs to go."
During a Monday appearance on Fox & Friends, Sanders was asked about her reaction to Ryan's call for her to be fired after she lied to the press, interpreting the words literally.
"I have had reporters say a lot of things about me. They said I should be choked. They said I should deserve a lifetime of harassment, but certainly never had somebody say that I should be decapitated," Sanders said, according to Mediate.
"This takes this to a new low, even for the liberal media. I think it just once again proves why this journalist isn't taken seriously," Sanders added, without citing the CNN analyst by name.
Sanders went on to say she had not thought too much about Ryan's words and instead spent the Easter weekend with her family, thinking about what she was grateful for.
"One of the things I am most grateful for is all the things the president has accomplished under these last two years," she said. "I think that he has a great six years ahead of him, and I think our team needs to remain focused on how we keep pushing those things that actually help Americans and not engaged in these petty fights with journalists."
Sanders added that she felt sorry for the reporters who continued to attack the Trump administration in the wake of the Mueller report being released.
"They have lost the collusion battle, and now they're looking for anything they can hang on to keep this story alive, and frankly, I think it's time to move on."
Sanders' father, Arkansas Governor Mike Huckabee, also accused Ryan of inciting violence against his daughter after using the "lopping heads off" phrase, believing her words were not a metaphorical call for her to be fired.
"Does CNN have the integrity to deal w/ this incitement to murder?" Huckabee tweeted. In another tweet, he added: "Will the [White House Correspondents' Association] revoke April Ryan's credentials? If not, they are gutless tools."