Sarah Sanders Asked When She'll Answer Questions From Real Reporters at Kids Briefing
In her first press briefing in a month and a half—a mock, off-the-record one for Take Our Daughters and Sons to Work Day on Thursday—White House press secretary Sarah Sanders got called out by a journalist about when she would brief actual reporters.
"Sarah, when will you brief for the real reporters?" the Associated Press's White House reporter Darlene Superville asked at the end of the briefing for kids, according to fellow journalists in the room.
Sanders gave no answer, according to ABC News's White House correspondent Karen Travers.
The White House attempted to insist that the briefing for the kids be off-the-record, reported NPR's White House correspondent Tamara Keith, who also tweeted about the question posed to Sanders.
As of Thursday, Sanders has not held a real press briefing in 45 days, which is the longest span in White House history, according to the nonprofit consumer advocacy group Public Citizen. Sanders broke her previous record set in March of 42 days with no briefing, which followed her previous record of 41 days without a briefing set in January, the organization tracked.
President Donald Trump in late January tweeted that he directed Sanders "not to bother" to hold press briefings because the media "will never cover us fairly."
"The reason Sarah Sanders does not go to the 'podium' much anymore is that the press covers her so rudely & inaccurately, in particular certain members of the press," Trump tweeted. "I told her not to bother, the word gets out anyway! Most will never cover us fairly & hence, the term, Fake News!"
In October, an ABC News analysis found that Trump took nearly 300 questions from the media in the preceding 11 days, which was more than any other American president in the same time frame. Meanwhile. Sanders had only held two press briefings from Labor Day until that point in time.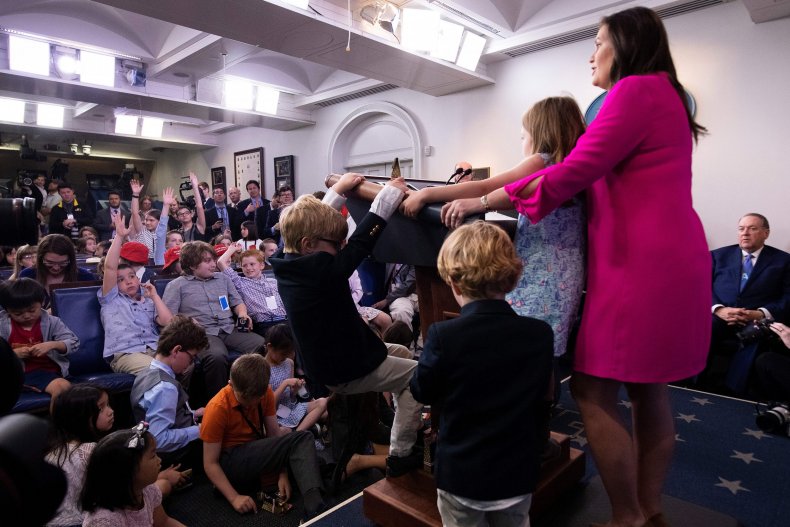 At the briefing for kids on Thursday, Sanders did announce some actual, on-the-record news. She confirmed that Trump will give a talk at the U.S. Air Force Academy graduation next month in Colorado and that NASCAR driver Joey Logano will soon visit the White House, according to Bloomberg News White House reporter Jennifer Jacobs.
Tweeted photos from the briefing showed children filling the seats of the briefing room and reporters standing around the edges of the room.
Vice President Mike Pence also made an appearance after Sanders invited her children to stand at the podium.