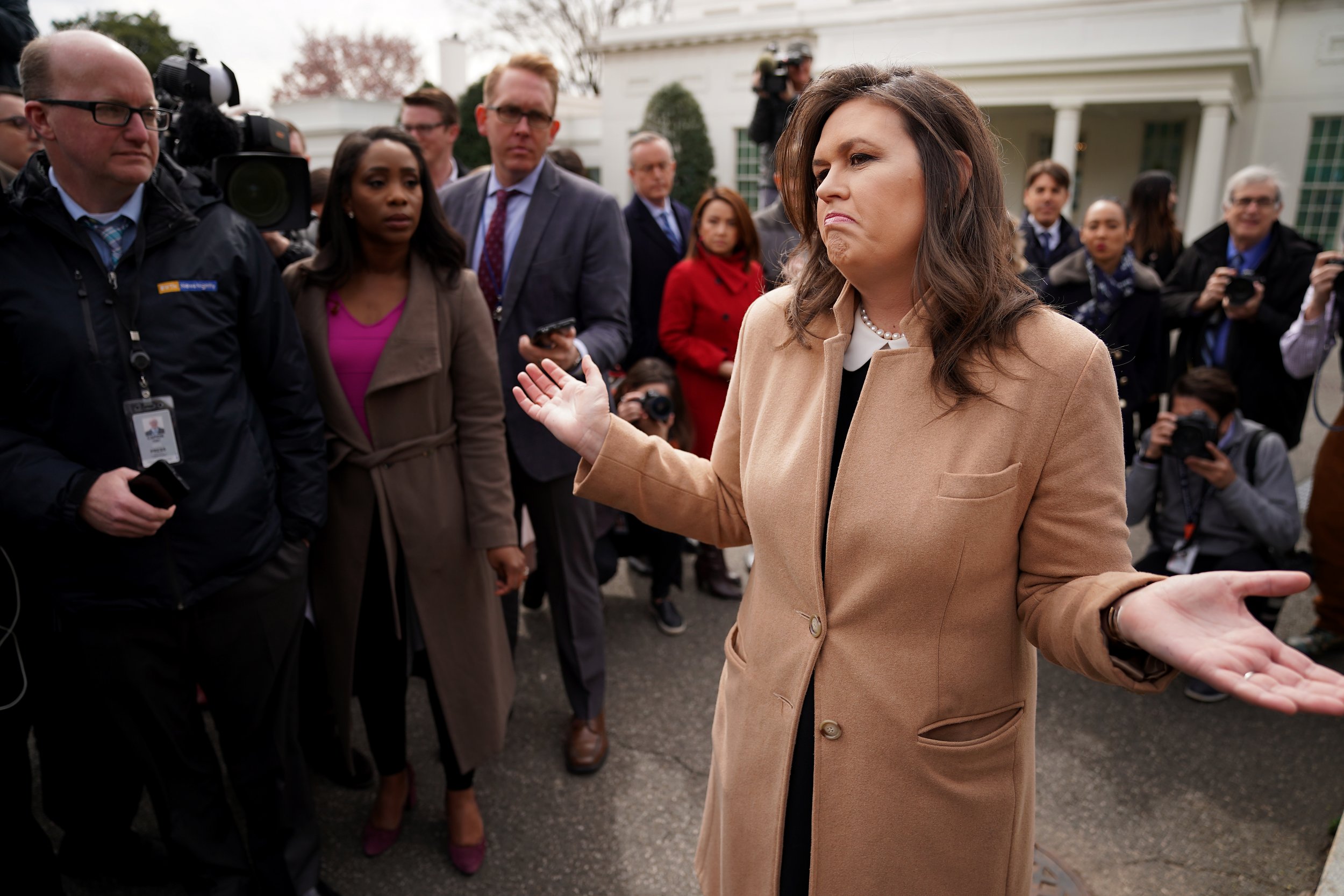 White House Press Secretary Sarah Sanders in a Fox News interview on Thursday morning slammed Democrats as a "sad excuse for a political party" and claimed that they are getting "beat" by President Donald Trump on a daily basis.
Fox News host Brian Kilmeade asked Sanders to comment on a New York Times report that some unnamed members of Robert Mueller's Russia probe team said the special counsel's report was more damaging than Attorney General William Barr revealed in his summary.
"What was your reaction, the president's reaction to that?" Kilmeade asked.
"I think it's the same one we've had all along," Sanders said. "I think Democrats continue to show day in and day out that they're nothing but sore losers."
Sanders continued: "At some point they have to realize that they have been beat by President Trump in the 2016 election. They're getting beat by him day in and day out on issues that actually matter and I think they're a sad excuse for a political party right now."
The press secretary concluded that, "at some point, [Democrats] have to decide that they want to actually govern and they actually want to change things and make America better and join the president in those efforts."
Sanders on Tuesday also called Democrats "sore losers" for threatening to issue a subpoena for Mueller's full report.
"They will never be satisfied. They're sore losers," Sanders said on the driveway of the White House. "They lost in 2016. They lost because they tried to convince all of America of something we all knew was untrue: that the president had colluded with Russia."
Sanders added, "It was a total lie then. It is a total lie now, and they continue to lose on this issue. At some point, they have to decide that they're ready to move on like the rest of America."
In his summary, Barr wrote that Mueller's probe "did not find that the Trump campaign or anyone associated with it conspired or coordinated with Russia in its efforts to influence the 2016 U.S. presidential election." Additionally, the investigation "did not draw a conclusion" on whether Trump obstructed justice but "does not exonerate him," Barr's summary letter stated.
Sanders last week shared a "Mueller Madness" bracket on Twitter on "Democrats and their liberal media allies," alleging they "slandered" Trump for two years for "conspiring with Russia."
"Which of the angry and hysterical @realDonaldTrump haters got it most embarrassingly wrong?" she tweeted. "#YouDecide."