Sarah Sanders: We Know There Was 'Outrageous Amount of Corruption' at FBI, But Trump Will Let AG Barr Do His Job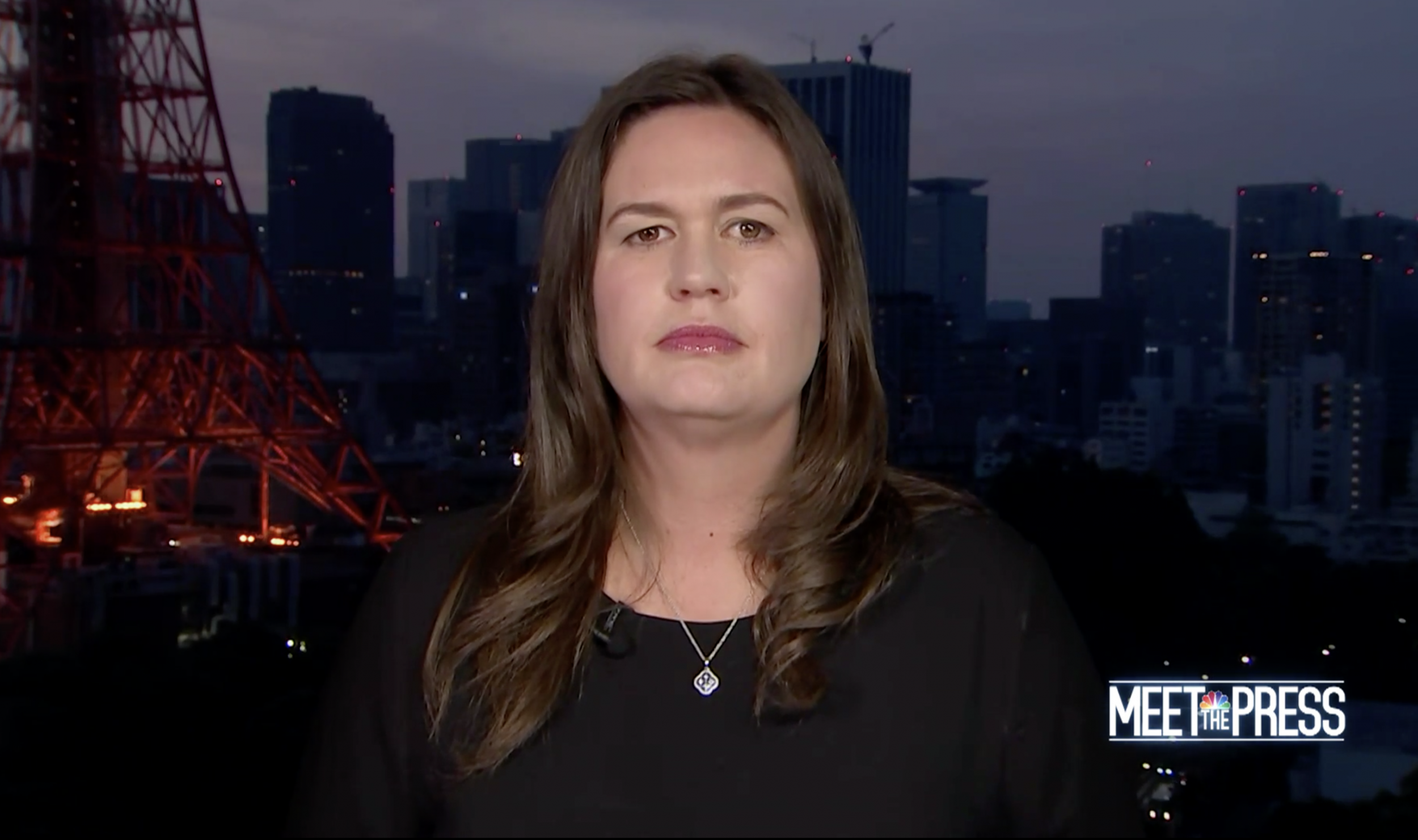 White House Press Secretary Sarah Huckabee Sanders on Sunday defended the objectivity of Attorney General William Barr's probe into the origins of the two-year special counsel's investigation of Russian election interference. She claimed that President Donald Trump will let Barr do his job, in spite of statements appearing to indicate that the president had already reached some conclusions on the matter.
Appearing on NBC's Meet the Press Sunday, Sanders was asked by host Chuck Todd about what, exactly, Trump hopes to see as an end result of Barr's investigation into a number of FBI officials and members of the intelligence community who were key to a 2016 decision to look into the possibility that Trump or people in his campaign might have problematic connections to Russia.
Todd pointed to a recent tweet from Trump, which read: "My Campaign for President was conclusively spied on. Nothing like this has ever happened in American Politics A really bad situation. TREASON means long jail sentences, and this was TREASON!"
He then asked Sanders why the president would ask Barr to investigate when "he's already come to a conclusion, already decided what the penalties should be, and has already determined what the jail sentences should be. Isn't this the president playing judge and jury and putting his thumb on the scale here for whatever investigation he claims he wants Mr. Barr to do?"
Sanders replied by implying that the media had little business asking such a question, saying they had "relentlessly covered and accused the president for over two years of being part of this massive election interference, something that never took place."
She continued: "The idea that anybody now says the president doesn't have the right — and not only that Americans deserve the truth, to push back and find out where all of this started is absurd. Literally, for day after day after day, the media and Democrats in Congress called the president a traitor to his own country and said that he cheated to become president. I mean, the idea of that is absolutely outrageous that he had to endure that for two years and now he wants to know where and why it started and all of a sudden that's a big deal? That is insane."
Todd countered by pointing out that he didn't say Trump shouldn't be asking those questions. Rather, his concern was that the president had "already made a judgment."
Given that Trump and his allies have repeatedly stated that Democrats should apologize to the president and move on after the special counsel investigation failed to conclusively find any criminal wrongdoing on Trump's part, Todd asked Sanders if the president would accept it if Barr, at the conclusion of this new probe came to him and said, "You know what? Everything was done legally and on the up-and-up, Mr. President."
To which Sanders responded by declaring that, "We already know that there was an outrageous amount of corruption that took place at the FBI. They leaked information, they lied, they were specifically working, trying to take down the president, trying to hurt the president. We'll leave the final call up to the attorney general and he'll get to the bottom of it, but we think Americans deserve the truth."
Todd asked again: "So the president is not going to accept exoneration, if that's what Bill Barr finds?"
"Look, I'm not going to get ahead of what the final conclusion is," answered, before then stating an apparent conclusion: "But we already know that there was a high level of corruption that was taking place. We've seen that in the IG investigation that's already happened... But there's a lot more out there that we still need to know and we're going to let the attorney general do his job."
"That's my point," said Todd. "It doesn't sound like you want him to do his job. It sounds like you've — the president — has already determined the outcome."
He subsequently asked Sanders if, given that Trump has already publicly accused former FBI Director James Comey of treason, he expected Comey to be arrested as a result of Barr's investigation.
"Again, we're going to let the attorney general make that determination as he gets to the conclusion of this investigation," said Sanders.
Trump last week gave Barr the authority to declassify intelligence information related to his new investigation, a decision that some experts criticized harshly.
"In a corrupt act of political retribution, our president has ordered his utterly compliant attorney general to root out Deep State demons that exist only in the unhinged mind of our nation's leader," said former federal prosecutor Gene Rossi to Newsweek.
Bradley Moss, a national security law expert, told Newsweek that "It is virtually unheard of for the attorney general to have such expansive declassification authority... That it is being provided to Barr here, in a politically-driven inquiry into the president's adversaries, raises serious concerns that the power will be abused to allow for selective and cherry-picked declassifications."