Sarah Huckabee Sanders Says Donald Trump's Long 'Executive Time' Allows Him to Have a 'Creative Environment'
White House press secretary Sarah Huckabee Sanders shot back after a massive leak of President Donald Trump's private schedules showed that about 60 percent of his time over the past three months has been unstructured "executive time," by saying it enables him to have a "more creative environment."
"President Trump has a different leadership style than his predecessors and the results speak for themselves," Sanders wrote in an emailed statement to Axios, which on Sunday published 95 pages of Trump's schedules leaked by a White House source.
"While he spends much of his average day in scheduled meetings, events, and calls, there is time to allow for a more creative environment that has helped make him the most productive president in modern history," Sanders continued.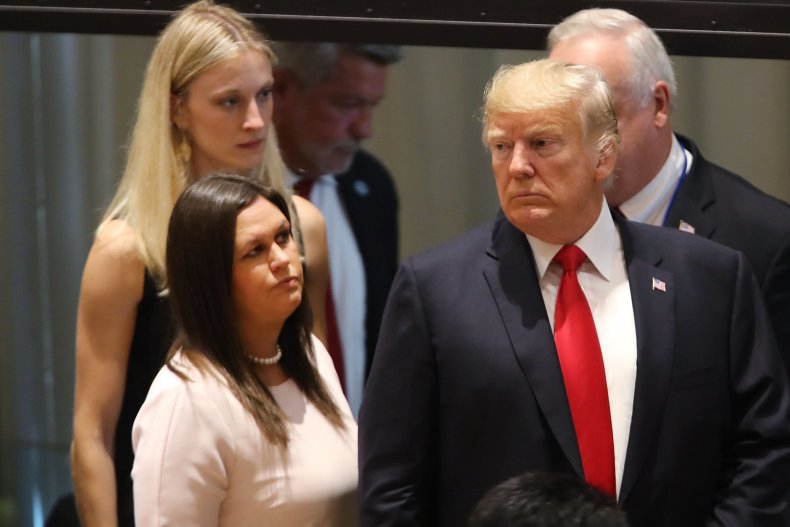 The schedules revealed that Trump would often wake up before 6 a.m. and spend the first five hours of his day in "executive time." Trump apparently had more than 300 hours of unstructured time over the three-month period.
Additionally, schedules stated that Trump was to be in the Oval Office from 8 a.m. to 11 a.m., but according to six White House sources, he instead spent the time in his residence watching television, reading the news and reacting to it by calling administration officials, aides, Congress members, informal advisers and his friends.
In her statement, Sanders listed what she considered to be Trump's accomplishments.
"President Trump has ignited a booming economy with lower taxes and higher wages, established the USA as the #1 producer of oil and gas in the world, remade our judiciary, rebuilt our military, and renegotiated better trade deals," Sanders stated. "It's indisputable that our country has never been stronger than it is today under the leadership of President Trump."
Sanders also retweeted a post by Oval Office operations director Madeleine Westerhout on Sunday slamming the leak.
"What a disgraceful breach of trust to leak schedules. What these don't show are the hundreds of calls and meetings @realDonaldTrump takes everyday," Westerhout tweeted. "This POTUS is working harder for the American people than anyone in recent history."
Former Republican House Speaker Newt Gingrich also defended Trump on Monday.
"We have continued economic growth, continued wage growth, continued job creation, progress in Chinese trade talks, trade agreement with Mexico and Canada, progress in strengthening NATO, progress in Venezuela," Gingrich tweeted. "If Trump's schedule leads to all this he should be applauded for his focus."
Gingrich, who was speaker from 1995 to 1999, also justified Trump's executive time by tweeting that former British Prime Minister Winston "Churchill slept late, worked late, took a nap every afternoon (getting into his pajamas)."