Sarah Sanders for Governor of Arkansas? Trump Urges Press Secretary to Run After White House Exit
President Donald Trump announced in a tweet on Thursday that White House press secretary Sarah Huckabee Sanders will be leaving the administration at the end of the month and suggested that she run for governor of Arkansas.
"After 3 1/2 years, our wonderful Sarah Huckabee Sanders will be leaving the White House at the end of the month and going home to the Great State of Arkansas," Trump wrote. "She is a very special person with extraordinary talents, who has done an incredible job! I hope she decides to run for Governor of Arkansas - she would be fantastic. Sarah, thank you for a job well done!"
Sanders was a member of Trump's communications team during his 2016 presidential campaign and joined the administration as deputy White House press secretary after the election. The 36-year-old Republican took over as White House press secretary in July 2017, after the resignation of Sean Spicer. While Sanders stayed in the position longer than any of Trump's hires, she has not held a White House press briefing in 94 days.
Before working for Trump, Sanders was the campaign manager of her father's 2016 presidential campaign. Mike Huckabee dropped out of the race after a weak showing in the Iowa Republican caucus.
Prior to managing her father's presidential run, Sanders had worked for several political campaigns. In 2014 she was the adviser for Arkansas Senator Tom Cotton and in 2011 she was the campaign manager for former Minnesota Governor Tim Pawlenty's presidential bid.
Her start in politics came much earlier. In 2002, at the age of 20, Sanders was the field director of her father's gubernatorial re-election campaign. Huckabee served as the governor of Arkansas for over a decade, from 1996 to 2007.
In addition to her work for politicians, Sanders is the founding partner of Second Street Strategies in Little Rock, Arkansas. The company is a general consulting service provider for Republican campaigns.
Two sources close to the White House told CNN Thursday that Sanders has considered running for public office herself. She has reportedly told colleagues that running for office in her home state would be a good move for her following her time in the White House.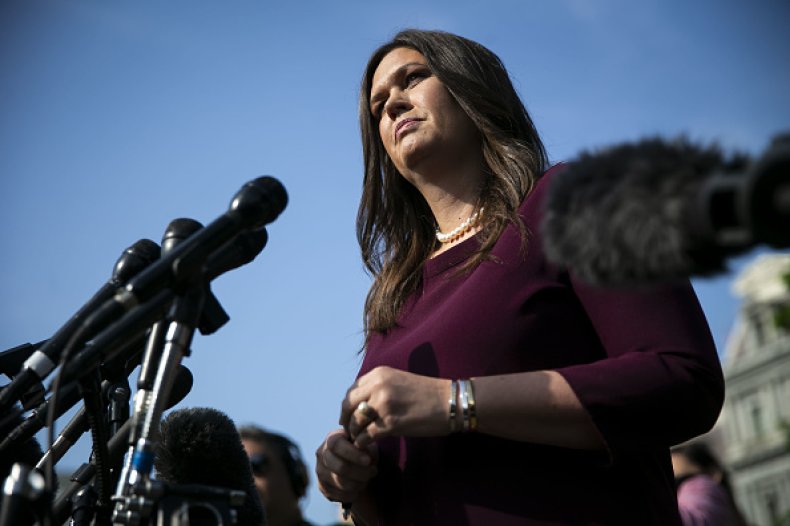 Unfortunately for Sanders, the governor of Arkansas was just re-elected to another term during the 2018 midterms cycle. Republican Asa Hutchinson's term is not up until 2023. Hutchinson easily took down his Democratic opponent last year, earning 65 percent of the vote.
But with her political connections and experience in campaigning, Sanders could be a force to be reckoned with if she ever decided to run for office.
Despite her contemptuous relationship with the press, Americans—especially Republicans—had a somewhat favorable view of Sanders during her time in the White House. According to a Gallup poll in June 2018, 41 percent of Americans had a positive view of the press secretary.
In that poll, 79 percent of Republicans had a favorable view of her while just 9 percent had an unfavorable view. Plus, according to Gallup, Sanders was more familiar among the public as press secretary than her father ever was despite running for president twice.
In 2011, Sanders was selected on Time magazine's 40 under 40 list. When asked where she saw herself professionally in five years, Sanders said that she didn't know but that "if I am still working in politics I hope I never lose sight of why I got involved in the first place."