Sarah Sanders Interview With Mueller 'Opens Up Yet Another Branch' in Russia Probe, Former Federal Prosecutor Says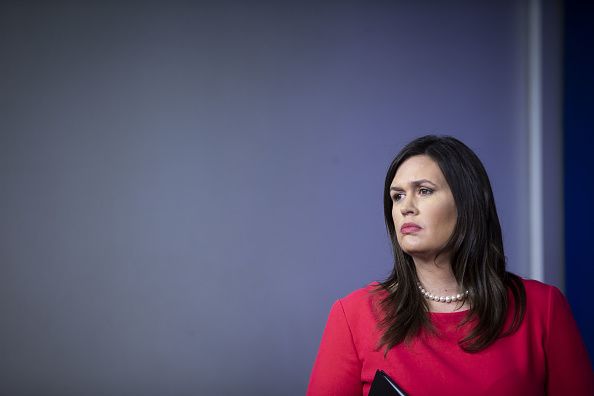 White House press secretary Sarah Sanders's cooperation with special counsel Robert Mueller may have opened up "yet another branch" in the Russia investigation, says a former federal prosecutor.
On Friday it was revealed that Sanders had previously been interviewed by Mueller's team in connection to ongoing probe into election meddling and possible collusion between the Trump campaign and Russia. The White House press secretary told CNN that she sat down with prosecutors at Donald Trump's request.
"The President urged me, like he has everyone in the administration, to fully cooperate with the special counsel. I was happy to voluntarily sit down with them," Sanders said. CNN also reported that the interview was done late last year though it is not known what was discussed during the questioning.
Cynthia Alksne, a former federal prosecutor and MSNBC legal analyst, said that Sanders's interview could have consequences for other officials in the Trump administration.
"It's interesting, this opens up yet another branch in the investigation," Alksne said about the situation while speaking with MSNBC host Alex Witt during a segment on Saturday afternoon.
"They're trying to find out if the president directed people to lie because what Sarah Sanders said in the press conference on August 1st in 2017 was that the president did not dictate the statement regarding the Trump Tower meeting when, in fact, he did."
Alksne continued, adding that the special counsel may want to know why Sanders said that at the time. "Did someone tell her to say that? Was she part of framing that? That's interesting — there's a bunch of other people who have the same problem."
The infamous Trump Tower meeting involving Russian officials, Donald Trump Jr., Jared Kushner and former campaign chairman Paul Manafort has become a centerpiece in the investigation into possible collusion.
After the meeting was discovered, Donald Trump Jr. released a misleading statement that downplayed the significance of the June 2016 meeting. When asked at the time if President Trump had any role to play in the writing of the statement, Sanders had said no.
But it was later revealed in a New York Times report that a memo from Trump's own legal team that contradicted Sanders's previous defense of the president's non-involvement.
"You have received all of the notes, communications and testimony indicating that the President dictated a short but accurate response to the New York Times article on behalf of his son, Donald Trump, Jr.," the president's legal team wrote in a memo to Mueller.
Sanders is one of several White House officials, past and present, who have been interviewed as part of Mueller's probe. Senior policy adviser Stephen Miller, White House communications director Hope Hicks and and former FBI director James Comey have all participated in the special counsel investigation.
MSNBC host Alex Witt asked Alksne if the White House could have denied Mueller the interview with Sanders or other members of the administration. The former prosecutor replied that it can be done under certain areas of executive privilege, but "covering up a criminal act" is an exception to that concept.
"Here the smart thing to do is just go ahead and answer the question, which apparently [Sanders] has. We'll see what her response was," Alksne added.