Sarah Sanders Denies Ivanka Trump is Planning John Kelly Replacement, Says He's in 'For the Long Haul'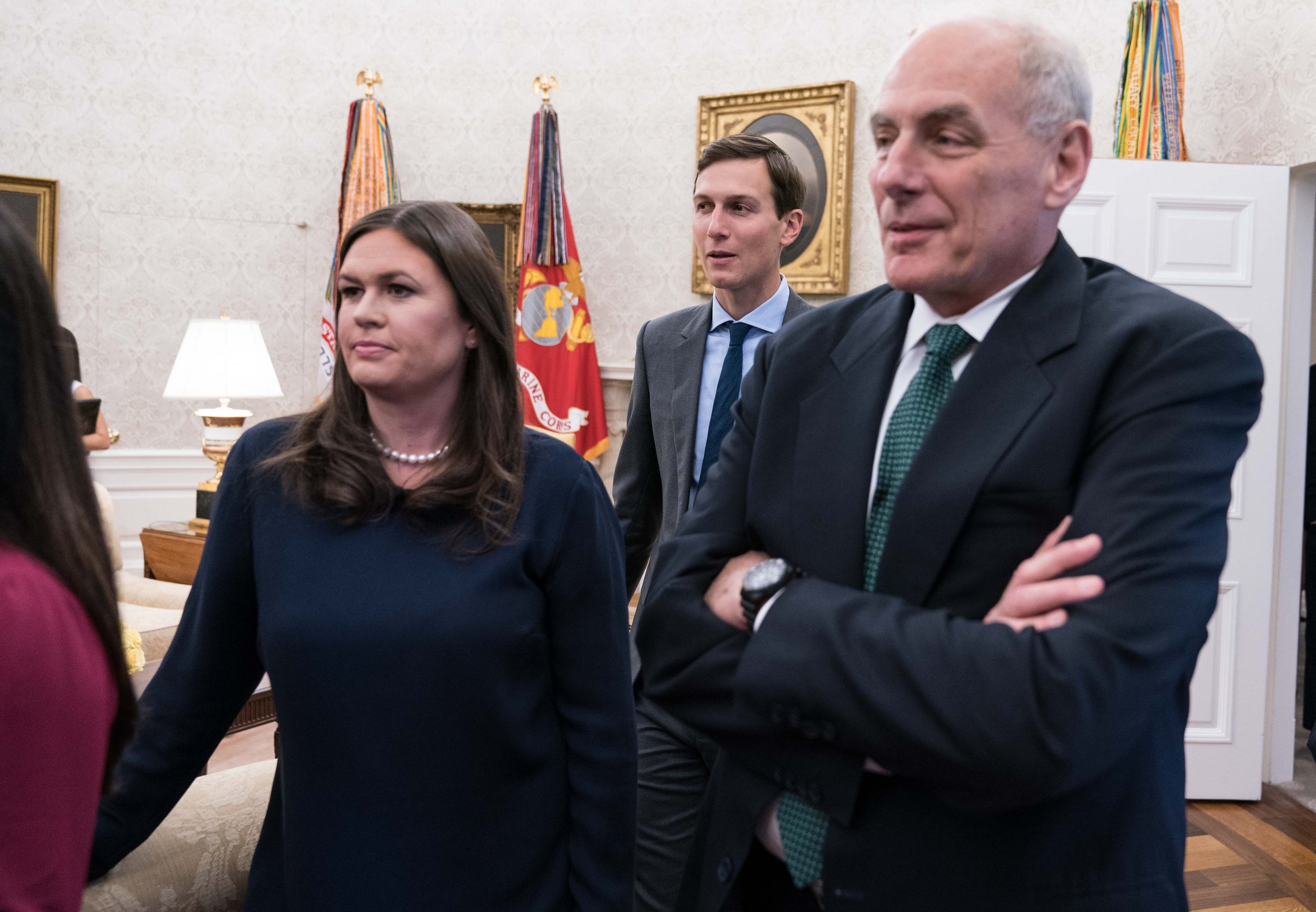 White House press secretary Sarah Huckabee Sanders on Tuesday shot down a magazine's story from the previous day that President Donald Trump called chief of staff John Kelly a "nut job" and that Trump's daughter Ivanka is heading up a search to replace him.
Related: Ivanka Trump: What the first daughter, who tries to 'stay out of politics,' has done in her first year in the White House
"Look, I would not use Vanity Fair for much other than a coaster. I don't think that it is a reliable source of information and certainly not on this topic," Sanders said on Fox & Friends. "As chief of staff Kelly has said himself, as the president has stated, they both plan on being here for the long haul and doing it together."
Citing "two prominent Republicans in frequent contact with the White House," Vanity Fair reported on Monday that Kelly's ouster didn't look imminent because of a desire for him to outlast his predecessor, Reince Priebus, who spent six months in the job. But it said Trump had said of Kelly, "I've got another nut job here who thinks he's running things."
The magazine also said that "Ivanka is the most worried about it. She's trying to figure who replaces Kelly," according to a person who's apparently spoken with her.
Sanders said she expects Kelly "not to just be here for the next three years but for the next seven years."
"He said he is in it for the long haul, and he has spent his entire life dedicated to public service and sees this as one of the most important jobs he's ever had," Sanders said. "And a person like that doesn't walk away, and he wants to see great things for this country, just like the president. And he wants to help push the president's agenda, and they're doing a great job making that happen."
Vanity Fair did not respond to Sanders's denial.
The magazine in November reported that Kelly had reduced the prominence of Ivanka Trump's husband, Jared Kushner, in the West Wing. "Kelly has clipped his wings," the magazine quoted a high-level Republican as saying.
Since becoming chief of staff in July, Kelly, a retired four-star Marine Corps general, has brought new order and processes to the once-chaotic West Wing. Advisers to Kelly and Trump said there have been tensions between the two. In an October press briefing, Kelly denied speculation that he was getting pushed out.
"Although I read it all the time pretty consistently, I'm not quitting today," Kelly said at the time. "I don't believe—and I just talked to the president—I don't think I'm being fired today. And I'm not so frustrated in this job that I'm thinking of leaving."