Sarah Sanders Says Joe Biden's Energy Policies Will 'Destroy Everything' Done by Trump
Former White House press secretary Sarah Sanders has taken aim at the energy policies of former Vice President Joe Biden, saying that if he wins the election, he would take the U.S. "backwards" and make the country dependent on the Middle East.
The Quote
Speaking on Fox News, Sanders said: "I'm not sure he has any idea, probably, even what fracking is.
"The bottom line is, that Joe Biden is wholly-owned by the radical left. If he somehow manages to win, we can certainly count on the fact that he will destroy everything that President Trump has done by making us energy independent, taking us backwards, killing millions of jobs, making it dependent on the Middle East for our energy once again. Why would anybody want that?"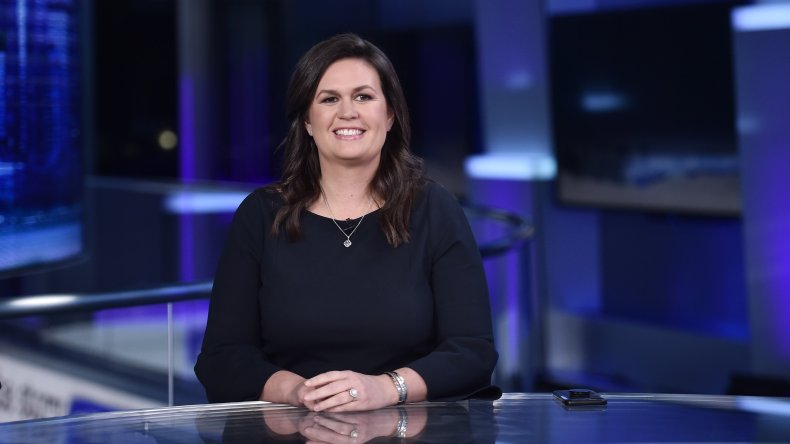 Why it matters
Among their many spats, the Democratic presidential candidate has taken issue with how President Donald Trump and other Republicans have represented his views on climate and energy.
The ambiguity on how his position has been interpreted stems from a debate in March with Vermont Sen. Bernie Sanders in which Biden referred to "no new fracking," the drilling method for oil and gas which has seen a boost in energy production in key Republican states.
During last week's Republican National Convention, speakers attacked Biden's energy plan, and Trump has consistently portrayed Biden's climate policies as too aggressive, even accusing his rival of being in hock to left-wing voices on energy policy, including Sen. Sanders and Green New Deal author Rep. Alexandria Ocasio-Cortez.
Last week, Trump seized on the rolling blackouts imposed by California grid operators during a severe heat wave as evidence of the folly of trying to limit fossil fuel use, and at the RNC, Trump falsely accused Biden of wanting to "abolish" U.S. oil, coal and gas production, which would hurt jobs and the economy.
Although not as bold as the Democratic contenders he defeated, Biden has put forward the most ambitious climate plan by any presidential nominee, including a target to achieve a 100 percent clean energy economy and net-zero emissions no later than 2050.
The Counterpoint
During a speech in Pittsburgh on Monday, Biden vehemently refuted the claims made by Trump that he wants to ban fracking.
In touting his plans for a "clean energy strategy that has a place for the energy workers right here in western Pennsylvania," Biden said, "I am not banning fracking. Let me say that again: I am not banning fracking no matter how many times Donald Trump lies about me."
Following the debate in March with Sen. Sanders that sparked confusion over his energy policies, Biden's campaign clarified he restated his existing platform in which he wants to end new oil and gas leases on public lands.
Biden does not want to call for a national ban on oil drilling or any particular method for extracting fossil fuels, which would in any case require congressional approval, and which would be unlikely.
Biden does back a move towards a carbon-free power sector by 2035, but this does not mean he would eliminate the use of fossil fuels in other parts of the economy, The Hill reported.