When Was Sarah Sanders' Last Press Briefing? Press Secretary Leaves After Record Presser Drought
White House Press Secretary Sarah Sanders's departure, announced by President Donald Trump on Thursday, comes nearly 100 days since the official most responsible for communicating with the public made her last briefing to the media, leading some to believe the writing was on the wall for her.
Sanders held her last press briefing 94 days ago on March 11, according to CNBC.
Reporters covering the White House noted Sanders' long absence from the podium.
The press secretary did hold a mock, off-the-record press briefing on Take Our Daughters and Sons to Work Day on April 25. On that day, the nonprofit consumer advocacy group Public Citizen noted that Sanders had gone the longest span in White House history without holding an actual press briefing, breaking her previous record set in March of 42 days with no briefing, and her prior record of 41 days without a briefing set in January.
"Sarah, when will you brief for the real reporters?" the Associated Press's White House reporter Darlene Superville asked Sanders at the end of the briefing for children.
Sanders reportedly did not answer.
Axios reporter Jonathan Swan on Thursday commented: "By the end she wasn't really a press secretary. She was a top adviser who Trump consulted on just about everything."
Dena Grayson, a doctor, researcher and political commentator who ran unsuccessfully for the Democratic nomination for Florida's 9th congressional district, tweeted: "Good riddance to a 'Press Secretary' who hasn't bothered to brief the press in over 3 months. Not that it mattered, because @PressSec LIED repeatedly when she actually did hold briefings."
Neither Sanders nor the White House immediately responded to a request for comment from Newsweek on her lack of recent press briefings.
Trump broke the news about Sanders' departure by tweeting, "After 3 1/2 years, our wonderful Sarah Huckabee Sanders will be leaving the White House at the end of the month and going home to the Great State of Arkansas."
"She is a very special person with extraordinary talents, who has done an incredible job!" Trump continued. "I hope she decides to run for Governor of Arkansas - she would be fantastic. Sarah, thank you for a job well done!"
Sanders, with her voice cracking, told Trump, "Thank you so much, Mr. President, it's truly an honor."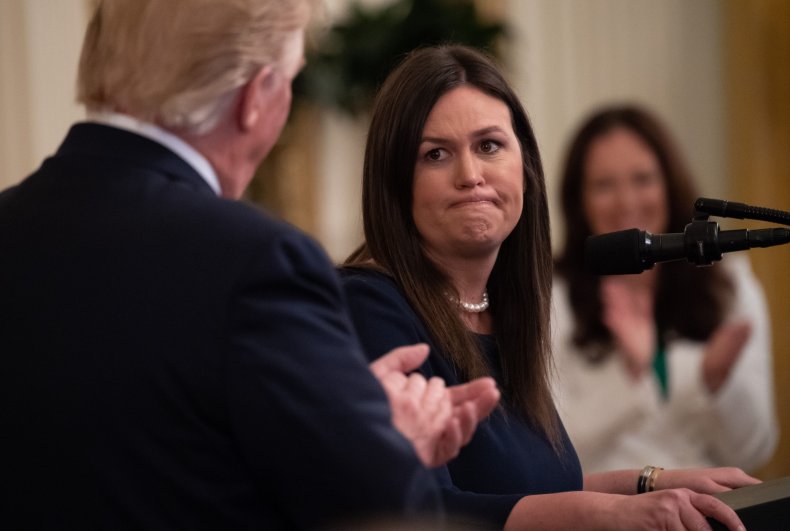 Trump in late January tweeted that he ordered Sanders "not to bother" to hold briefings for the press because reporters "will never cover us fairly."
"The reason Sarah Sanders does not go to the 'podium' much anymore is that the press covers her so rudely & inaccurately, in particular certain members of the press," the president tweeted. "I told her not to bother, the word gets out anyway! Most will never cover us fairly & hence, the term, Fake News!"
The pending exit of Sanders came the same day as one of the Trump administration's other prominent media faces received bad news. Earlier on Thursday, the Office of the Special Counsel alerted the president that adviser Kellyanne Conway had repeatedly violated the Hatch Act — which prohibits executive branch employees, except for the president and vice president, from using their official positions to influence the outcome of an election — and recommended "that she be removed from federal service."