Sarah Sanders Can't Detail Any Republican Alternative to 'Obamacare'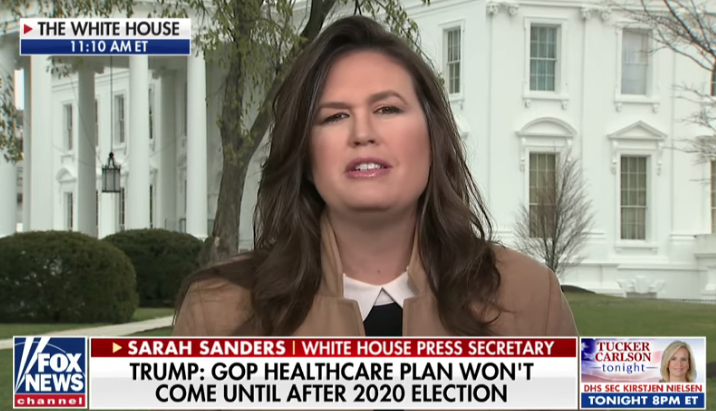 White House Press Secretary Sarah Sanders became the latest Trump administration official unable to outline any semblance of an Affordable Care Act alternative despite touting the GOP as "the party of health care" heading into 2020.
Sanders lashed out against "radical, far left-wing" members of the Democratic Party and "radical" Medicare-for-All proposals from prospective 2020 candidates while dodging Fox News host Sandra Smith's repeated attempts to hear any tangible alternative from the Republican Party. President Donald Trump ridiculed Obamacare on Twitter Monday while simultaneously punting the health care debate until after the 2020 election and floating a promise that the GOP is "developing a really great HealthCare plan." Sanders followed suit on America's Newsroom Tuesday, solely blaming Democrats for not working with Republicans on any bipartisan health care improvements.
Sanders' latest defense of the GOP's inability to produce any Obamacare alternative gives credence to claims by Senator Chuck Schumer and other Democrats that Republicans simply don't have one to offer.
"Certainly the president wants to be the 'party of health care,' it's one he wants to see us address, he'd love to be able to address it now but we know that Democrats are controlled by the far, radical left-wing part of their party, and they are at total contrast to what we need and what the president wants to see happen when it comes to health care," Sanders said.
On Fox News Sunday, White House counselor Kellyanne Conway reiterated Republicans are "working on a plan," while she also provided no details. "The Republican plan is manifold," Conway insisted Sunday, echoing both Sanders and Trump's later comments. "There is a plan. We've been working on a plan for a long time. And we hope Congress would come along."
Despite a Texas judge ruling the Affordable Care Act's individual mandate was unconstitutional, Trump has so far failed to fulfill one of his largest 2016 campaign promises that he would repeal and replace former President Barack Obama's eponymous health care plan. The Texas ruling calls into question an ongoing debate over whether Trump and Republicans actually support protection of the 60 million Americans with pre-existing conditions.
"The debate about preexisting conditions is over," declared acting White House Chief of Staff Mick Mulvaney on ABC's This Week. "Both parties support them, and anyone telling you anything different is lying to you for political gain."
Sanders continued defending the Republican Party's shadowy yet allegedly diligent efforts to craft a health care alternative, telling Fox News on Tuesday the Democrats are to blame for no push forward in Washington.
"They [the Democrats] want "Medicare-for-All, government takeover of health care and the president wants to see health care returned to the power of the patient," said Sanders, providing no specifics to any potential GOP plan in the works. "The radical left want to tell you what you can and can't do, what doctor you can and can't see, procedures you can and can't have, and that's simply unacceptable to this president."
Smith pressed Sanders on how Trump plans to make health care a "winning issue for his party in 2020" if Republicans are unable to offer more than just criticisms of Obamacare.
"We do what we can administratively in the mean time, what we've been doing over the last two years," replied Sanders, referencing Trump's targeting of secretive "rebate" deals and a January proposal to force health insurance companies and middlemen to give consumers the same discounts they receive on prescription drugs. And while out-of-pocket drug costs were estimated to decline about 30 percent for some consumers under that proposal, the extremely high cost of the drugs themselves nearly negates the savings.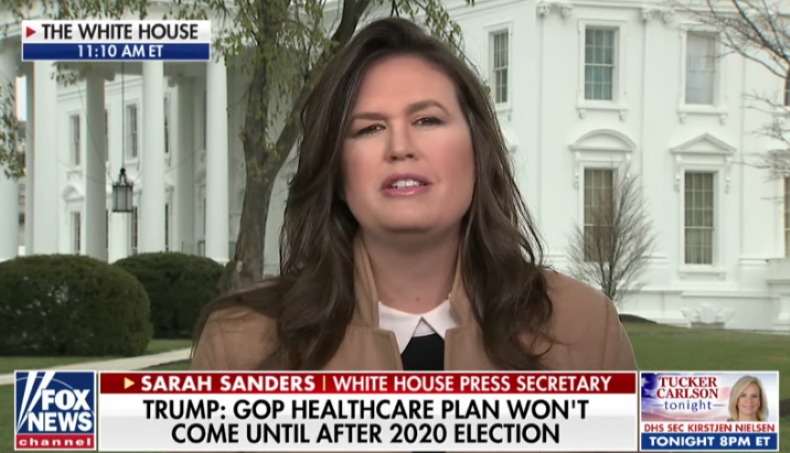 "The election doesn't have to be a referendum on Obamacare," added Sanders, saying Trump only wants a "discussion" about what works.
Several top Democrats in the House and Senate have repeatedly accused Republicans of having no tangible Obamacare alternative, and the GOP is now attempting to pin the problem on Democrats heading into 2020.
"The Republican Party is still trying to take away the health care of millions of Americans, they're just sick and tired of being blamed for it, despite the blame falling right on their shoulders," Schumer said on Capitol Hill this week.
Georgia Republican Senator David Perdue, who appeared earlier on America's Newsroom Tuesday echoed the same sentiment as Sanders and Conway, blaming Democrats for their "unwillingness" to work with Republicans on health care. "What's out there right now is untenable," Perdue said, rejecting how the Affordable Care Act currently protects people with pre-existing conditions. "If you can't buy insurance you're not protected of anything."