Sarah Sanders Has Not Had a Formal Press Briefing in 43 Days, Setting a New White House Record
President Donald Trump's White House has set a new record for the longest span of time without a formal press briefing.
The 43 days since White House press secretary Sarah Sanders last stood before the podium in the James S. Brady Press Briefing Room is the longest any administration has gone without the on-camera briefing since the tradition began during Bill Clinton's presidency.
The prolonged silence has come amid a particularly chaotic time for the Trump administration following the release of special counsel Robert Mueller's redacted report on the Russia investigation. While it cleared the Trump campaign of conspiring with Russia, the 448-page document exposed not only presidential misconduct but also a hotbed of conflict within the White House, where aides routinely ignored the president's demands.
It's likely no coincidence, experts say, that the White House has chosen to forgo formal press briefings—a major symbol of government transparency.
"I can say, honestly, it's a huge avenue for accountability for the America people," Jesse Lee, a senior communications adviser at the Center for American Progress, a Democratic think tank, told Newsweek about the briefings. Lee worked in the Obama administration's press office for both terms, serving as a senior member of the White House's digital team before becoming the director of rapid response.
"If you are the press secretary and you are caught defending an indefensible policy or an indefensible act by the president, you can get pilloried out there for an hour, and the American people see it," Lee said. "That's what drives home to everybody watching that you don't have a leg to stand on and that something has to change. That oftentimes does force change. It's no accident that they've cut that off."
In fact, withholding formal press briefings is nothing new for the Trump administration. This 43-day stretch breaks the White House's previous record, 42 days, in March, which had broken the 41-day record set in January.
So far, Sanders has held only two formal press briefings in 2019. On both occasions, the briefing lasted for just 30 minutes or less. Occasionally, she will talk with reporters in the White House driveway, but those interactions are sporadic at best.
"What's happened is, as more and more things have become indefensible and as more corruption and lies have come out that she doesn't have a good answer for, she just took her ball and went home," Lee said.
Whenever Sanders does decide to get back behind the podium, she is likely to face a grilling from press members. It was revealed in the Mueller report that she had falsely spoken about "countless" FBI agents' favorable reaction to the firing of James Comey, and their lack of confidence in the bureau chief, during a May 2017 briefing.
The press secretary has not offered an apology or a public correction, even though many have called for her resignation. Asked if Sanders has any credibility left, Lee said she started off in a big hole by following Sean Spicer in the job and has "just dug herself deeper from day one."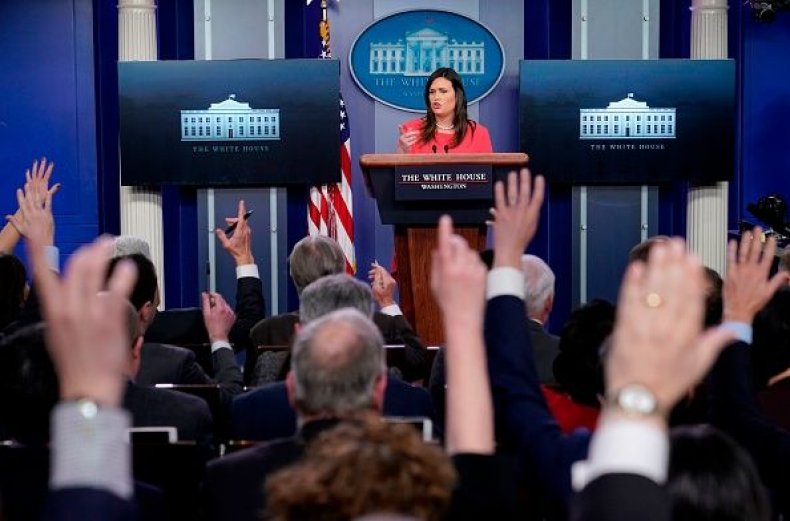 Sanders is not the only one who has seriously cut down on press briefings. The Pentagon has gone more than 300 days since the last time a Department of Defense spokesperson gave an on-camera briefing to the media.
But that still hasn't stopped Trump from spreading his message. Twitter and other forms of social media have allowed the president to sidestep traditional avenues of sharing information in favor of a more autocratic communications strategy.
"We have a president who really wants to be his own press secretary, communications director, chief of staff and secretary of defense. He wants complete control over it," New York University professor Tad Devine told Newsweek. Devine, who has been a media consultant for multiple presidential campaigns in the U.S. and to several candidates for prime minister overseas, served as a chief strategist for Bernie Sanders' 2016 campaign.
But there has been a growing argument that the media should not bother covering press events, either by Trump or his aides, given the administration's penchant for deliberately misleading the media.
On Monday, Morning Joe host Mika Brzezinski suggested that media outlets should boycott White House aides "who repeatedly lie." In late 2018, after CNN's Jim Acosta had his press pass temporarily revoked, the issue of whether reporters should abstain from pool sprays or press conferences became a major subject of debate.
But Devine said that the day the press begins to boycott the administration will be the day that "Trump has really won."
"There's nothing Trump would like more than to be able to go on Fox News and say that the mainstream media is boycotting him and that they won't cover him," he said. "Then he will really spill out his version of reality to people."
Instead of refusing to cover Trump or his officials, reporters should confront them with the truth at every opportunity, Devine said. He also encouraged news outlets to work together to push back on the president when he makes false statements.
"Even if an entire presidential press conference is only reiterating that one question over and over again, I think they'd be doing a tremendous service to the public because they will be demonstrating in real time, in front of people, that this guy is lying," he said. "The press needs to understand that the old rules don't apply anymore."